Journal
3rd Dec 2021 - Not an easy week!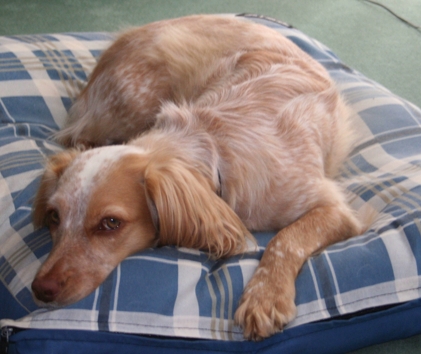 This week The English Apple Man intended to write about The Vineyard Show held last week at The Kent Event Centre at Detling in Maidstone, BUT, forgive me instead I will be remembering our "Retirement Baby" who came to us in June 2007 but sadly left us on Wednesday 1st December.
Please forgive my indulgent grief, and while recognising most of my readers will have gone through the same painful heartache at some stage in their lives, probably more than once!
Poppy was our third dog in 58 years of marriage. The first: Cindy a Jack Russell, the second Bob a Jack Russell x Springer Spaniel.
Poppy born on 19th March 2007 just 10 days before I retired has been an absolute joy for nearly 15 years!
POPPY = Her Pedigree name: "Paddysworth Might Imp"
Having had two dogs in our previous life as fruit farmers, we waited until I retired in 2007 from my role at Worldwide Fruit before seeking a new canine companion. My brother had a beautiful Chocolate 'Working Cocker Spaniel' named Paget (after the place in Bermuda where his wife lived in her teen years) and we often cared for her when they were away on holiday. Paget was delightful and we were determined to get a Working Cocker Spaniel when I finally retired.
As we entered 2007 my brother made contact with various reputable breeders and finally we identified a breeder in Berkshire with a litter and when they were 4 weeks old we made our first excited visit to see these beautiful fluffy puppies!
By pure chance, Paget and Poppy were half sisters (their Dad was a Champion Working Cocker called REIVA from Yorkshire)
Her breeder named her Mighty Imp because she was the 'runt of the litter' but would elbow her way to the feeding trough and because she was smaller than the rest, after being weaned from their mother, she was able to creep from 'the weaning pen and crawl through the bars of the kennel and 'suckle her mother'
Below: Working Cocker Spaniel litter at 4 weeks old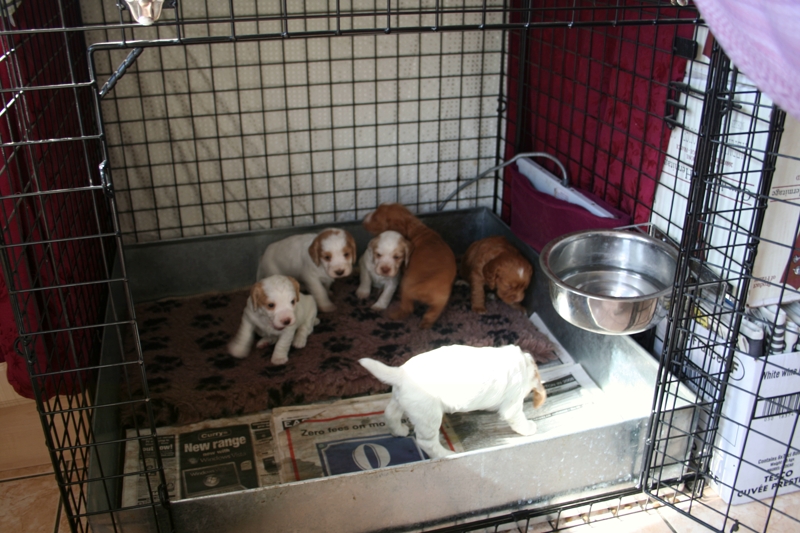 Below: left; Poppy and sibling at 4 weeks old and right; Poppy settling into our home in East Sussex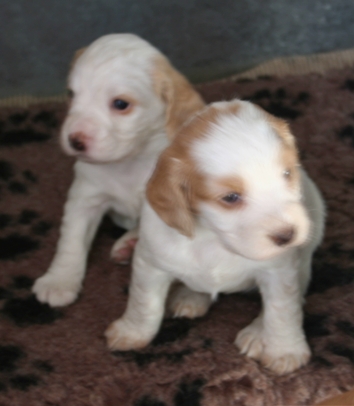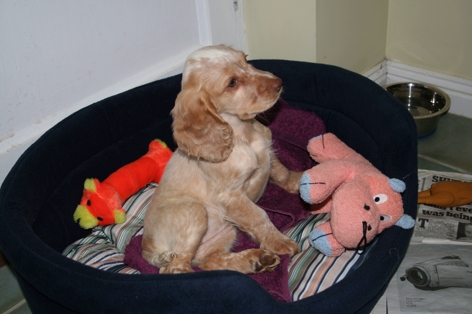 Below: left; Poppy with the EAM or 'Daddy' and right; Siblings Paget and Poppy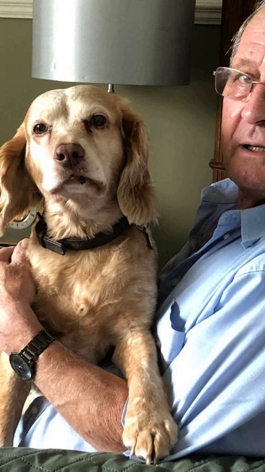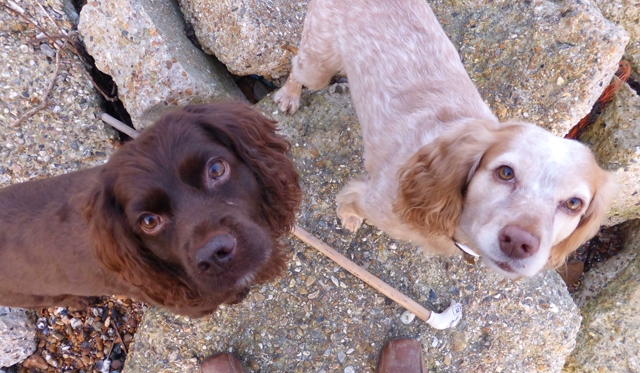 In the early years of my retirement and in Poppy's youth, we walked 'morning and afternoon' - the afternoon walks often took us to Darwell Reservoir in East Sussex and this would consume a minimum of one and a half hours. The reservoir was long and at the shallow end would dry out in summer, leaving a distance of circa 800 yards before we reached the water. one day Poppy spotted two Swans at the edge of the water and set off at a pace, leaving me well behind!
By the time I got to the waters edge, she was swimming hard after the Swans!
On they went, further and further with me calling anxiously for her to return (I was wondering how I would be able to break it to my wife that our little treasure, only 18 months old had drowned on my watch) - 'on she swam (must have been 400 yards at least) the Swans occasionally looking behind, (no doubt thinking, 'stupid dog' - never going to catch us) suddenly Poppy turned and started to swim back to me, I was crying "come on darling you can do it" - "come on" - eventually she reached dry land and "shook herself off, before running of too seek a new adventure, while I sat on a log 'trembling for some minutes' before recovering my composure!
When we sat in the garden, supping a coffee or maybe a glass of wine, she would parade around with a soft toy in her mouth looking for a place to hide it. When finally she tired of her efforts she would retire under the table until we finished our refreshments.
Below: left; Poppy under the garden table and right; out on one of our country walks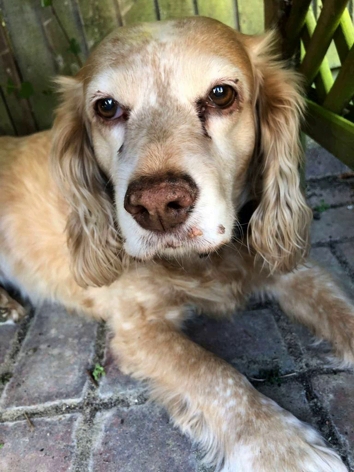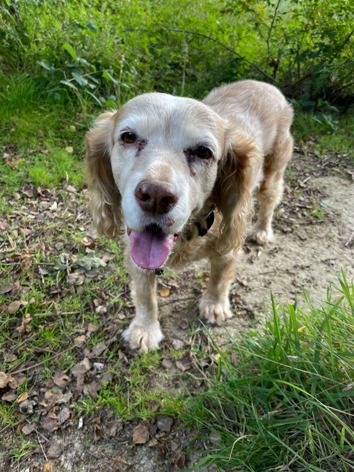 Below: left; Wallowing in a mud bath and right; In disgrace!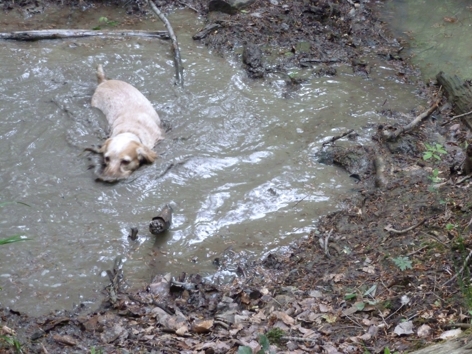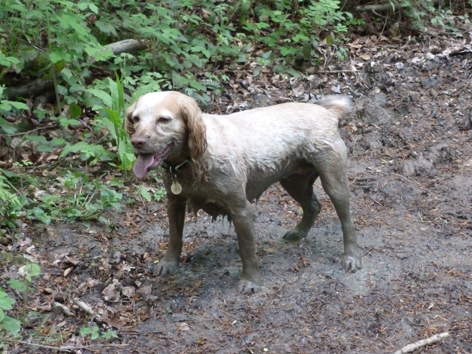 Below: left; running full on with her Collie Cousin (my daughters dog) Sammy and right; Sisters ask 'Any chance of a biscuit??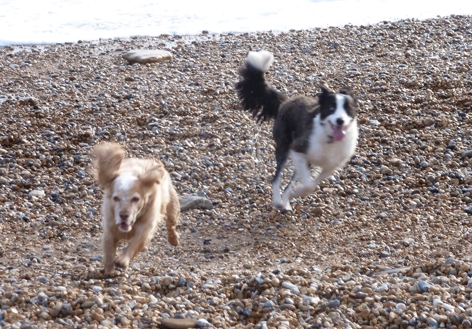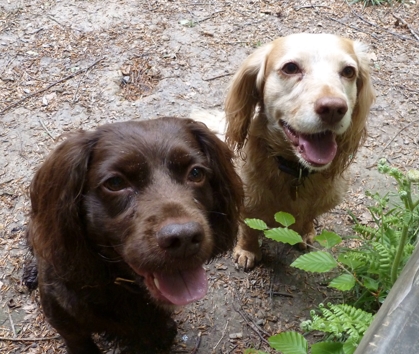 Although Poppy was a highly energetic dog, especially in her youth, she was also a Mummy's girl.
Below: left; "Have you got a light boy! and right; "just loving your lap Mummy!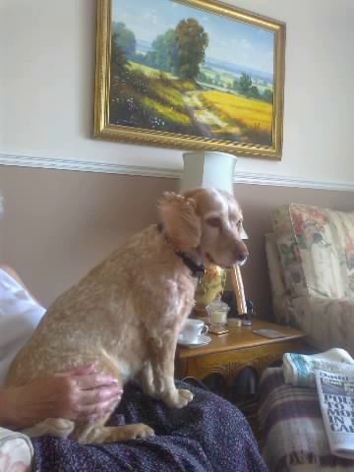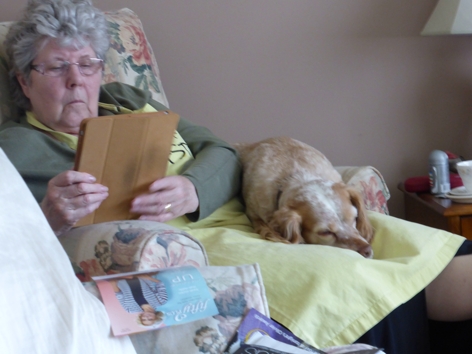 Poppy, a recent picture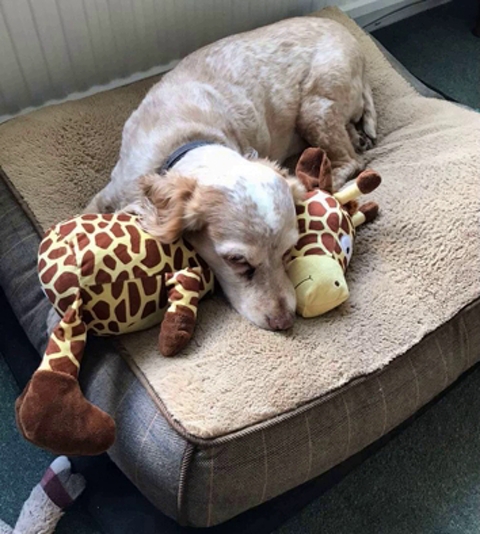 Poppy loved her soft toys and every morning when we opened the kitchen door she would grab one from her toy box taking it into the lounge and her cushion. She would amaze me with her dexterity as she ran by the toy box and without stopping grab a toy!
At the age of seven, she was diagnosed with anal gland carsinoma, but our brilliant vet Adrian operated successfully and gave her another seven years life.
In spite of a heart murmur she managed (with medication) to soldier on, noticeably she and her master could not manage long distance walks anymore.
In recent weeks cancer reached the glands in her neck, which grew and grew and over the weekend it was clear she was struggling. Sadly on Wednesday it was time to end her suffering!
Next week I will return to The Vineyard Show
Take care
The English Apple Man