Journal
17th Dec 2021 - Open Day at Kirkland
This week the English Apple Man reports on a visit to the Kirkland Open Day
Based at Griffins Farm near Maidstone in Kent, the team led by Scott Worsley have built a strong reputation as major supplier of specialised machinery to the UK fruit and viticulture industries.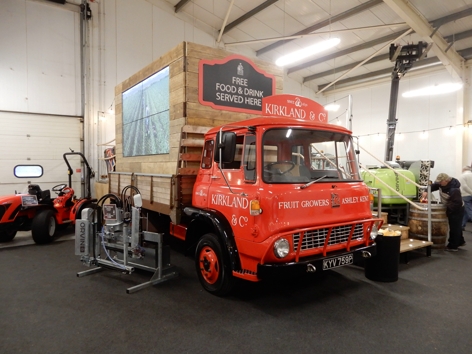 The EAM always finds the 'story behind the story' a fascinating one and like so many successful businesses the KIRKLAND story goes back a long way. To the mid 1800's when Scott Worsley's great, great, great grandpa Nathaniel Worsley set up Worsley Carriage Builders in Yalding, Kent. Specialising in carriages for all types of transportation, the company enjoyed successful trading and began building carriages for farming, fruit growing and vineyards as well as general transportation.
Scott's grandfather, David took the family business on another journey - this involved setting up a fruit growing farm in Ashley, Kent. A natural progression for the time; it started in 1953 and became a flourishing business, supplying fruit throughout the area.
Scott's father Philip worked as an apprentice at Barratts from 1966 and worked mainly on commercial vehicles. He then went onto start his own car repair business 'Autocare' in 1975. In the early nineties Philip went onto dealing with machinery hire and used machinery followed by the start of Agricare in 1995 for his 5 sons to take forward. AGRICARE
Below: Scott and his youngest son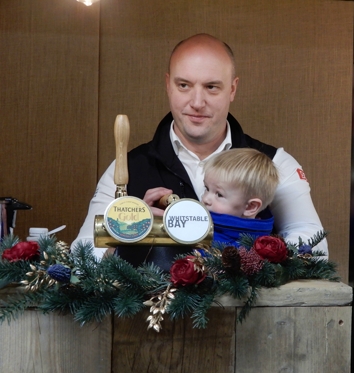 The Kirkland brand began in 2005 as a range of specialist machinery and went on to become a company in its own right in 2012. Kirkland UK has grown to be one of the country's leading suppliers of specialist equipment for vineyard and fruit orchard management, with all types of vineyard/orchard tractors and accessories available and an excellent reputation for servicing and support for their customers.
Scott and his wife Jenny have 3 boys who although only young, have a keen interest in the business and will be looking to support the industry for many years to come with the fantastic team that Kirkland have built up over the years.
Driving Growth
After careful analysis of the trends and changing requirements of the industry that we serve, our focus has evolved over the years and matched these needs. From a 'one stop shop', Kirkland UK brings to you, our valued customers, specialist machinery for orchard & vineyard management. As well as providing our customers with specialist fruit growing machinery, we have also diversified our product range to meet the needs of other sectors including Agricultural, Grounds care & Construction Machinery.
The English Apple Man enjoyed the display of specialist machinery and the chance chat in a relaxed atmosphere with Scott and his team at KIRKLAND. Of particular interest, the 2 row 'Drift Recovery' 1500ltr sprayer, and the TECNOFRUIT CF 105 Harvesting Machine.
Below: The 2 row drift recovery sprayer ideal fro top fruit and vineyards #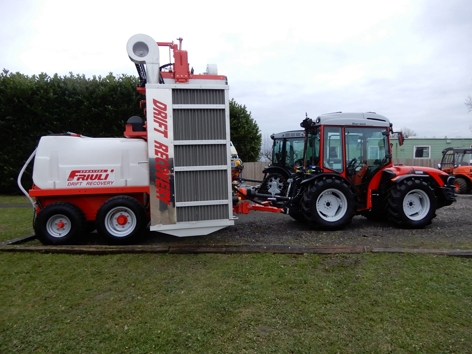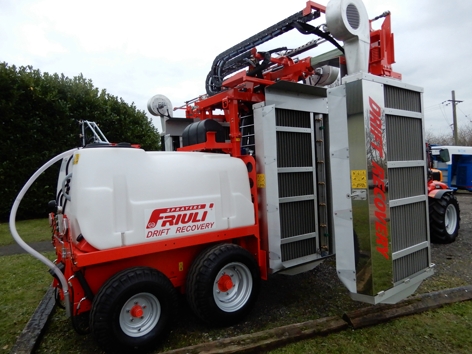 To see the Drift Recovery 1500ltr 2 Row Sprayer in action - Click on Two Row Sprayer
Below: Frumaco TECNOFRUIT CF 105 Harvesting Machine.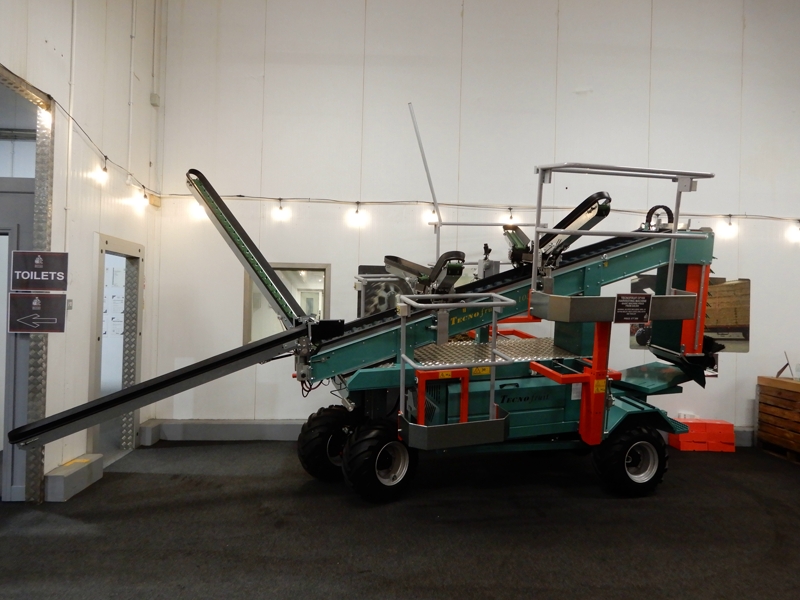 in 2021 we have seen these Harvesting Rigs really make their mark, with the shortage of harvest labour and increasing labour costs, the Capital investment makes sense.
The reduction in operatives ( 60 percent less ) required to pick the same volume, and cost savings on overheads (less accommodation, shopping trips, travel etc.) matched by the reduction in physical effort (harvest workers are getting older year on year) it all makes sense!
Click on TECNOFRUIT HARVESTING MACHINE at work.
KIRKLAND supply a wide range of machinery for fruit and vines, Tractors, Cultivators, Sprayers, Loaders,
Below: Carraro Tractors come in many formats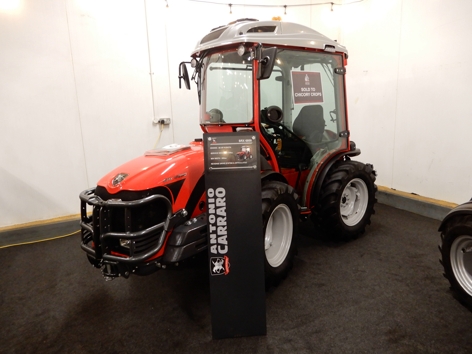 Below: left; On entry the Video Screen on the Battle Bus keeps visitors informed and right; A small collection of machinery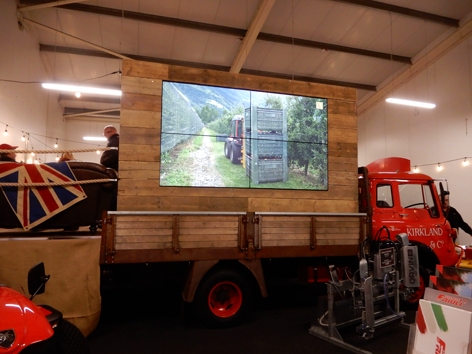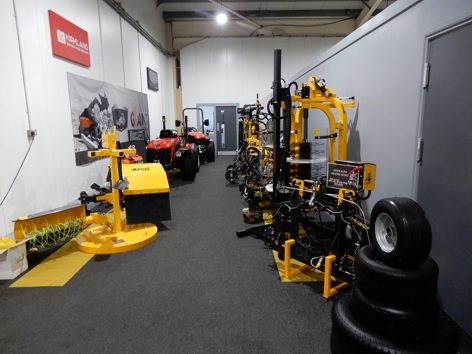 Below: heavy loaders come in various formats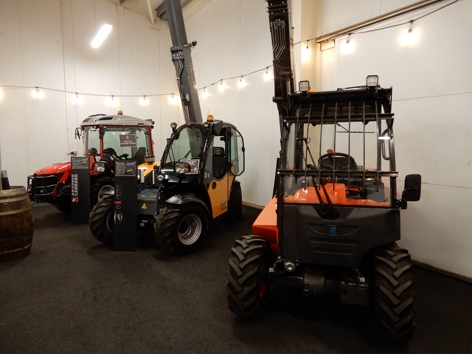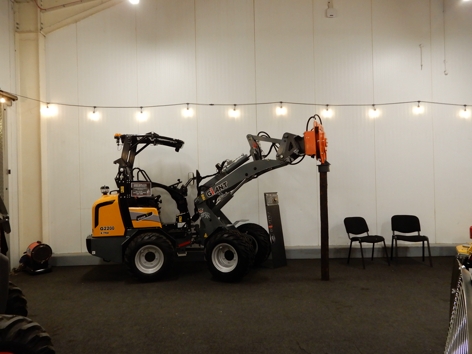 The Worsley family do not stand still and continue to develop new business. Scott's brother Ewan Worsley's new enterprise PLANTEX
Irrigation and sprinkler frost protection from Plantex UK
Plantex UK, based in Canterbury, Kent, offer free advice and planning for frost protection in vineyards using irrigation and sprinklers, as well as suppling, installing, maintaining the systems and supporting customers. "The sensors and controllers make management easy for our customers, as the system can be fully automated and used from an app. It has been said that the system is almost 100% effective at protecting buds," explained Ewan Worsley, General Manager. "The Sprinkler system is used in a strip format along the vines, with one sprinkler per post.
When temperatures drop the sensors turn on the system spraying water onto the vines, and as the water cools it creates a frozen layer of ice around the bud. The science behind it is: when water is freezing, it generates a small amount of heat which will protect the bud. It is important that the water is continually sprayed for the heat to continue to be produced until temperatures rise again. It is particularly effective against radiation frost, and the running costs are low," Ewan continued.
Below: left; Ewan Crossley and right; Plantex demonstration equipment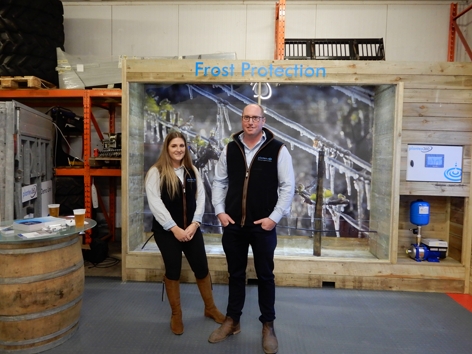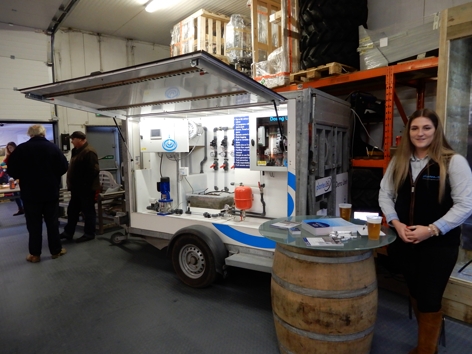 That is all for this week
Take care
The English Apple Man