Journal
28th Jan 2022 - Apple Harvest Robotics Update
The English Apple Man has featured Robotic Apple Harvesting Developments over the last few years and noted some success with the Abundant system trialled in commercial harvesting in 2020 with T&G Growers.
Click on: Abundant Robotic Apple Harvesting
Sadly it appears Abundant are no longer trading and what appeared (to me ) to be a successful robotic format is no longer in development.
The EAM thanks The Good Fruit Grower Magazine for producing an excellent article featuring Fresh Fruit Robotics robotic harvester development update.
Entering the world of robotics, this passage below copied from an opening statement on developing apple harvesting robots, highlights the task ahead for robotic engineers
A robotic device consisting of a manipulator, end-effector and image-based vision servo control system was developed for harvesting apple. The manipulator with 5 DOF PRRRP structure was geometrically optimised to provide quasi-linear behaviour and to simplify the control strategy.
The spoon-shaped end-effector with the pneumatic actuated gripper was designed to satisfy the requirements for harvesting apple. The harvesting robot autonomously performed its harvesting task using a vision-based module. By using a support vector machine with radial basis function, the fruit recognition algorithm was developed to detect and locate the apple in the trees automatically. The control system, including industrial computer and AC servo driver, conducted the manipulator and the end-effector as it approached and picked the apples.
The effectiveness of the prototype robot device was confirmed by laboratory tests and field experiments in an open field. The success rate of apple harvesting was 77%, and the average harvesting time was approximately 15 s per apple.
WOW, sounds beyond my perception!
2022 - Click on Good Fruit Grower - FF Robotics Harvester
The quest for a reliable robotic harvester continues and no doubt with the ingenuity of development engineers and AI assited computer programming, the quest will become a realty - "one day" in the not too distant future!
About Abundant Robotics
Abundant Robotics, a Hayward, Calif.-based agricultural robotics company founded in 2016, has shut down. According to a memo about Abundant's liquidation obtained by The Robot Report, the company "was unable to develop the market traction necessary to support its business during the pandemic."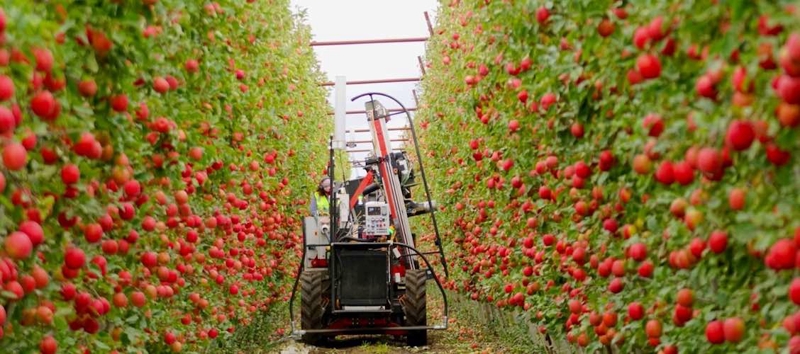 On June 29, 2021, Abundant put up for sale all of its intellectual property and assets. Abundant said it has a "host of IP, including a large body of vacuum manipulation patents (and patent applications), a patented sensory system to allow the vacuum to navigate obstruction, a patented world-class vision system for identifying fruits and their quality, and several software patents for the machine's automated operations (including a solution to solve for "doubles" that enables the machine to pick multiple fruit at once."
You can read the liquidation memo here to learn more about the available assets and the market opportunity. Abundant also failed to raise another round of funding. It raised a total of $12 million, according to Crunchbase, but its $10 million Series A closed back in May 2017. It raised a $2 million Seed Round from SRI Ventures in 2016.
Abundant developed a harvesting robot that initially targeted apples. The system combined computer vision and a vacuum end-effector to select and pick ripe fruit, transferring it into a bin. The company estimated its machine could reach between 50-90% of fruit on trees. The system is designed to augment human labor and could allegedly pick apples every two seconds. Abundant said it was targeting a pick rate of 1.5 seconds for the commercialized version of the robot. The company planned to broaden the type of fruit it picked in the future.
According to the memo, Abundant partnered with one of New Zealand's largest apple growers, T&G Global, to test the apple harvesting robot in small-scale commercial trials. Abundant said it also conducted similar small-scale trials in the U.S with multiple customers. According to the memo, the market for orchard fruit production is about $200 billion, about $40-60 billion of which is specific to apple production.
Abundant said some of its competitors include FFRobotics (Israel), Ripe Robotics (Australia) and Tevel (Israel). Tevel won a 2021 RBR50 Robotics Innovation Award, produced by our sister publication Robotics Business Review, for its tethered drone that uses vision and an attached robotic arm and gripper to pick ripe fruit.
Abundant was planning to use a robotics as a service (RaaS) model. It would own, maintain, transport, and operate the robots in exchange for contract payments from farms, focusing on two 90-day harvest seasons: August-November in the Northern Hemisphere and February-May in the Southern Hemisphere. The company claimed to have developed a "strong, $100M+ business development pipeline through four years of co-development with industry leaders across the U.S., European and Oceania regions." Abundant projected it would be cash flow positive "as early as Q2 2024, representing revenues at that time of less than 2% of the total available market."
Despite this shutdown, the agricultural robotics market has seen a variety of acquisitions and investments in 2021. Most notably, Somerville, Mass.-based startup Root AI was acquired by AppHarvest for $60 million in April. Root AI was developing the Virgo harvesting robot for indoor farms. The robot can identify and harvest multiple crops, including tomatoes, peppers, cucumbers and more. Its tomato dataset, for example, allows it to identify more than 50 varieties of the fruit.
Abundant spun out of SRI International and was co-founded by Michael Eriksen, Curt Salisbury and Dan Steere.

That is all for this week
Take care
The English Apple Man