Journal
4th Mar 2022 - The English Apple Man reports on various issues
It is difficult to concentrate the mind on fruit growing issues with the tragedy unfolding in Ukraine.
But!
On Tuesday 1st March my good friends John & Peter Breach attended The West Midland Top fruit Discussion Group meeting
Today - Friday 4th March The English Apple Man joined farmers and associated members of the NFU for RABI fundraising Farmhouse Breakfast at AMOS HALL Hobbs Parker, Romsey House Ashford.
The Royal Agricultural Benevolent Institution - RABI - are a national charity that provides local support to the farming community across England and Wales. Established in 1860, we have been offering guidance, financial support and practical care to farming people of all ages for generations.
The English Apple Man regularly reports on East Kent Fruit Society meetings, but rarely has the opportunity to cover meetings in regions away from the South of England.
The West Midland Top fruit Discussion Group meeting 1st March 2022.
On Tuesday John & Peter Breach travelled down to Broadway in Worcestershire to join members of The West Midlands Fruit Discussion Group.
John and Peter sent me a brief summary of the event from Sarah-Jane Dunsby for publication in the EAM Journal for today 4th March 2022
"It was good to see you and Peter yesterday, thank you for making the trip to see us. I have put together a few lines about what the discussion group is if you wanted to pass onto the English Apple Man".
The West Midland Top fruit Discussion Group.
"We are a group of growers from Gloucestershire, Herefordshire and Worcestershire, predominantly growing dessert apples, but also cider apples, hops, plums and pears. We meet around 3 times a year although due to covid, this was our first meeting in 2 years. We also have an orchard competition which is judged in August"
Below: West Midland Top Fruit Group visit to Paul Dunsby & Son Ltd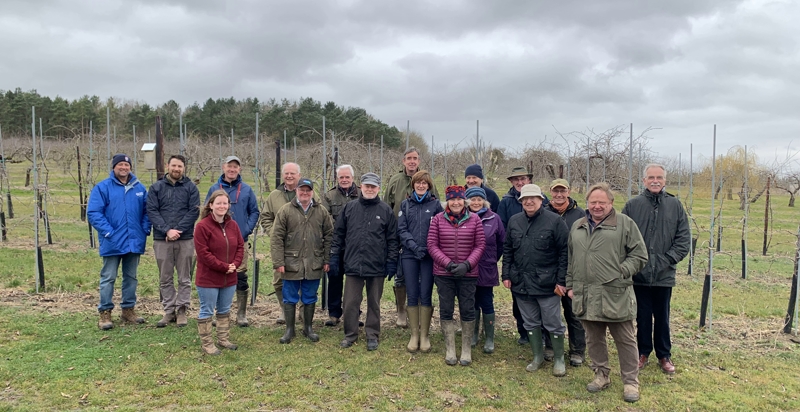 "On the 1st March we met at Paul Dunsby and Son Ltd near Broadway in Worcestershire. After lunch, we had a quick tour of the farm from Nicholas and Sarah-Jayne Dunsby where we saw a variety of different orchards ranging from 1 year old Cameo orchards to 30 year old Cox orchards.
Below: left; 30 year old Cox orchard and right; 1 year old Cameo orchard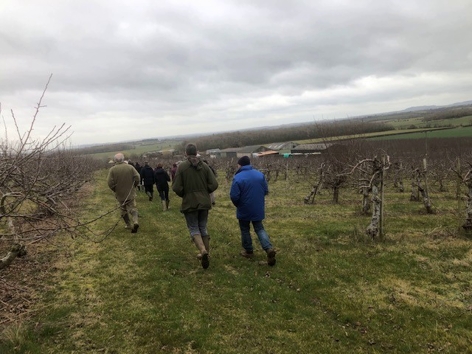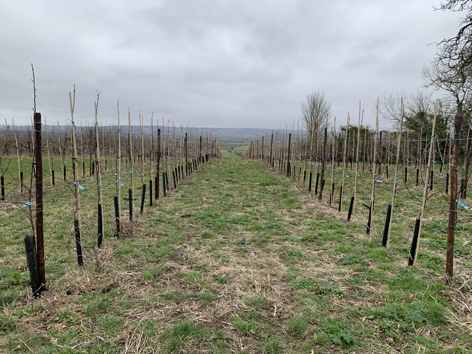 Kind Regards
Sarah-Jayne
The English Apple Man Comments:
John Breach told me that when walking in the young Cameo orchard, in the distance they could see Broadway Tower.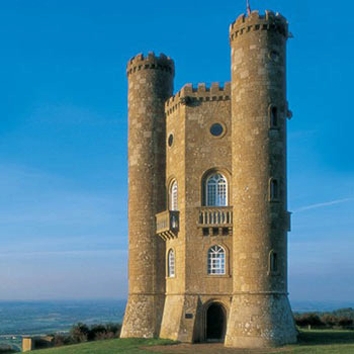 Broadway Tower
The Tower is an iconic landmark on top of the beautiful Cotswolds escarpment. It was the brainchild of the great 18thcentury landscape designer, "Capability Brown". His vision was carried out for George William 6th Earl of Coventry with the help of renowned architect James Wyatt and completed in 1798. The location for the Tower was wisely chosen, a dramatic outlook on a pre-medieval trading route and beacon hill.
Broadway Tower & Park is a family-owned Cotswold destination set within a 200-acre estate of parkland, allowing visitors to experience great English heritage in an inspiring location.
Visitors: Your ticket includes all you need for a memorable day - Tower Museum with roof platform, the Deer Park or walking the grounds with your picnics also give the opportunities for growers to get together and discuss the highs and lows of working in our industry"
-----------------------------------------------------------------------------------------------------------------------------------------------------------------
RABI Farmhouse Breakfast
This Farmhouse Breakfast was organised by The Ashford, Tenterden & Whitfield NFU Mutual branches, and after the cancelation during the pandemic lockdown, it was great to be part of a live event among many farming friends once again.
Group Secretary Doug Jackson welcomed attendees. The EAM enjoyed conversation with several friends over breakfast and the raffle prizes generously donated by local businesses made for a fun session.
Click on RABI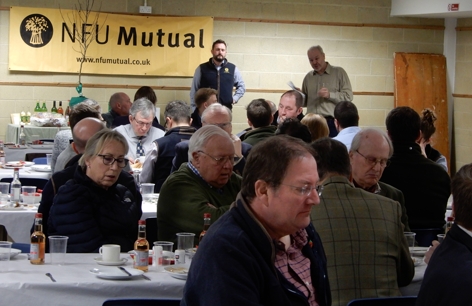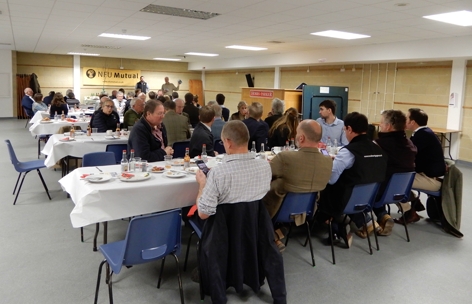 Under the care of the NFU fundraising for the RABI raises vital funds for the farmers who through no fault of their own find themselves in need, particularly in old age.
Kent RABI Chairman Charles Tassel thanked attendees for supporting RABI and reminded us all of the importance of the institution and the benefits provided to worthy members of the agricultural community.
Below: Kent RABI Chairman Charles Tassel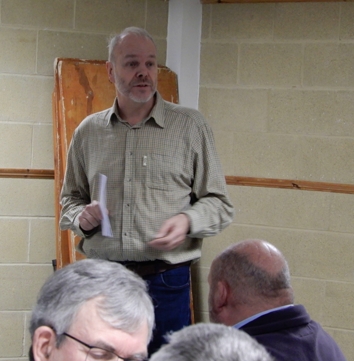 Below: Doug Jackson and Charles Tassel get the Raffle under way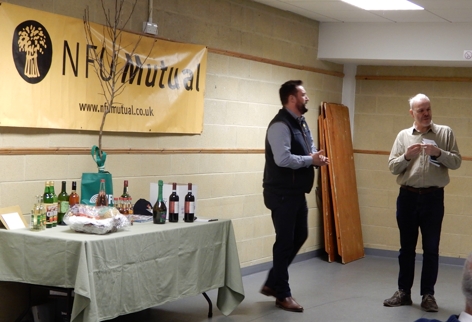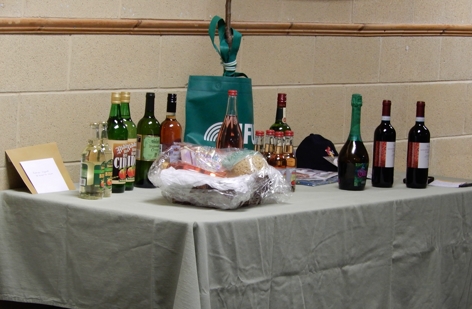 Among the raffle prizes, a Crimson Crisp apple tree donated by Stuart Doughty and won by Diane and Mick Hickman. Stuart bought the tree from Nurseryman John Breach.
Below: Stuart Doughty, Diane & Mick Hickman and Doug Jackson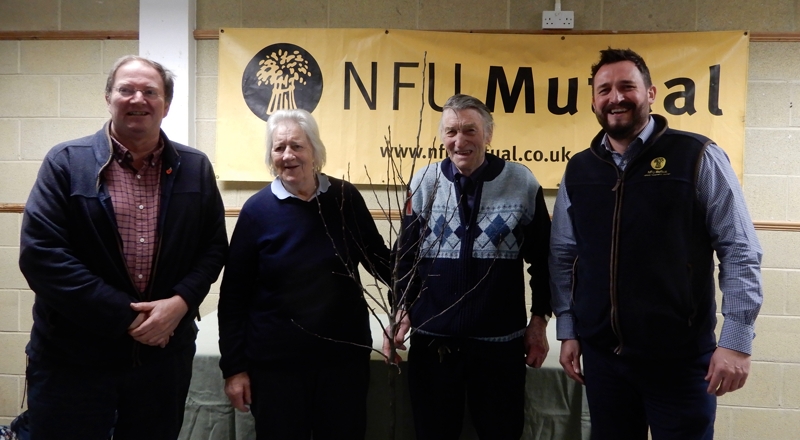 Below: Crimson Crisp apple tree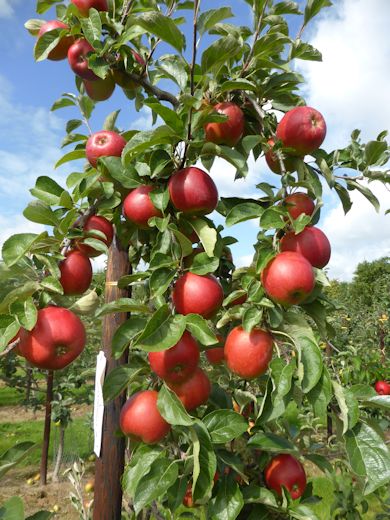 That is all for this week
Take care
The English Apple Man