Journal
1st Apr 2022 - The English Apple Man reaches a landmark birthday
"Time flies" is an often spoken assessment of how quickly our lives evolve.
Below: left; a recent picture of the EAM and right' with my future wife in 1958 - sweet sixteen and below after our Honeymoon in 1963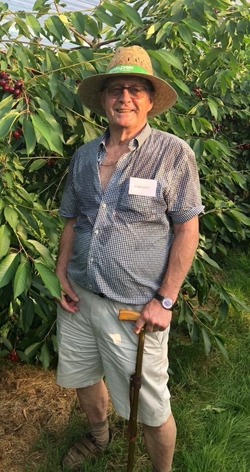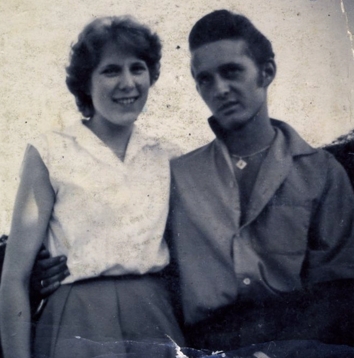 On Tuesday 29th March The EAM celebrated his '80th Birthday' an age which I never dreamed of reaching as my parents passed away at 46 and 64 respectively!
My wife and I met in 1958 and married in 1963. I have been so lucky to have had her support through some difficult times and given me two beautiful children.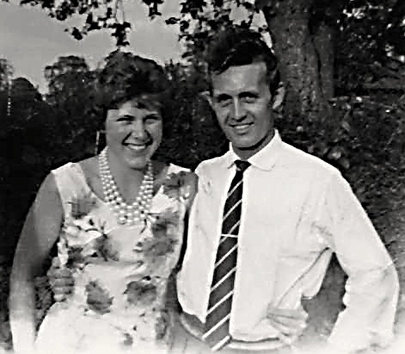 In this week's Journal I will look back at the years I have spent in the business of fruit growing and in particular apple growing
Born into a fruit growing family in West Kent in 1942 I was blessed with an idyllic childhood enjoying an 80 acre playground. Unhindered by rules and regulations, but respectful of my elders and particularly Dad's leadership.
My early years were obsessed with kicking a football around and under Dad's coaching my brother and I could both kick with both feet by the time we were six or seven. Dad was a fine centre forward in the late 1920's until the late 1930's and was offered a trial with Tottenham Hotspur in 1935 after scoring a 30 yard bullet against a Spurs reserve team!
Sport was an obsession and Dad also tutored us both in Cricket at an early age as we developed bowling and batting skills.
in 1965 my brother and I played football for Hawkhurst as we won The Hawkhurst Charity Cup 30 years after our father won it in the last Hawkhurst team to win it! Later we both played for a 'nomadic' cricket team called The International Wednesdays.
Below: left; Hawkhurst win the Hawkhurst Charity Cup in 1965 and right; The International Wednesdays on Tour in Ipswich circa 1980.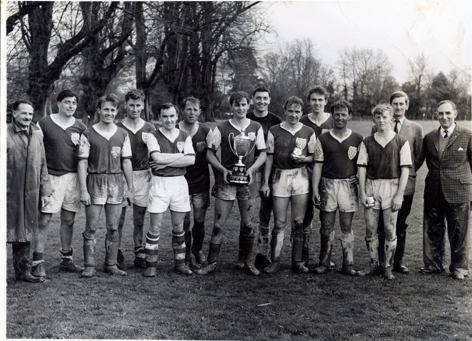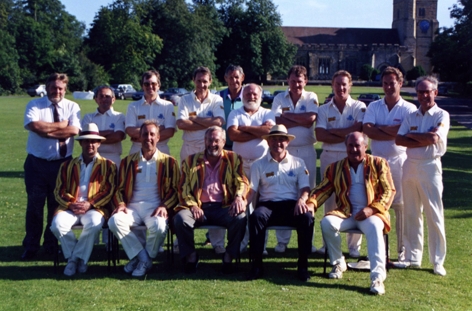 After a private education, where I learnt who to 'toff' my hat to and drilled into addressing my elders as 'Sir or Madam' I left school in 1958 at the age of just 16 with no certificates of education, but as Captain of Football & Cricket, Joint Head Boy and arguably the best athlete in the school, I was happy. I then joined father on our fruit farm as "the boy" in the workforce!
Below@ a good example of the Bush Tree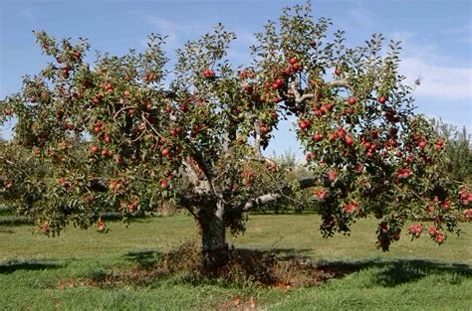 Life was simpler then; our apple trees were a mixture of 'Standard and Bush trees with a two acre field of Cordons.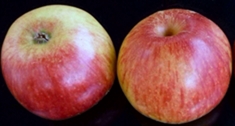 Varieties from Beauty of Bath, Worcester Pearmain, Laxton Fortune, Cox Orange Pippin and Laxton Superb were the mainstays. With Cox the dominant variety and at that time still the most valuable variety on the farm
In those early years I spent most of my summers busily mowing the orchards, initially with gang mowers and then a Hayter mower.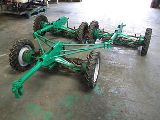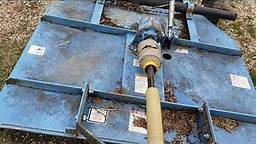 Apple picking started in August with Beauty of Bath ( x Worcester Pearmain one of the parents of Discovery)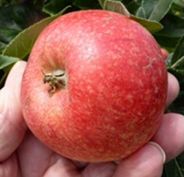 While we joked about B of B as "not ready today, just right the next day and over the top the day after" it made decent money in the London Markets as the first eater of the season (before we were invaded by Golden Delicious on entry to the Common Market in 1971)
It's 'offspring' Discovery inherited some of the characteristics of B of B but either eaten straight from the tree was/is a crisp refreshing although slightly acidic flavour.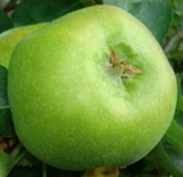 Over the years from 1958 until 1970 our trees were planted as Bush trees. But in 1970 we planted our first commercial planting of Centre Leader trees - aka Spindle Bush trees. More were planted in 1971 & 1972. These were Cox with Golden Delicious (as the pollinators) the next planting was an 8 acre block of Bramley, also on a centre leader.
Further plantings of Flanders Cox with Discovery were planted in the late 1970's
More Cox on M9 went in during the early 1980's
By the time I sold the farm in 1991 the farm was a mixture of Cox and Egremont Russet on Bush trees from the late 1960's plus the aforementioned plantings during the 1970's and 1980's.
Marketing
Up until 1978 all our apples were sold in the London wholesale markets, but in 1978 we joined Mid Kent Growers and their marketing agent Norman Collet Ltd. Norman served us well as we supplied Sainsburys and Tesco until I sold up in 1991.
Below: left; The English Apple Man circa late 1970's in a Cox/Discovery orchard and right; Dad in a Cox orchard circa 1971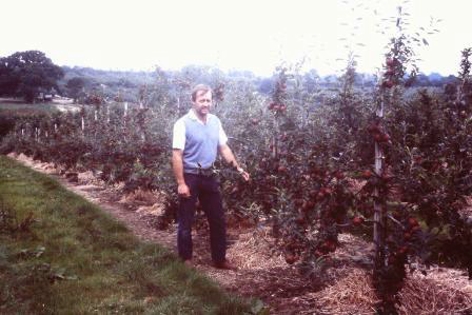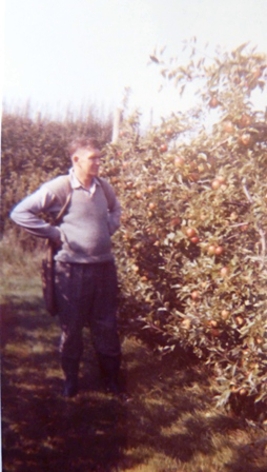 Below: this 10 acre Cox orchard planted in 1956 in blossom during the 1960's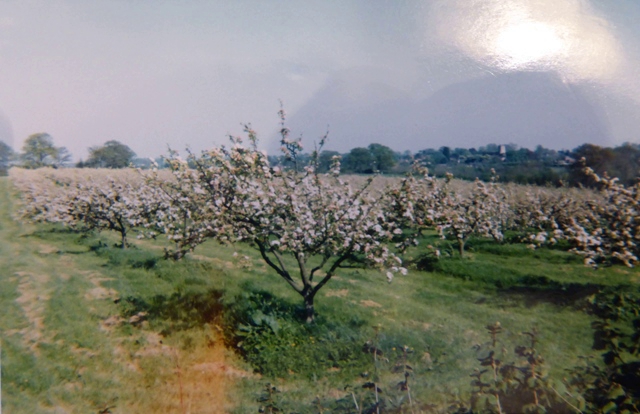 My reason for selling?
Both my son and daughter had committed elsewhere, Amanda had married and moved North. Stuart was in the City as a Trader in the financial sector and I was very concerned about the very competitive nature of imported Gala and Braeburn which had eroded the 'premium' of Cox. So in the summer of 1991 I sold most of the farm, retaining 16 acres (including 3 orchards) and the Farmhouse.
After a 'semi sabbatical' looking after my 3 orchards of Cox & Discovery, playing golf and tennis with various close friends, I managed to gain a position with Home Grown Fruit, the largest UK Cooperative for apples & pears. In 1994 I joined HGF in a quality/technical role QC inspectors really) and learning from colleagues who are still great friends today, we visited HGF member packhouses across Kent & Sussex and further afield in Suffolk, Norfolk and the West Midlands.
In 1996 my boss retired as head of the Quality Assurance department and I was asked by the HGF MD to take on the role of leading the QC Department. Over the next few years we transitioned from HGF to Worldwide Fruit Ltd. My role within WFL was UK Technical Director, responsible for the UK growers and packhouses with my team.
In retirement I started my English Apple Man website (in 2009) with the objective of educating the consumer about what goes on in the lives of our fruit growers, now nearly 14 years on, it may be time to look for someone to take over!

That is all for this week
Take care
The English Apple Man