Journal
8th Apr 2022 - National Fruit Show AGM and Conference speakers
The National Fruit Show AGM on Wednesday 6th April was followed by a Technical Conference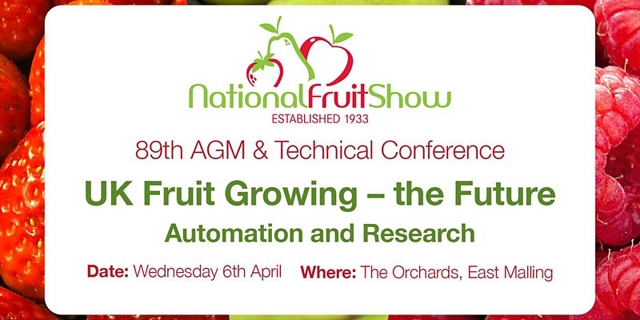 After the AGM the attendees were able to join Professor Simon Pearson (Lincoln University), Lee Abbey (NFU) Tim Mordan (Defra), Dr Trisha Toop (Agri-EPI centre) Oli Hilbourne (Outfield Technologies) Dr Nicola Harrison (NIAB EMR) and Scott Raffle to explore the technology, policy and research that is shaping our future.
Arriving few minutes late; 'traffic diversions' - "The English Apple Man" took his seat and settled into following the AGM business, On the stage, NFS President Teresa Wickham, NFS Vice Chair Annette Bardsley, NFS Treasurer Chris Morris and NFS Administrator Rachael Heather.
After a while, I thought where is our NFS Exec Chair Sarah Calcutt? her commanding voice was present, but where was she?
Then "the penny dropped" - Sarah was in Dubai with Agri-EPI Centre business and Chairing the day's proceedings via zoom - what a thoroughly modern miss she is!
President Teresa Wickham presented a number of Trophies to NFS Long Term Storage Competition Winners.
Below: left; View from the room of Executive on stage and right; President Teresa Wickham presents the John Wills Cup for 1st Prize Bramley to Simon Bray.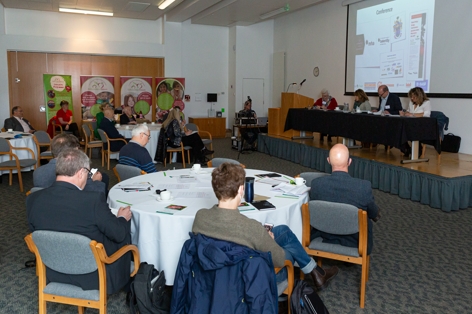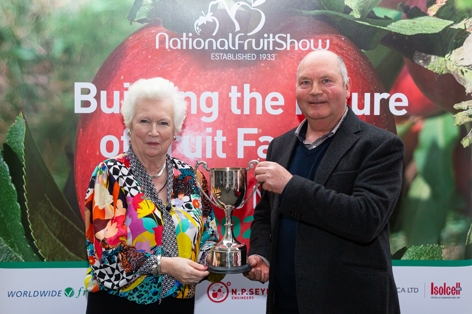 Following the formality of the AGM, The James Nicholls Memorial Lecture presented by Professor Simon Pearson
Simon Pearson is Professor of Agri-Food Technology at the University of Lincoln

Below: Professor Simon Pearson presents The James Nicholls Memorial Lecture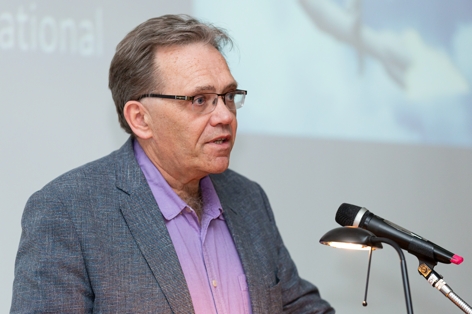 Simon is Founding Director of LIAT, The Lincoln Institute of Agri Food Technology.
Responsible for developing the agri food technology research platform for the The University. The role includes external networking and interaction with funders, and then the internal
Research interests include;
A diverse range of agri technology applications including robotic systems, automation, energy control and management, food safety systems, novel crop development
Click on: ROBOTICS & AUTOMATION
James Nicholls Memorial Lecture
In this week's Journal The EAM will concentrate on Simon Pearson's lecture, leaving presentations by other speakers for future Journals.
The quality and content of Simon's lecture was inspirational. His grasp of the challenges and his clarity of explanation for those exploring answers face the technical barriers, faultless!
Simon emphasised the development of a robot for harvesting cannot be achieved by designing a working harvesting tool from scratch. The development comes from small steps forward on individual elements of a working robot. Platforms for picking have now moved forward with teams of 6 picking straight onto moving belts which convey the fruit gently into bulk bins. Gradually new developments will arrive overcoming individual tasks. It is a sort of "drip drip" process.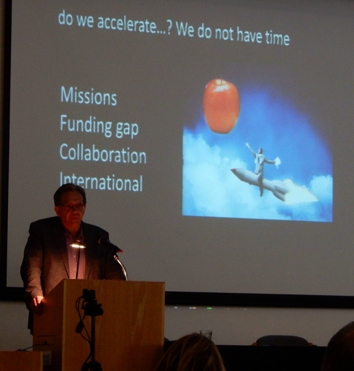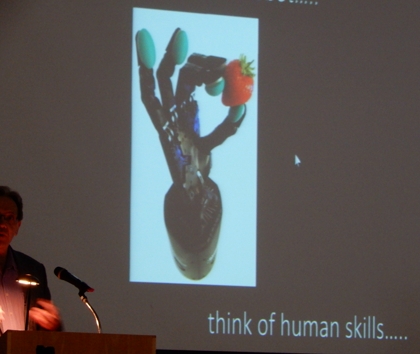 Clearly the apple industry is desperate for a working robot and when ABUNDANT became the first commercial unit operating in New Zealand in March 2019 we thought we were on the threshold of "a quantum leap forward" - sadly Abundant ran out of money and is no longer part of the development equation!
Below: Articles covering Robotic apple harvesting published on English Apple Man Journals
Click on: Robotics in New Zealand 29 March 2019
Click on: The English Apple Man Journal 28 January 2022
Simon said the most promising robotic harvester development currently is in Israel.
Click on: FFR Robotics Israel
Click on Robotic Apple Harvester development in Israel
Simon emphasised the need for more PHD Students; bringing young brains to finding answers to the processes required to successfully develop Robotic Harvesters.

That is all for this week
Take care
The English Apple Man