Journal
29th Apr 2022 - It's Blossom Time !
While blossom has been emerging for a little while now: Plum, Cherry, Pears and some earlier blooming apples, this last week has seen full bloom on many apple varieties.
On Tuesday East Kent Fruit Society held their annual blossom walk at Hugh Boucher's Newlands Farm at Norton in East Kent.
"The Boucher Family have been farming in Kent for over 130 years, specialising in fruit since 1942. These days, backed by a great team, grower Hugh Boucher runs the thriving fruit farm focusing on quality, sustainability and stewardship"
The business name is Robert Boucher & Son. Robert started growing fruit in 1942. Robert was succeeded by his son Rex Boucher who in turn passed the mantle to Hugh Boucher.
The Boucher family grow a variety of award winning Apple, Pears, Blackcurrants and Strawberries
The farm has remained mixed with top fruit sold through ABB PO, strawberries through Berry Gardens and blackcurrants under contract to Ribena. They also run a small year-round packhouse. Store and Pack own fruit
Apple varieties include Jazz, Gala, Cox, Bramley, Russet and Braeburn, plus a small acreage of pears. Their strawberry season lasts from Mid May to Mid October and they grow both standard and premium varieties, Some June bearers but mainly ever bearers.
The farm has remained mixed with top fruit sold through ABB PO, strawberries through Berry Gardens and blackcurrants under contract to Ribena. They also run a small year-round packhouse.
In addition to the farm walk, EKFS members had two presentations from NIAB EMR: Flora O'Brien talked about carbon sequestration in orchard crops and Michelle Fountain explained how to do pollination surveys and assess pollination efficacy in orchard crops. This is part of an EU funded pollination project called BEESPOKE
On a beautiful afternoon, an excellent turnout of EKFS members gathered for a most enjoyable visit.
Below: Hugh Boucher and Farm Manager Gavin Desson welcome EKFS members to Newlands Farm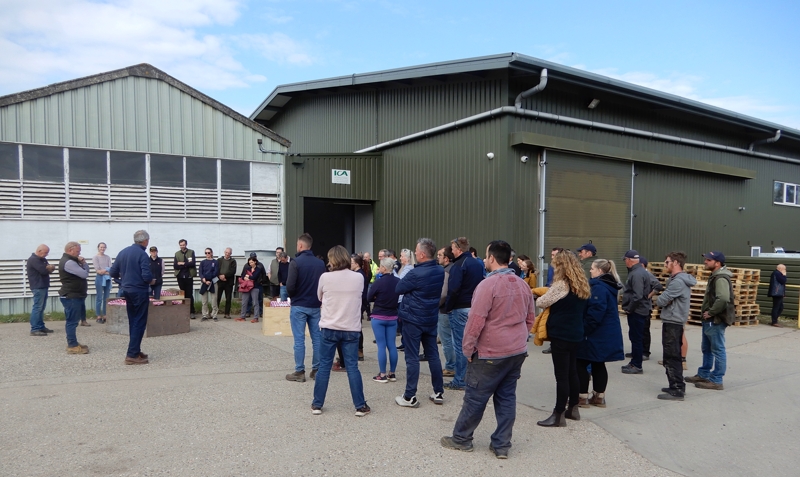 From the Newlands Farm website:
APPLES
Cox, Bramley, Braeburn, Gala, Jazz, to name but a few the varieties we grow. Our orchards range in ages from just a year old to the historic Church Orchard where Bramleys have been growing for over 50 years.
% By variety
Gala 30%
Braeburn 30%
Jazz 20%
Bramley/Cox/Russet 20%
Average Tonnes total 1400 Tonnes Apples from 36 Hectares
STRAWBERRIES
Carefully selected varieties of strawberries are grown first and foremost for flavour, yield and beauty. We grow among others Driscols Jubilee , Vibrant , Malling Centenary. Varieties change frequently as new ones become available. The classic British strawberry is what all our customers want and that is the direction we strive.
PEARS
"Our Pear orchards are the most established orchards on the Farm. We grow Comice and Conference Pears, with a deep, sweet flavour that makes them a family favourite.
Pears Conference and Comice 8 Hectares
BLACKCURRANTS
"We have been growing Blackcurrants consistently for over 50 years for Ribena. Historically the varieties are bred in Scotland , namely Ben Gairn, Ben Tirren, Ben Hope and Ben Starav. They now have to cope with milder winters that have become more common. Blackcurrant bushes need a period of cold weather between November and January to ensure uniform bud break .
Average Blackcurrant 240 Tonnes from 48 Hectare
The crop is machine harvested in July and sent on a daily basis to be pressed for juice rich in vitamin C.
Our first orchard visit was to the Jazz
Below - Plough Jazz - M9 rootstock 3rd and 2nd year, pollinated with Granny Smith first pick 13ton/ha, a few of our own planting trials with auger (quicker and better for the trees) and mycorrhiza applied to root area.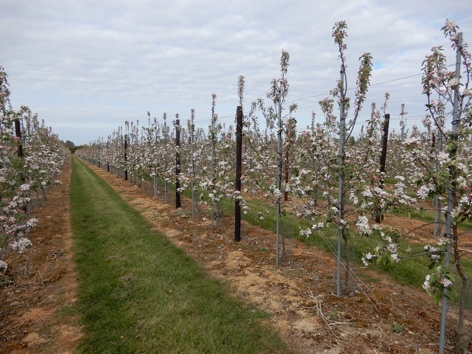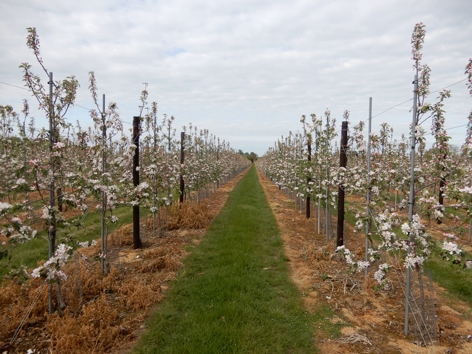 Below: left; Gavin informs EKFS members that pruning Jazz is about to start, late pruning helps growth control and by pruning in dry conditions reduces the risk of canker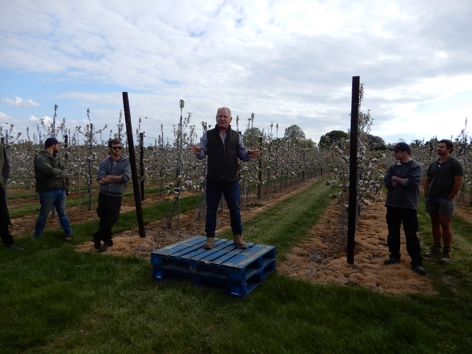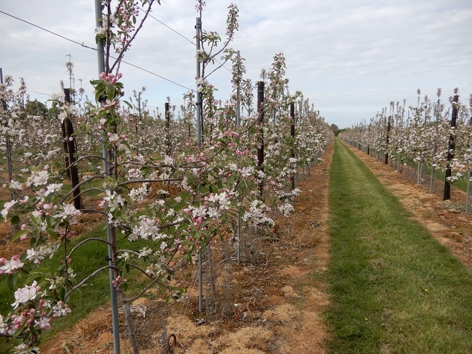 From the Jazz we moved onto Gala now in year 11. Gala Royal Beaut pollinated with malus average 57 Tonnes per hectare. Brevis used to thin mainly on North facing tree/sides and tree tops.
Below: Salmon Gala - year 11 - Gala Royal Beaut pollinated with Malus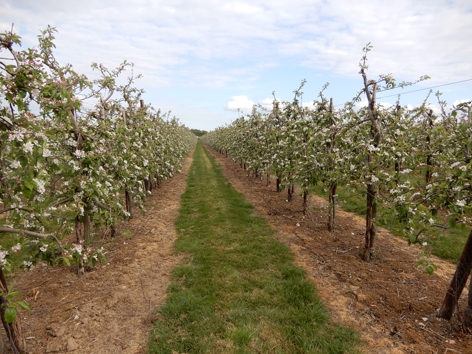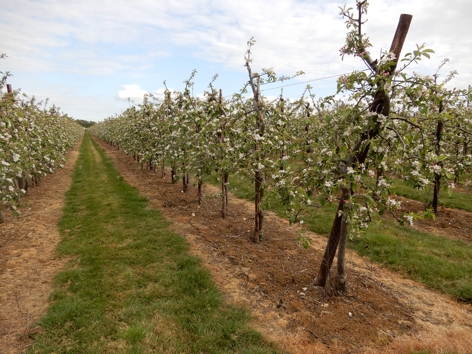 Next on our tour: 14 year old Braeburn orchard on NAKB and Hillwell clones,pollinated with Russet, GoldenDelicious and Malus averaging 66 tonnes per hectare.
Below: Forge Braeburn - year 14 = NAKB and Hillwell. Gavin said "we use Brevis to help with thinning and ATS on the Russets"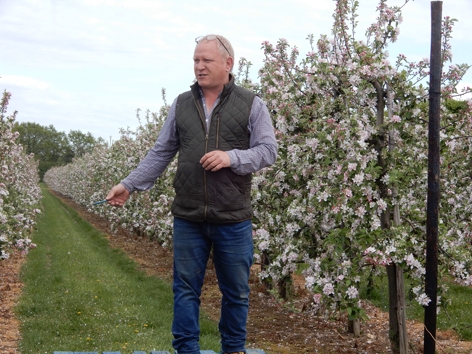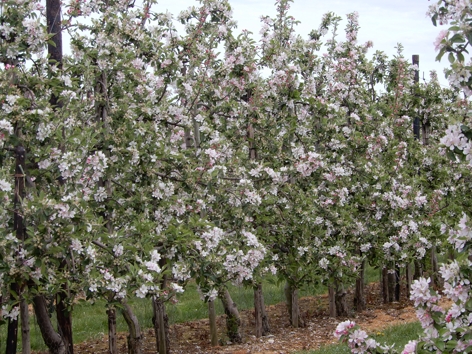 Below: NAKB and Hillwell Braeburn with abundant blossom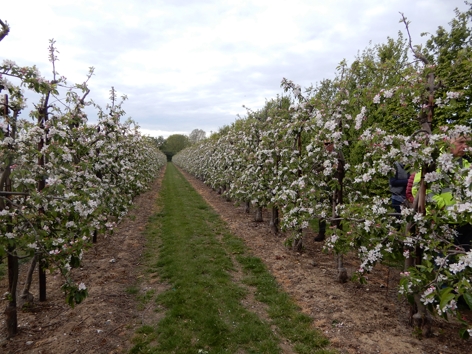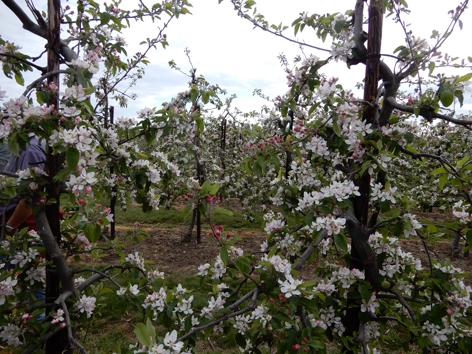 Michelle Fountain
Michelle specialises in the minimisation of pesticide use in fruit horticulture, improving pollination in fruit crops and incorporating modern fruit growing practices with Integrated Pest Management.
Her pollination research is on the identification and enhancement of key insect pollinators of a range of fruit crops including blackcurrant, apple, pear and strawberry.
Michelle demonstrated how growers can survey their orchards for evidence of different pollinators. Honey Bee, Solitary Bee, Bumble Bee, Hoverfly & Other!
Michelle emphasised the importance of creating/maintaining habitats for solitary bees !
She emphasised how beneficial Solitary bees are. By their 'harvesting technique' they deliver a more comprehensive pollination of the flowers, which produces apples with more seeds and fruit of superior quality!
Insect pollination is worth €15 Billion in the EU but wild pollinators are declining because of loss of flower-rich habitats. In response the EU adopted a pollinator initiative in 2018. The North Sea Region is one of the most productive agricultural areas but pollinators are in decline across the region.
The BEESPOKE project aims to increase levels of pollinators and crop pollination at local and landscape scales by providing land managers and policy makers with new expertise, tools and financial knowledge to create more sustainable and resilient agroecosystems.
Below: Michell Fountain NIAB presents updates on the importance of solitary bees & Hugh Boucher joins the conversation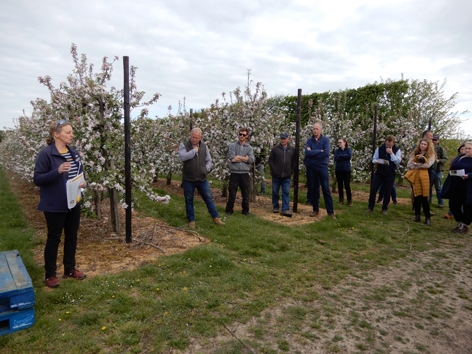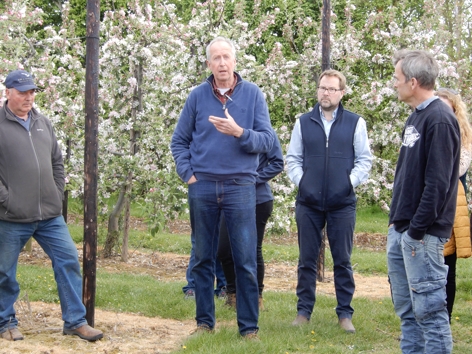 Below: Blackcurrant weeding and soil beneath the bush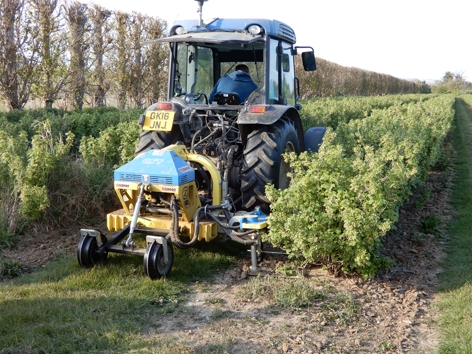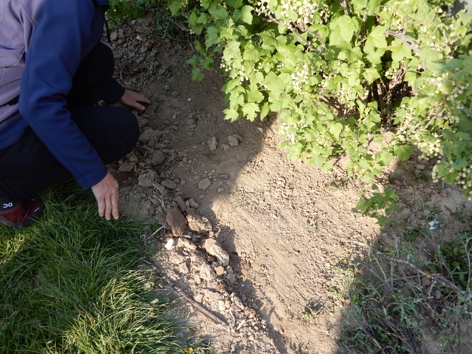 Below: Modern blackcurrant management uses machine pruning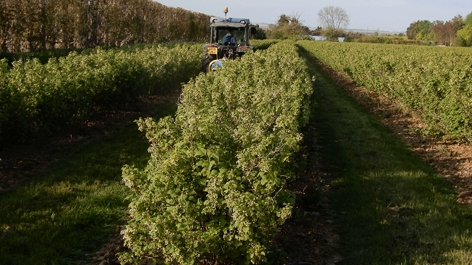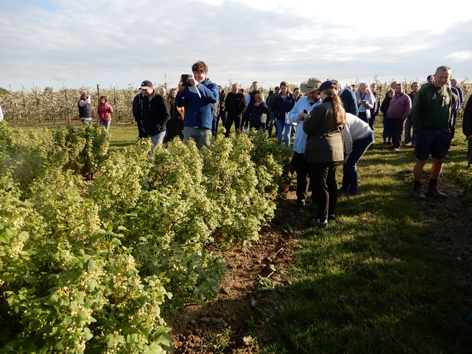 Below: left; ZARA strawberries and right; Hugh Boucher explains the management philosophy.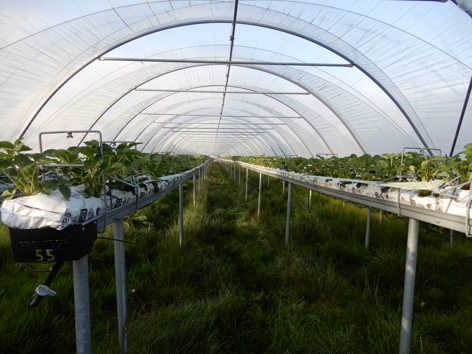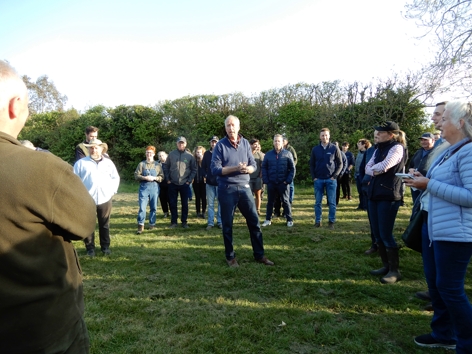 Below: left; ZARA and right; Murano strawberries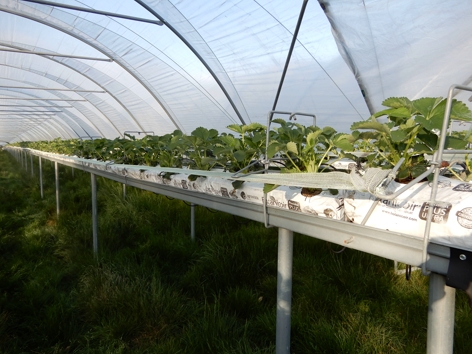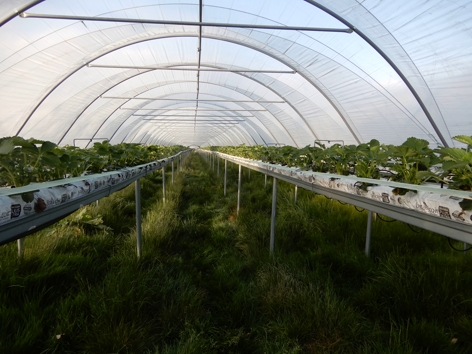 Below: Dr. Flora O'Brien NIAB EMR presenting an update on carbon sequestration in orchard crops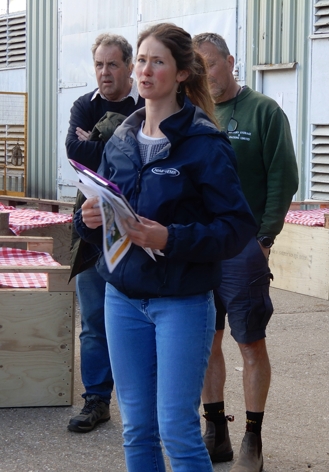 Flora gave us an overview of the complex nature of Carbon sequestration in orchard crops, noting the many interactions which influence the process in orchards.
Carbon sequestration is the process of storing carbon in a carbon pool. Carbon dioxide (CO2) is naturally captured from the atmosphere through biological, chemical, and physical processes. These changes can be accelerated through changes in land use and agricultural practices, such as converting crop land into land for non-crop fast growing plants.
The EKFS blossom walk was a very enjoyable and educational evening. Hugh Boucher his wife Fiona and their family made it a special event for all who attended.

That is all for this week
Take care
The English Apple Man