Journal
6th May 2022 - Judging Juice & remembering a lovely lady!
This week The English Apple Man reports on Judging the apple juice competition for the National Fruit Show and a Charity Bike Ride in Memory of Rosy Green organized by her daughter Georgie and participated in by The Green Family led by 'patriarch Mike Green.
Recently (27th April) The English Apple Man joined colleagues judging the National Fruit Show juice competition.
At our customary location; the Oast Room provided by NIAB EMR at East Malling Research and under the supervision of NFS Competition Manage Norma Tompsett, and David (head honcho) Pennell who had the unenviable task of gathering the results, entering them on his PC and ensuring judgments were in line with the mandate for fair competition.
The NFS Apple Juice Competition is, predominately apple juice, sometimes unblended, often a blend of two apple juices, and for "the adventurous" - blended with raspberry, rhubarb, strawberry, pear, elderflower and even beetroot!
The competition is divided into three classes. Class 40: Blended apple juice. Class 41: Single variety apple juice. Class 42: Blended 2 or more.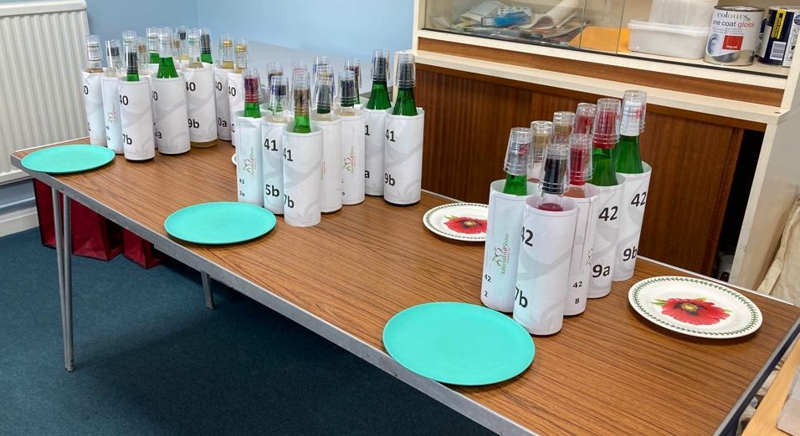 Below: Judges Brian Tompsett, Joanna Wood and The English Apple Man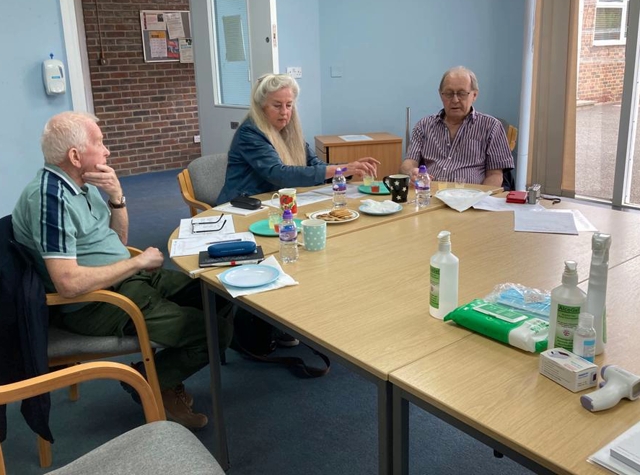 The judges are split into two groups of three, The English Apple Man was teamed with Joanna Wood and Brian Tompsett.
Joanna and I have been regular apple juice judges, but Brian who is Chairman of Judges at the National Fruit Show stepped in as a juice judge at the request of his wife "Norma.
Judging criteria evaluates: Most entries are described as 'Cloudy' - a few as 'Clear' - the judgement of Taste, Aroma, Homogeneity and Clarity determine the result. While taste is the most important factor, aroma (smell) and homogeneity (uniformness of sample); eg; no residue found in a cloudy sample will be judged a score 5/5 unless the entry is less than perfect.
Aroma varies and individual judges may detect some or no aroma on the entry. Hence the importance of six judges who will/may have different sensory perception.
As we work our way through the entries (33 this year) the individual 'taste buds' may swerve towards 'sweet' or more 'acidic' - in most years the winning entry is a blended mix of two apple varieties, but sometimes an apple/raspberry blend will be among the final three!
Below: left to right: Colin Corfield, Emma Easton, Jenny Bartlett and Adjudicator Dr.David Pennell.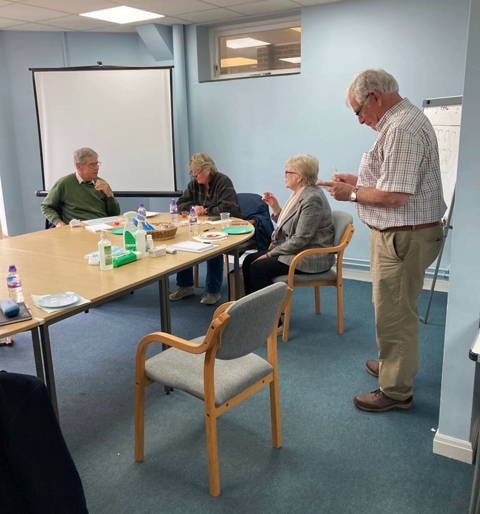 The other group judging were: Colin Corfield, founder of Owlett's Fruit Juice with vast experience of the 'nuances' of apple juice and a winner of many awards. Colin sold Owlett's and now in retirement is able to lend his vast experience the judging panel. Accompanying Colin, Emma Easton has been a member of the judges for many, many years and Jenny Bartlett is also a regular judge.
Owlet Juice was purchased by Loddington Farm on 11th November 2020, but this is not where their relationship began...
In 1979, Colin Corfield, the former owner of Owlet, started his fruit growing career with Alan Smith on Loddington Farm. On an Autumn day, Colin was sitting under a pear tree having his lunch break surrounded by fallen fruit.
Colin thought there must be a use for it instead of letting it spoil on the ground... and so Owlet Fruit Juice began.
41 years later, Owlet Juice is a household name and is back at the farm for an exciting new chapter.
Loddington Farm is a fifth-generation, family run business that is changing the way produce is grown. It's not conventional farming, it's not 'organic' farming, it's farming with nature instead of chemicals to produce more nutritious, more environmentally-friendly fruit for our juices.
Results for the time being are confidential, but will be released in due course by The NFS executive!
IN MEMORY
In the last years of The English Apple Man's working life, with Worldwide Fruit, I worked closely with WFL Sales Director Mike Green. Very sadly Mike's beautiful wife Rosy lost her battle with cancer at the end of January.
Mike's Story:
"Some time ago, in a moment of irrational bravado I was coerced by my youngest child to enter the annual East Kent Hospices bike ride and somewhat alarmingly this date has crept up on me and realise that I will be taking part in this on Sunday 1st May
This in itself poses plenty of dangers to a septuagenarian whose body has been maltreated due to an obsession with sporting activities from a very young age, however I see many more dangers lurking within the Team itself who I will introduce:
Firstly my youngest daughter, Georgie whose tenacity is legendary - is she likely to have much sympathy for her Father? -I think not !
She is joined by her equally tenacious colleague and former Captain of School, Lauren Soutan an old friend of Georgie's and, despite 2 small children has just completed her football season!
Then my son in law Dave Millyard who in recent years has completed an Iron Man competition and will see this as a stroll in the park as well as the massive benefit of not being harangued by 4 females for a few hours! And lastly the greatest threat to life and limb my colleague Kip Denne and his flying machine. Albeit another septuagenarian!
Team Rosy Green
Below: left to right -Lauren Soutan, Dave Millyard, Mike Green, Kip Denne, Georgie Green, - The Elite Team Rosy Green - a slightly sad note attached to this official photograph but you will see right background a slightly forlorn figure in yellow jacket who had tried to join the Elite Team Rosy Green but we had to reject his application to join as it was felt his lack of speed , strength and stamina would hinder the team -he is known locally as Hammo !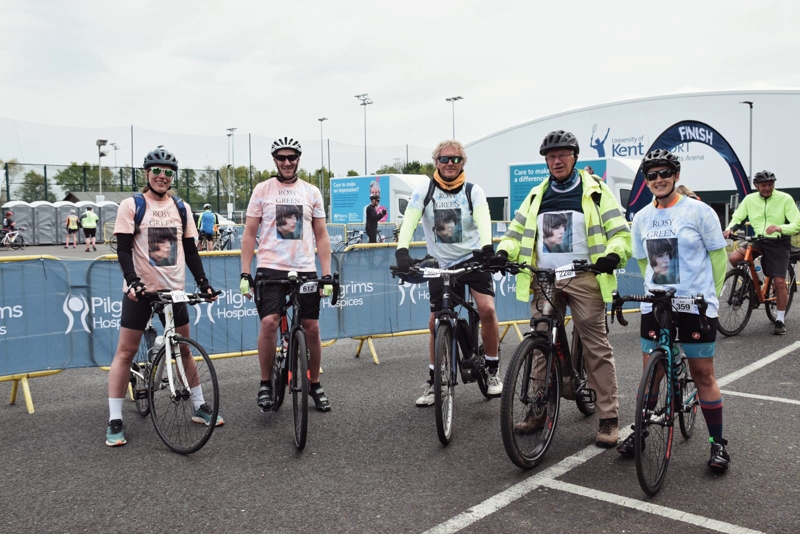 Below: Team Rosy Green: the casual and confident approach just prior to the start !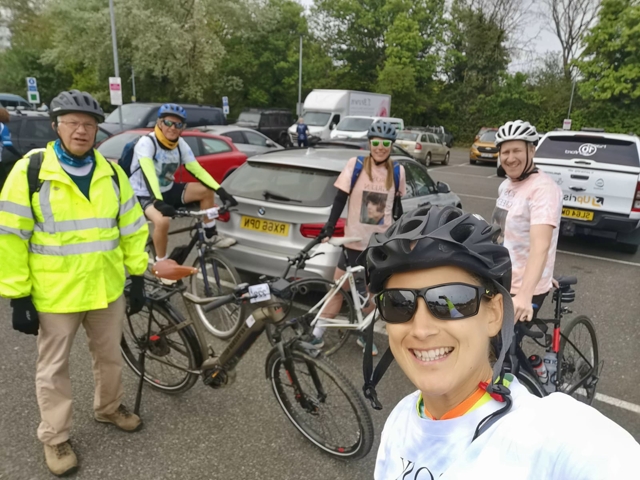 Mike continues his story, recounting the Charity Bike Ride on Sunday 1st May
Let me start this somewhat overlong email by thanking everyone for their amazing generosity in supporting the somewhat disparate 'Team Rosy Green' in their efforts to raise monies for the Pilgrims Hospice. I have been very moved indeed by this generosity but my many years in marketing makes me feel that I owe everyone a little more insight into the Team, the preparation, and the support as well as sharing the more visceral agony of a 75 year old body trying to cycle up Stowting Hill!
The first blow was that Ineos declined our suggestion that sponsorship would be of mutual benefit despite the Team being made up of 1 Iron Man 2 Ladies and finally 2 Septuagenarians (Kip Denne and Mike Green) - these last two had sponsorship from Green Energy !
One of the problems to be managed was that too many members of the team were genetically disposed towards competition and had to be reminded that this was NOT a race, but a charity bike ride - it is self-evident from the names above who was guilty of this !
My own experience of cycling had begun over 60 years ago when, after saving my pocket money for 18 months, I bought a Raleigh Blue Streak from Barretts for £15, this enabled me to get to some more exotic places like Margate in the summer! ! However the preparation for the bike ride on Sunday was a new experience altogether-padded shorts, gloves, helmet, sunglasses ,heat lotion and chamois butter
The support for the team was fantastic as we had carefully planned in a number of extra stops on top of the 2 organised by the race as there were colleagues along the way who met up with us at various places including the Compasses at Crundale and of course The Red Lion at Bridge -having all 5 Grandchildren screaming at me was, I think, a help and although we were unable to get the same sustenance as Lance Armstrong to help us along, the flapjack, protein bars , Lucozade and red bull and bananas provided by Jamie and Hannah's young team had to suffice
Two things stood out for me; firstly that it is a disgrace that someone who has lived in the area for so long had not seen some of the beautiful countryside that we went through-very uplifting. Secondly that there needs to be both more cycle routes and more awareness of cyclists as participation continues to increase throughout the UK
Lastly and most importantly which was the object of all this exercise, your help and generosity means that we will raise over £6K for the Pilgrims Hospice a wonderful effort for something that touches so many Families
I am recovering slowly and will catch up with everyone in due course
My thanks and best wishes to you all
Mike Green
Returning to our UK orchards, the hot topic is Scab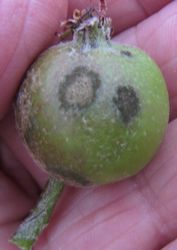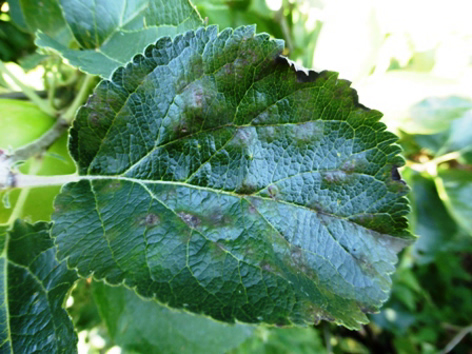 The weather has been largely dry recently and that would normally be a good omen for combatting apple scab. However my agronomist friends warn of scab infections 'exploding' soon if the weather turns wet. The present situation has large levels of scab spores triggered by the recent rain (in most places) just waiting for the right conditions: warm, wet, humid, before launching scab spores into our apple trees!
Discussing the scenario with my agronomist friend, I said way back when I was a young fruit grower we did not have much of a problem with scab as long as we maintained regular fungicide spray programme. I reflected that surely modern fungicides carry greater efficacy than those we were using 50 years ago!
Ah! No! My friend said: "back then the fungicides were powerful, but not environmentally friendly. Today (rightly) the sprays we use are far less effective in controlling scab, but relatively harmless to the environment!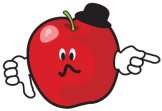 That is all for this week
Take care
The English Apple Man