Journal
24th Jun 2022 - It's Strawberry time
As Wimbledon approaches Strawberries take prime position.
Although 'home grown' Strawberries are available from Springtime until early Autumn, the peak production/consumption time has always been around this time (June/July) coinciding with Wimbledon!
At a recent East Kent Fruit Society event. EKFS members visited Hugh Lowe Farms at Barons Place, Mereworth.
Welcomed by Marion Regan (4th generation) and her daughter Amelia Maclean (5th generation) of the strawberry growing business started by Bernard Champion in 1893, EKFS members were taken by coach to three of the production sites in the locality.
Hugh Lowe Farms are a 5th generation family-owned business which has been growing soft fruit since 1893. Approximately five thousand tonnes of strawberries and 800 tonnes of raspberries and blackberries are grown from tunnelled production and from glass, with the balance of hectarage in arable crops, and environmental schemes. The main site is located in Mereworth with further production in Ightham and Eynsford.
Marketing through the growers' co-operative Berry Gardens Growers, they have supplied soft fruit to major supermarkets such as M&S and Waitrose since the mid 1970s.
They also have supplied all the strawberries eaten at Wimbledon for nearly 30 years and also support many local markets and community events.
Via Video Marion Regan introduces HUGH LOWE FARMS - Our Story SKIP ADS
Below: Tom Pearson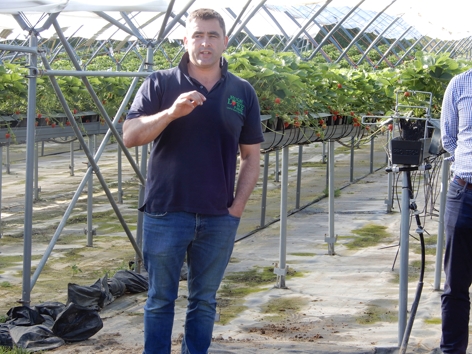 Marion introduced HLF Production Director Tom Pearson who explained the various processes used to produce circa 5,000 tonnes of Strawberries annually.
Tom said changes are ongoing. From initial use of peat growbags, HLF now use almost exclusively pots with coir substrate. Now with cost inflation impacting they re-use the substrate 2-3 times, sterilising some of the substrate.
Variety selection from Driscolls and the Strawberry Breeding Club at NIAB at EMR are trialled in HLF own trial plots, where data is gathered on fruit quality eg. appearance, size, taste, sweetness etc. Timing of harvest periods, yield and shelf life influencing future production strategy.
Varieties are selected for flavour and market acceptability. They benefit from Berry Gardens' association with Driscolls and have grown their premium varieties for over 20 years. Using poly tunnels and different varieties, planting dates, plant types, pruning and husbandry techniques means they can pick fresh fruit from April- November.
Our first site visit was to see Robots picking strawberries.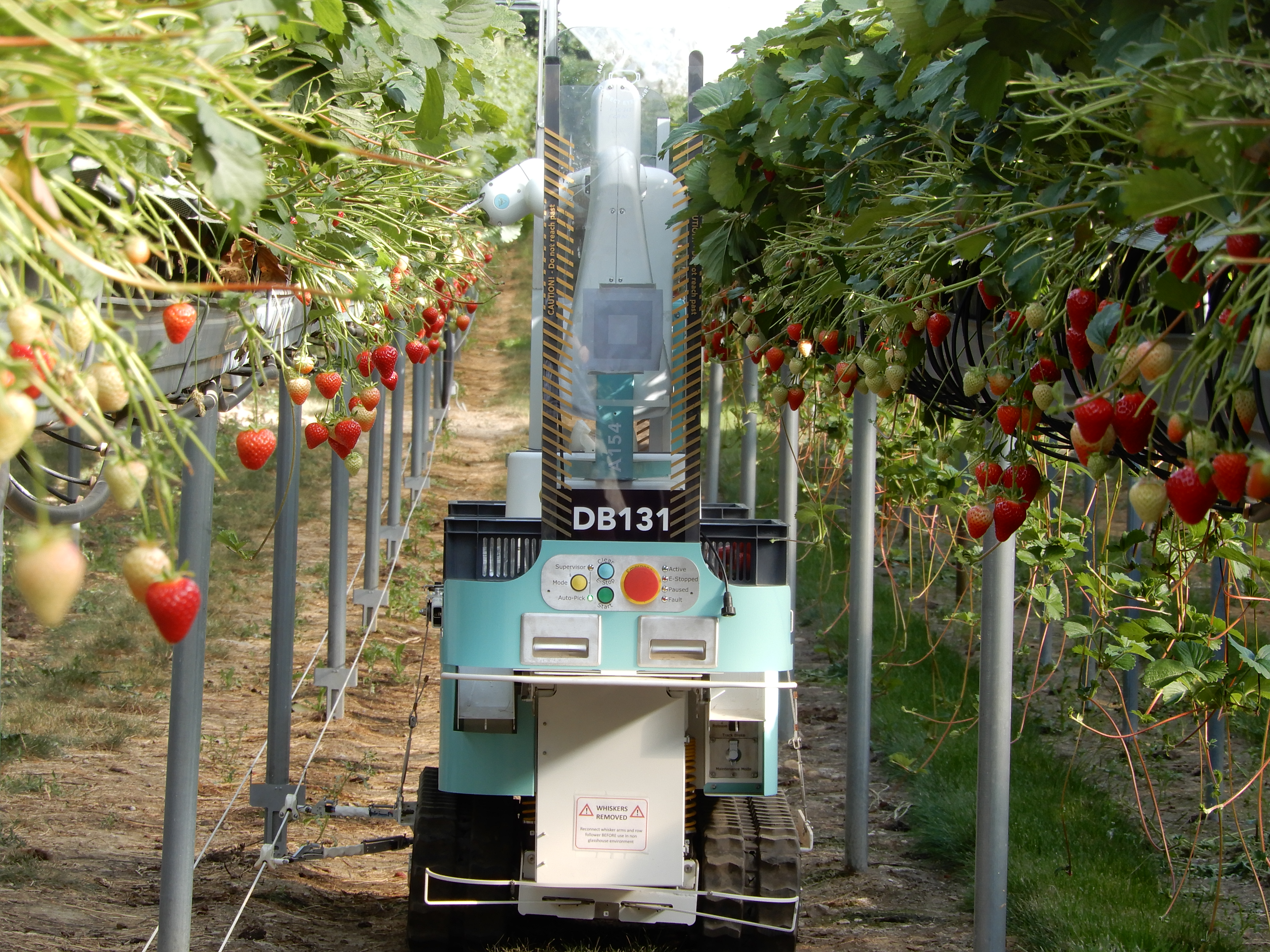 Below: Table Top Strawberry growing and Pots with substrate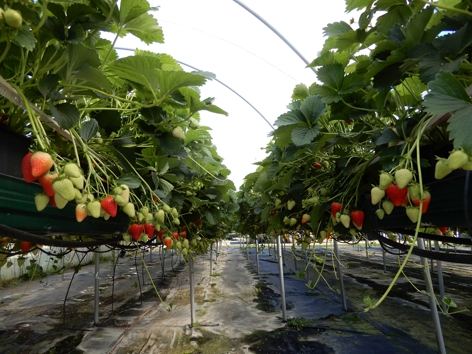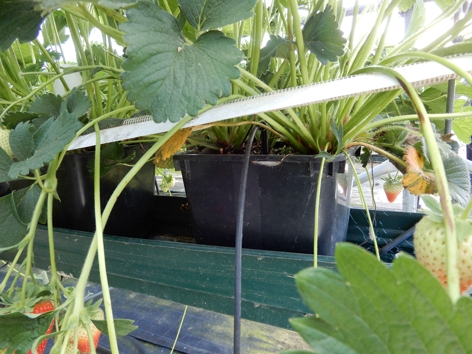 Below: left; part of the trial area and right; the table top system uses gutters to support the pots with substrate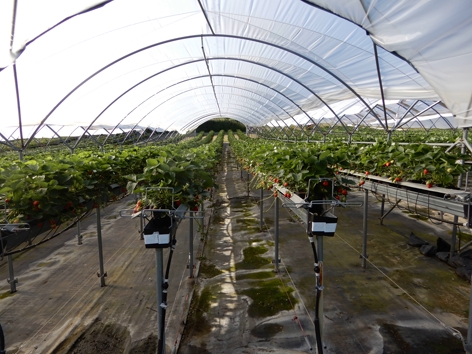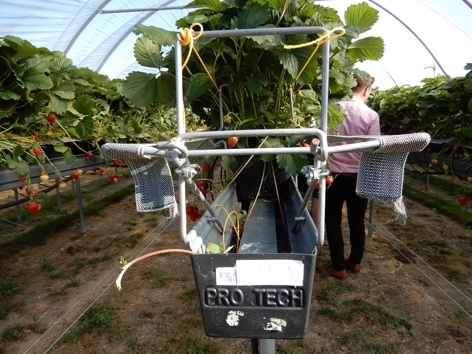 Below: Tom Pearson addressing the 'many' visitors to EKFS Strawberry walk!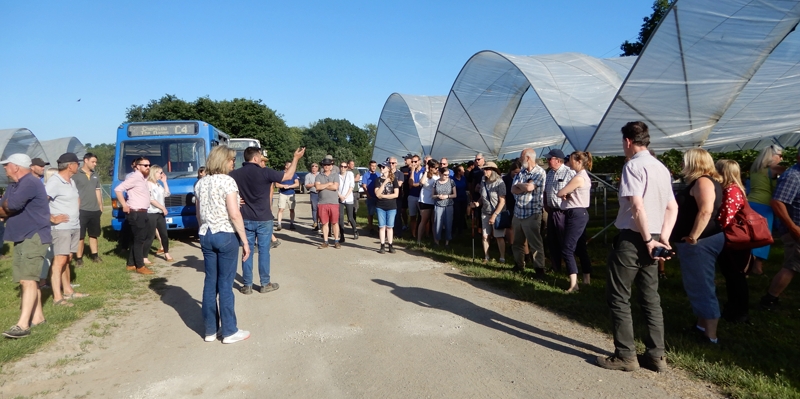 Below: A composite picture of (inset) Bernard Champion, Hugh Lowe, Marion and Jon Regan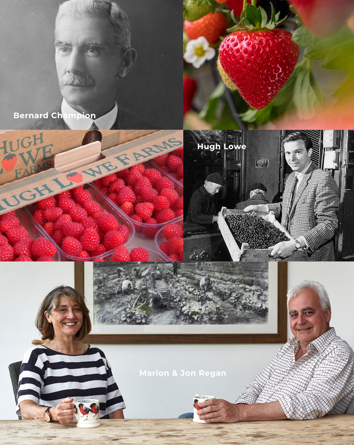 Click on Video of Robot technology: ROBOT
Click on The English Apple Man visits Hugh Lowe Farms in 2015
Click on Marion Regan & Wimbledon Strawberries and Cream 2020
Click on Hugh Lowe Farms Website for more information.
---------------------------------------------------------------------------------------------------------------------------------------------
While on the theme of Strawberries & Cream, The English Apple Man and his wife visited Lower Ladysden 'Pick Your Own' and 'Farm Shop' at Winchett Hill near Goudhurst in Kent.
Below: Lower Ladysden Farm Shop - from back
Below: Lower Ladysden Farm Shop - INSIDE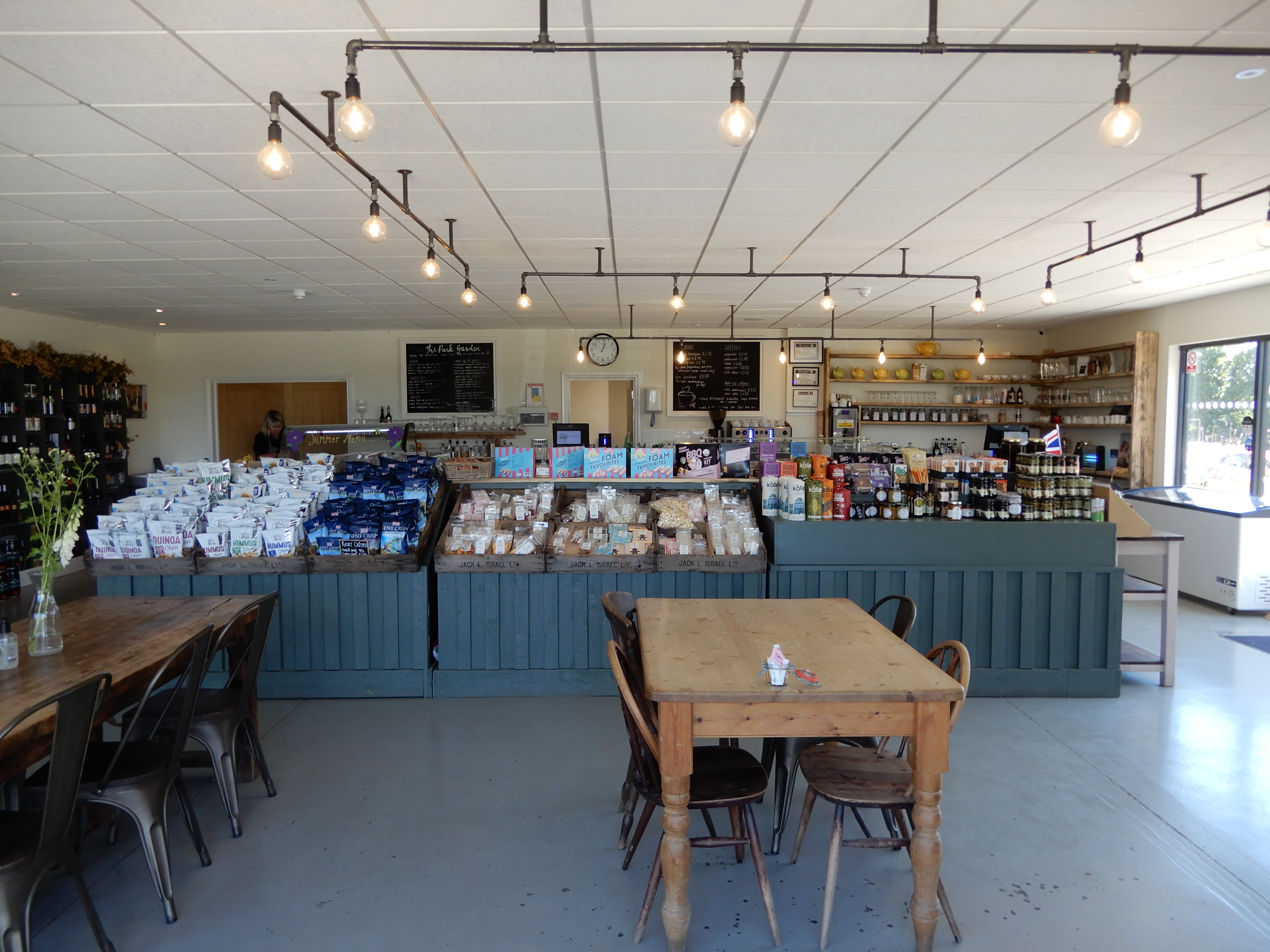 Below: PYO customers with very high quality Raspberries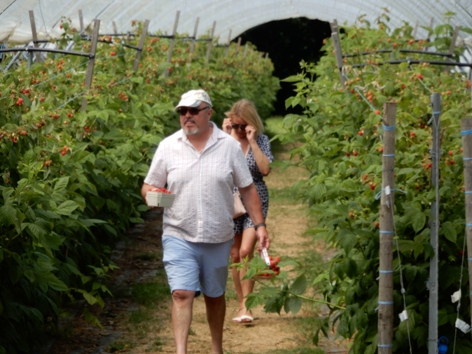 Quote from Lower Ladysden Website
"Lower Ladysden is a family-run farm which specialises in the production of fresh fruit and vegetables available for PYO or in our award-winning farm shop. We are lucky enough to be situated in the heart of the Kent countryside, just outside the picturesque village of Goudhurst and be blessed with the most stunning views, although we are biased!
The English Apple Man Comments: I had the pleasure of meeting Chris Kember circa 12 years ago when we were both on an Under 40's Fruit Group visit to Angers in France. During my visit to Lower Ladysden this week, Chris was away, but I met up with his brother (and partner) Steve Kember.
Over the last 50-60 years I have seen many PYO enterprises "come and go" - but this is a fine example of a top quality PYO and farm Shop enterprise. We enjoyed a lunch of Quiche with a salad which was superb. Although it was a Wednesday a steady stream of PYO customers were picking raspberries.
From our seat on the terrace the view past the tunnels with Strawberries, Raspberries, and Asparagus plantation extended to the North Downs at Linton in the distance.
Below: left; A view of the Raspberry tunnels and right; The North Downs near Linton can be seen with the Asparagus plantation below.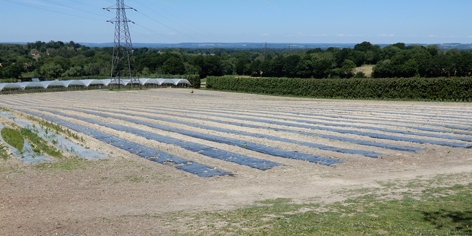 Below: left & right; Inside the farm shop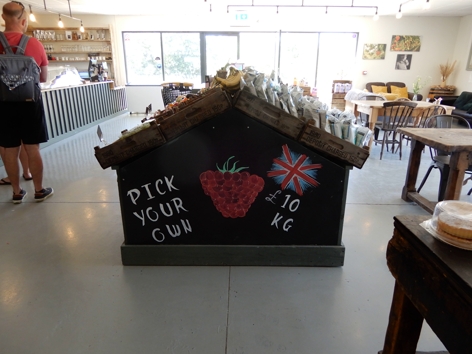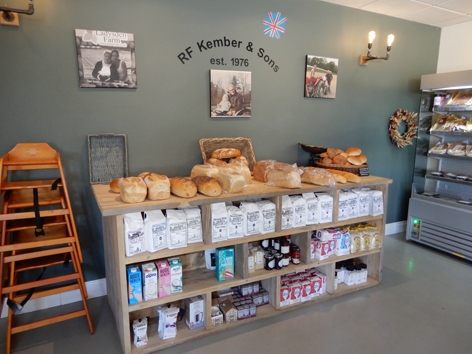 Below: left; two more images of inside the farm shop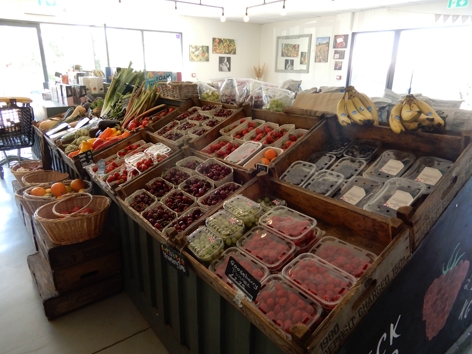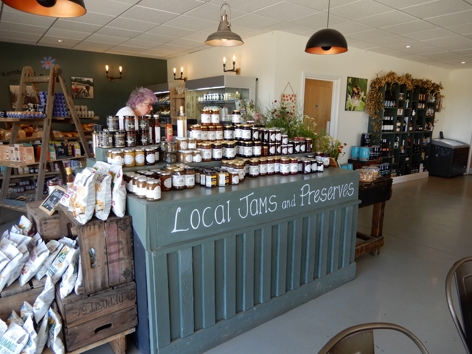 Below: left; Inside the farm shop and right; Shannon who served us 'delicious' Raspberries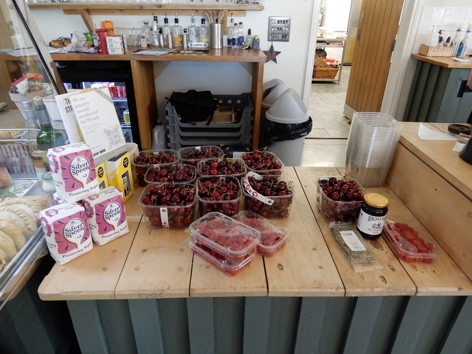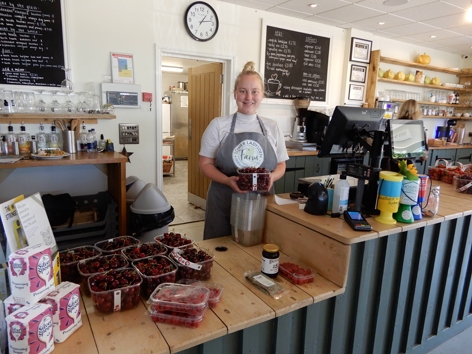 There is so much to enjoy at Lower Ladysden, a visit to the website will give potential visitors a good idea of produce available.
Click on: LOWER LADYSDEN FARM

That is all for this week
Take care
The English Apple Man