Journal
1st Jul 2022 - Regenerative agriculture, what is it?
Regenerative agriculture, what is it?
Regenerative agriculture is a way of farming to build and improve soil fertility, whilst sequestering and storing atmospheric CO2, increasing on farm diversity and improving water and energy management. It is a holistic solution that represents a first step towards a wider set of economic, environmental, and social benefits.
Below: James Smith welcomes us to Loddington Farm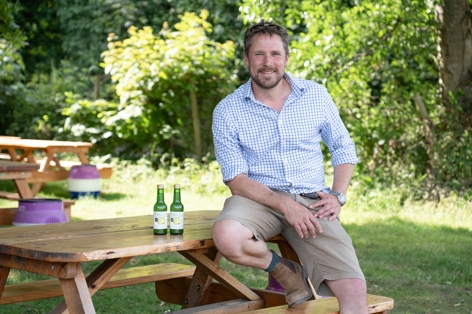 On a recent visit organised by Patricia Crawford - Press, PR and Business Consultant as part of the Farmers Guardian KENT TOUR sponsored by MHA MacINTYRE HUDSON, The English Apple Man was invited to join Patricia and Farmers Guardian journalist Alice Dyer on a visit to James Smith at Loddington Farm, Linton near Maidstone in Kent.
Loddington Farm is run by James Smith. After graduating from Reading University with a degree in crop science, he pursued a career in fresh produce, gaining valuable experience and understanding of the fresh produce industry, until 18 years ago, when he joined his father on his great, great grandfather's apple farm in the beautiful Kent countryside.
The English Apple Man has known his father Alan for circa 50 years and has followed James influence on the farm since he returned to join Alan at Loddington.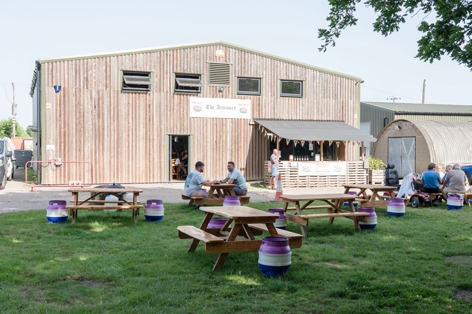 Our visit to Loddington was on a hot Friday afternoon, but James invited us to sit in the shade of trees on the green opposite to one of his new ventures; Click on: The 'Armoury' MUSKET Brewery.
Like so many of our Apple & Pear growers, Alan and James had endeavoured to keep up with the demands of the 'market place' using modern tree management systems, new varieties and embracing the latest technology. In spite of their efforts, they, like so many have found it hard to make it profitable.
In addition as James told us: "It has been hard putting all my efforts into trying to satisfy one outlet" - now he has reshaped his business, widening the product range and developing a much larger, more varied customer base.
He aims to produce healthy food in an environmentally sustainable way and sees the future where he produces locally and his customer base is also local. 'Holistic in all manner' instead of the past where he produced apples & pears and sent them many miles away to a central Supermarket distribution hub, only for some to be delivered back to Supermarkets in his locality!
Over recent years Alan Smith (4th generation of Smiths) has taken more of a back seat as James has continued to grow apples and pears alongside farm diversification such as renewable energy, property, and contracting services
In 2016 James was awarded a Nuffield Scholarship which enabled him to travel and look at ways of growing fruit for the UK market that could be profitable. Disillusioned with fruit growing in the UK due to concerns over the huge financial risks and the impact of chemicals on people's health, James decided to put his extensive knowledge and experience to use. He was encouraged to start a programme of self-education to see how we can produce better food - and began a journey in producing food using nature, instead of chemistry in farming systems. In 2020 in one orchard he has spent more money on books than agrochemicals in the quest to grow chemical free food.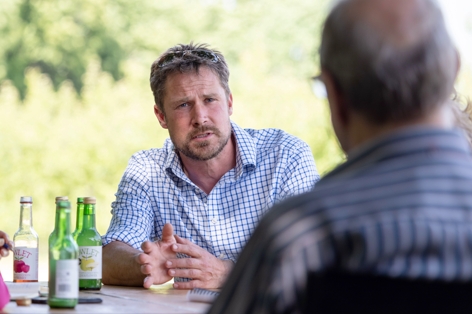 James said: "At Loddington Farm we had become disenchanted with growing fruit in the UK but our new approach means we can farm in a more relaxed way that will produce better food for less inputs so the passion is coming back to the farm. Margins are tight, demand for perfect produce is high and the dependence on chemistry is proving unsustainable. Now we focus on the soil, and see the farm as a natural system rather than a production unit where nature is managed. The benefit to farmers is to see the farm flourish with wildlife whilst producing the best food possible. Not only that, but it no longer costs the earth.
This is just one example of how we address the delicate balance between produce and 'pest', fixing the root (get it?!) of the problem instead of treating the symptoms. We no longer seek to destroy every pest we see but understand why it is on our plants and how we can enable the plants to fight their own battles. A plant constantly treated with chemistry will get sick, a bit like us if we try to live on antibiotics!
So not only is farming with nature better for our health and our wallets, it's better for the planet as well. At Loddington Farm there is no bare soil in our orchards. In fact, it's positively riddled with plants (they used to be called weeds but we know there's no such thing in nature!), flowers, bugs and birds. Not only does the abundance of insects benefit our food chain (save the bees!), but by not having bare soil, the heat from the sun isn't reflected back into the atmosphere. The world is meant to be blue and green, not blue and brown!
In addition, more plants equals more carbon in the soil microbiome, and by insuring that our food chain remains intact, our carbon levels are optimal for food production. Farming tends to take from the environment to produce food, we are putting back and producing more food as nature welcomes a different approach" .
Below: OWLETTS fruit juice is central to James restructuring the farm business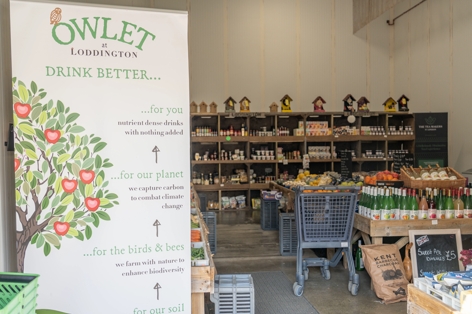 One of the first actions James took as he changed the profle of the farming business was to purchase OWLETTS fruit juice from his friend Colin Corfield when Colin decided it was time to retire.
All the juicing equipment was transferred to Loddington and introduced an immediate new income stream. The location of Musket Brewery to Loddington, which has a bar area attracts many 'afficionados' to Loddington (at 4pm it opened and I was amazed at the number of drinkers quenching their thirst on he warm summers evening. The Farm Shop is another income provider and all these enterprises draw more and more customers to Loddington.
Following an illuminating hour with James 'in the shade and enjoying a ice cold apple juice' we took a short tour of James apples, cherries, and apricots.
Below: left; James explains his orchard management philosophy and right; A Gala orchard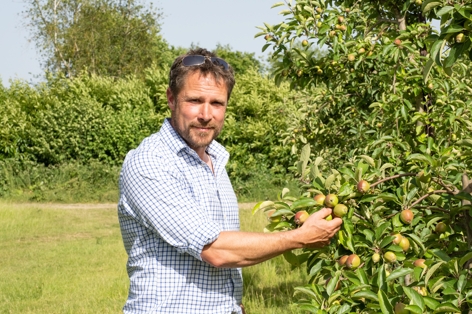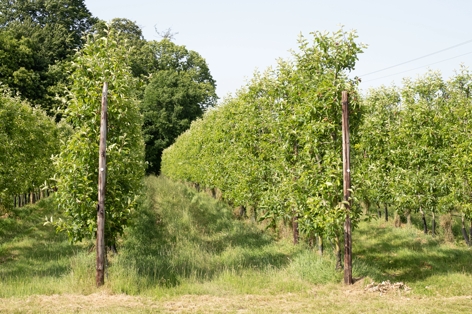 Below: left; James in his Cherries and right; delicious black cherries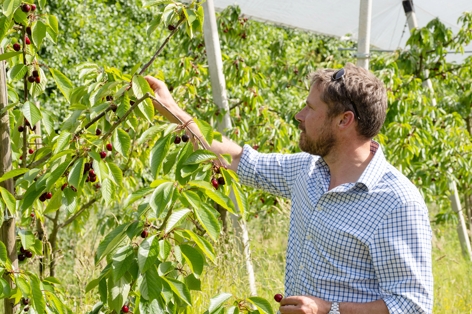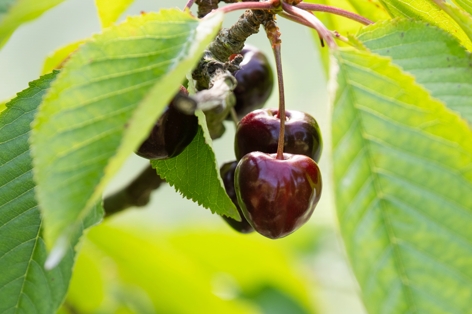 Below: left; James in his Apricots and right; a branch of Apricots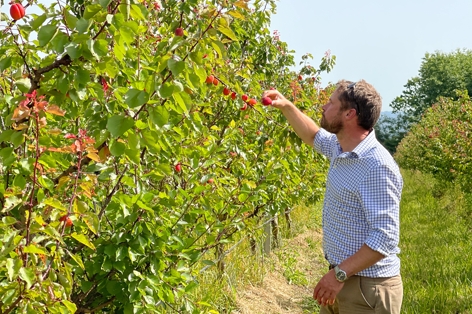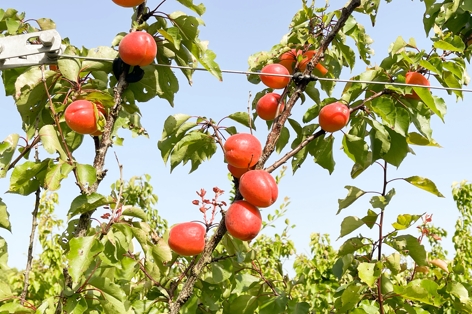 Farm Shop
Following the orchard walk, a visit to the farm shop where a plethora of produce greets the visiting consumer. Managed by Richard Fisk and located in one of Loddington Farms Cold Stores, plans are in place to build a new farm shop on Loddington land near to the main road (Heath Road) running from Linton to Leeds. The farm shop is managed by Richard Fisk who owned Marlpit Farm Shop on the Heath Road and had ambitions to create a larger enterprise. In discussion with James he decided to 'join forces' and manage the Loddington Farm shop instead.
Below: The farm shop has an excellent display of fresh produce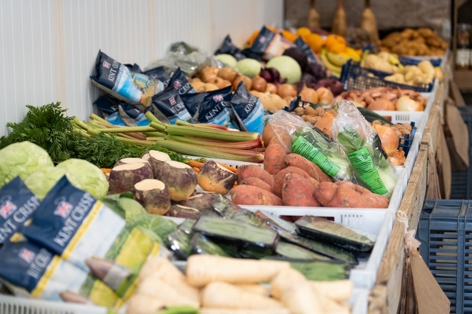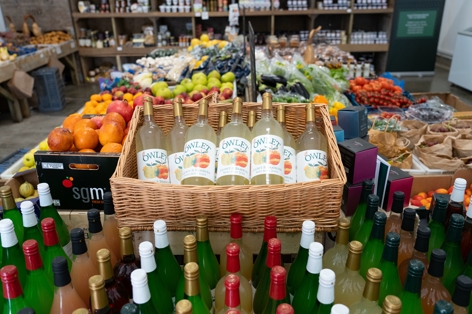 Below: left some of the apples on display and right; the 'first pick of Apricots goes on sale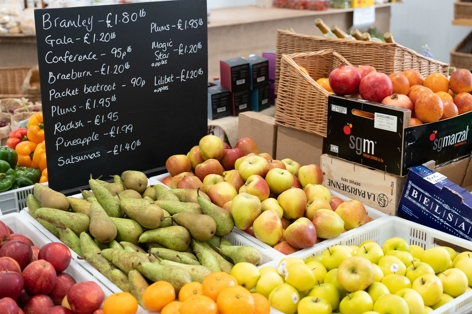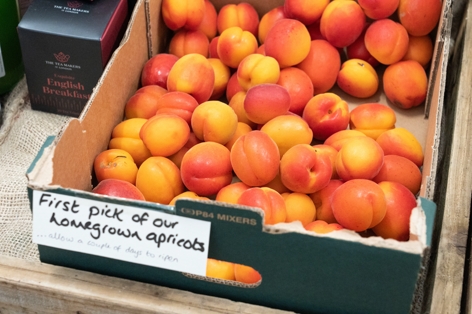 There is so much detail I could have added to this week's Journal, and the LINK below to HOW WE FARM is a comprehensive account of what James Smith is trying to achieve!
Click on: Loddington Farm - how we farm
Below a couple of previous visits by The English Apple Man to Loddington Farm
Click on: Loddington Farm in 2016
Click on: James Smith - Young Guns in 2014
The English Apple Man thanks David Bartholomew for all the photos taken in this week's Journal
This visit was sponsored by MHA MacINTYRE HUDSON
MARK LUMSDON-TAYLOR is a partner at MHA and South East Regional Councillor for the C.B.I, the UK's leading business voice, and member of the Rural Advisory Board which provides members of the Institute of Chartered Accountants of England and Wales (ICAEW) with information about matters of concern in the farming and the rural business sectors. He is also the chair of the Rural Policy Group which pushes forward debate regarding food security and fair value in the supply chain.
MHA MacIntyre Hudson is one of the UK's largest (top 12) and most diverse accountancy firms.

That's all for this week
Take care
The English Apple Man