Journal
5th Aug 2022 - Winning Apple Orchards
This Wednesday, The English Apple Man joined fruit growers at Hadlow Place Farm for the presentations of The WEALD GROUP NFU Orchard Competition 2022.
This was the 71st Prize Winning & Farm Walk event. An occasion always enjoyed by growers in the Weald of Kent and special in that, it is a 'whole farm' competition, rather than an individual orchard entry.
The competition has been organised by NFU Wealden Branch (previously Goudhurst & Paddock Wood) Group Secretary Martin Webber and his NFU colleagues Patrick Bowering & Shaun Joubert.
The Hadlow Estate has a distinguished heritage: Click on link to: HADLOW ESTATE HISTORY
NFU Group Secretary Martin Webber introduced Hadlow Estate Fam manager Nigel Gibb who led the attendees on a short walk around some Gala apple orchards and Conference/ Comice and Bramley orchards.
Nigel told the visiting growers the farm consists of 600 hectares of winter and spring cropping Wheat, Barley, Rape, Peas, Oats & Lindseed.
There is a further 80 hectares of top fruit including 10.6 hectares of Conference and Comice pears aged between 5 and 35 years old. In addition 27.5 hectares of Bramley & Golden Delicious and Egremont Russet (pollinators) aged between 5 and 38 years old.
The majority of Top Fruit grown at Hadlow Place is Gala with Malus as pollinators. The different Gala clones are: Mondial, Galaxy, Royal Beaut and Ju Gala.
Farm Staff: Farm Manager & Assistant Manager, 2 full time arable workers and 3 full time fruit farm workers.
In addition the farm has 20 people pruning and 20 people thinning and around 70 pickers at harvest time.
Below: Our first visit to a six year old Gala Galaxy orchard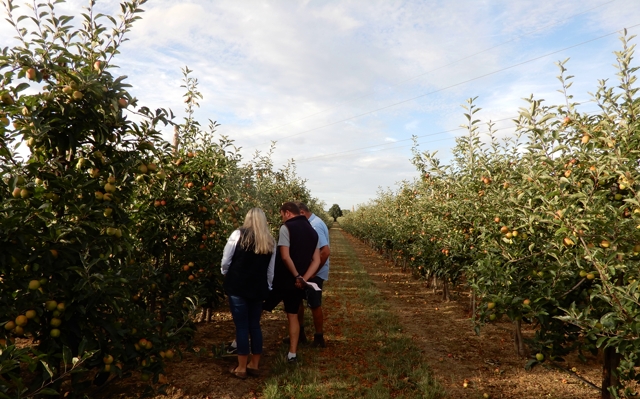 There is nothing better than a walk around an orchard in the company of farmer friends!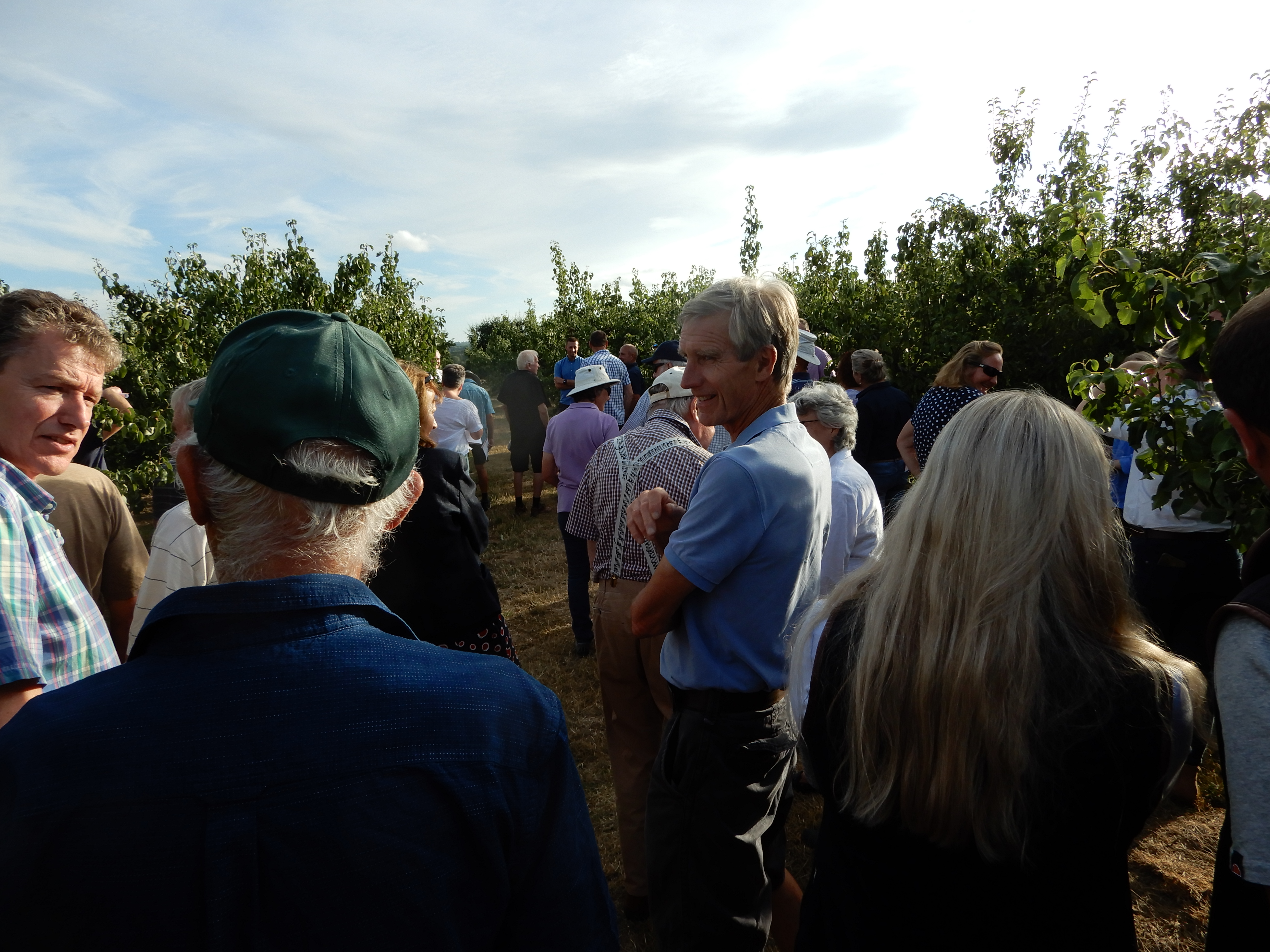 Below: left; Gala row and right; Gala apples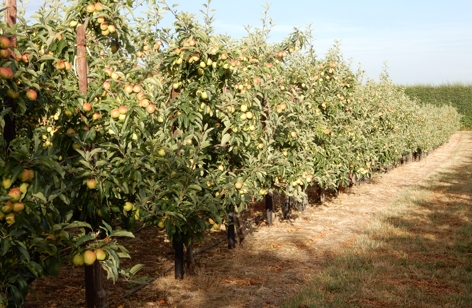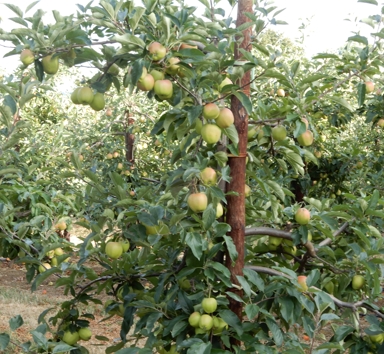 Below: left; Conference & Comice pear rows and right; Bramley apples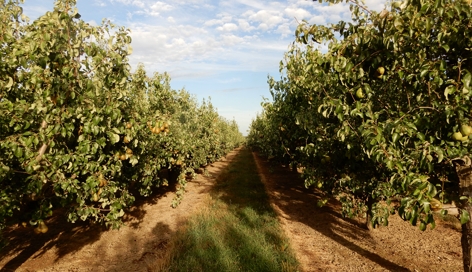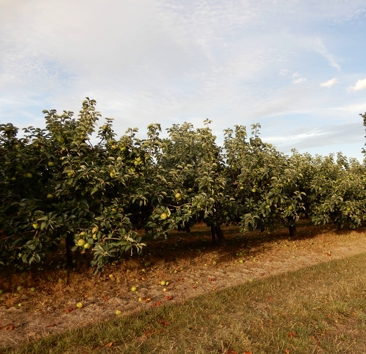 Following the farm walk, we stop for refreshment and settle down to enjoy the presentation of Trophies.
But first an address from William White South East Regional Director, NFU thanking Nigel Gibb for hosting the evening and congratulating Hadlow Estate on their "Championship" winning orchards. Nigel Jenner Chief Technical Officer, Avalon Produce followed with his overview of the high standard of entries, remarking on the fact that the top three were separated only by "half marks"
Below: William White, South East Regional Director, NFU and Nigel Jenner Chief Technical Officer, Avalon Produce address the attendees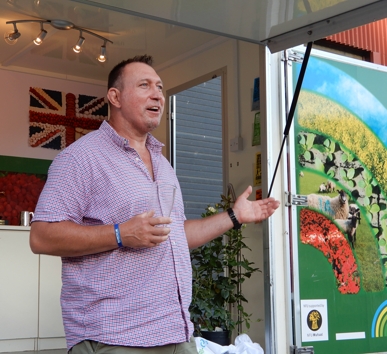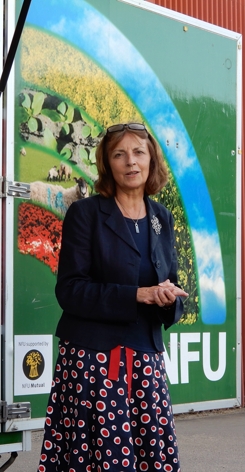 Among the sponsors present, Warners Solicitors from Tonbridge.
A message from Patrick Bowring - NFU Group Secretary
"Despite the ever increasing challenges faced by the industry, it was pleasing to see a few more entries for this year's Competition and we thank them for their time and dedication to the cause.
This year's winners 'Hadlow Place Farms owned by the Teacher family and managed by Nigel Gibb welcome you to what we hope will be a warm and pleasant evening.
As ever we would like to thank our Judges, without whom the Competition would certainly not be able to run, and our sponsors for their continued support. and this year we are very pleased to welcome Warners Solicitors to our select group.
In these challenging times, the NFU continues to work on behalf of its members in 'lobbying' to Government to ensure that he agricultural industry have a voice. In addition, there are many training courses available, one such course being on the Grocery Supply Code - for more information speak to 'your' Group Secretaries or phone NFU Call First!
Once again, thanks to the entrants. escorts, judges and sponsors and to Hadlow lace Fams for kindly hosting this event.
The English Apple Man Comments
Sponsors are very important to any live event and AVALON FRESH LTD were the main sponsor for the Prize Giving and Farm Walk.
The many awards: Trophies that have been donated over many years by companies or individuals associated with the fruit growing industry are proudly received by the winning growers. The historic stimulus and good natured competition attracts many entrants each year.
The Prize Winning evening enables many old friends to reflect on the pro's and con's of our wonderful industry.
The English Apple Man hopes this may continue for many more years!
Presentation of Trophies
Martin Webber presents Nigel Gibb with the BASF Championship Trophy for overall winner. right Martin presents Ian Overy with the E.O. Moss Trophy for runner up.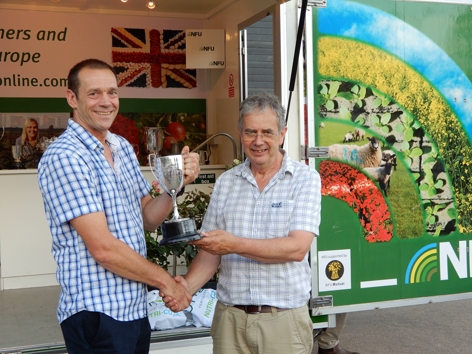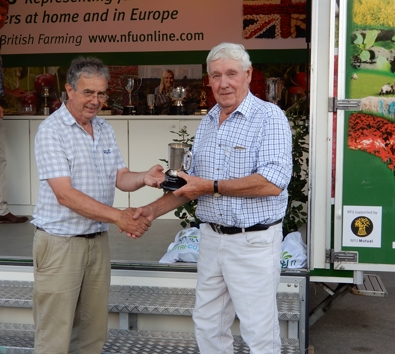 Below: Jonathan Duke from Kent House Nursery receives the Bayer Trophy for Third place and right; The Agri Trophy is presented to George Chambers for the "Most Meritorious Entry"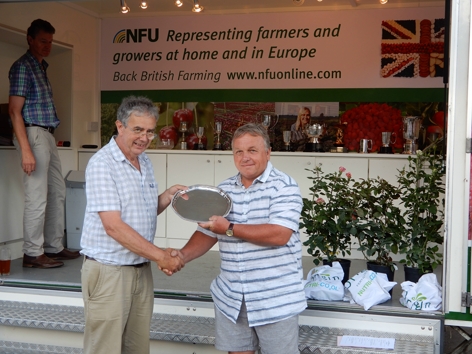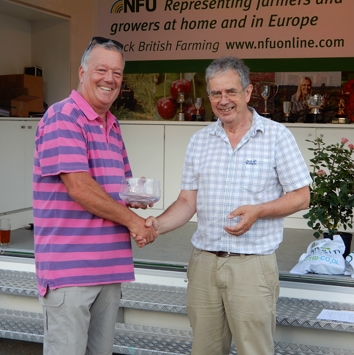 Below: left; Receiving the Mike Freed Trophy for 'highest marks over 5 years' - Brian Henly collects the trophy on behalf of his son in law Clive Baxter and right; The BASF Trophy for greatest increase from previous year is presented to Hadlow Farm Estate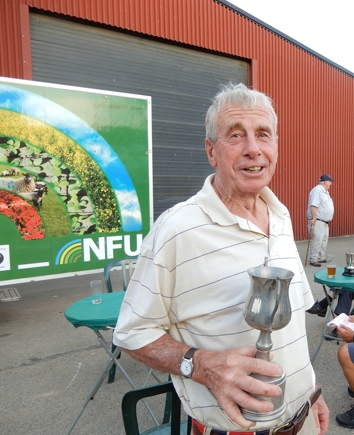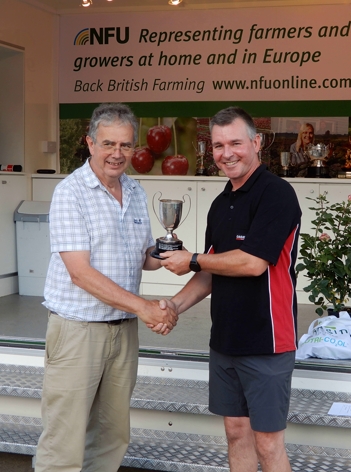 Class 1.
Below: left; Nick Overy receives the Dow AgroSciences Trophy for highest marks in Class 1. and right; Jonathan Duke receives the Norman Collett Trophy Class 1. for highest marks 'Pest & Diseases Section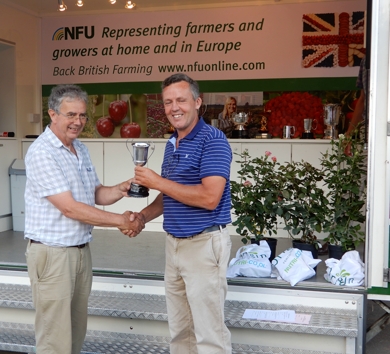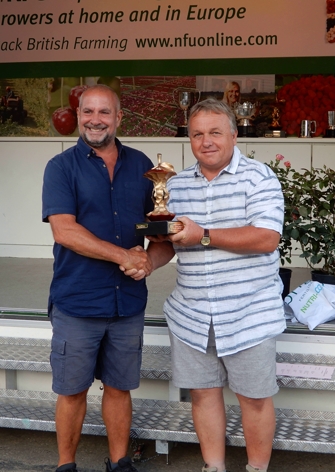 Below: The FAST Trophy Class 1. for 'highest marks' Management is received by Ian Overy Farms and right; Kent House Nursery win the Willis Corroon South Ltd Class 1 trophy for second highest marks Class 1.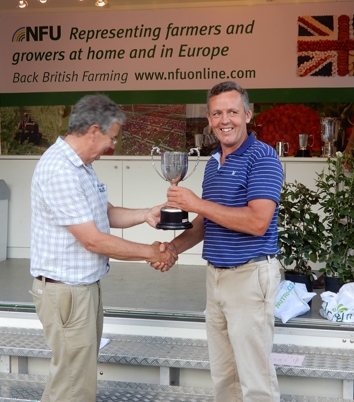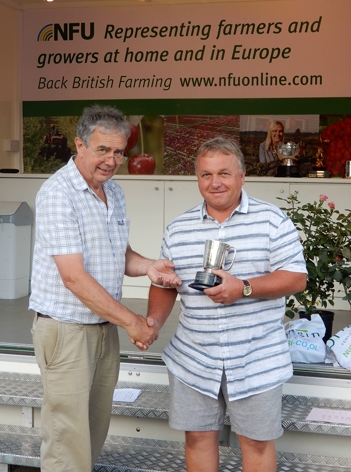 Class 2.
Below: left; Claire Seymour presents the NP Seymour Trophy to Hadlow Place Farm for 'highest marks Class 2. and right; Hadlow Place Farm receive the Norman Collett Trophy Class 2 for 'highest marks for Pest and Diseases Section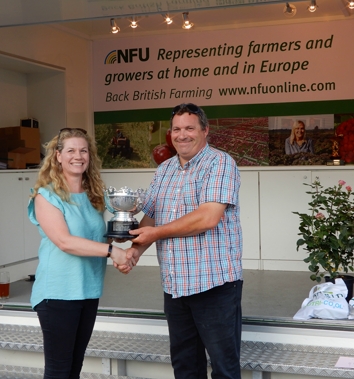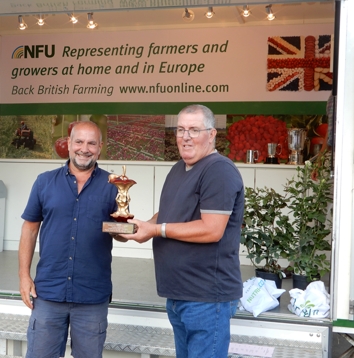 Below: left; Martin Webber presents the "Group Secretary Award" to Nigel Gibb (Hadlow Place) for the 'highest marks management' and right; Mark Holden receives the Wills Corroon South Ltd. Class2 trophy for second highest marks Class 2.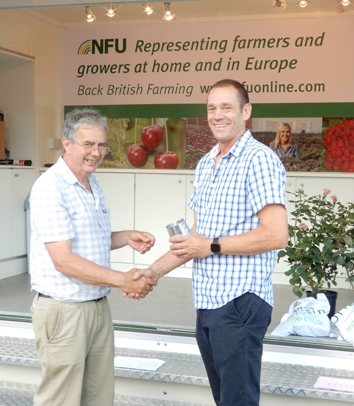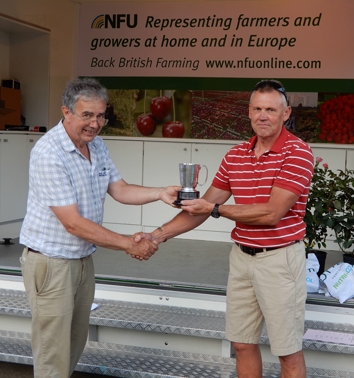 Young Orchards
Below: left; the ADAS Trophy for 'highest average marks - Young Orchards' received by Mark Holden at Adrian Scripps Moat Farm and right; the J A Prall Trophy for 'highest marks Single Young Orchard went to Great Cheveney Farm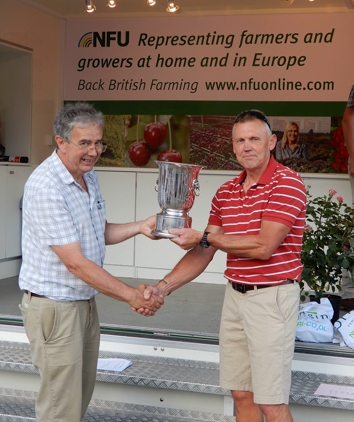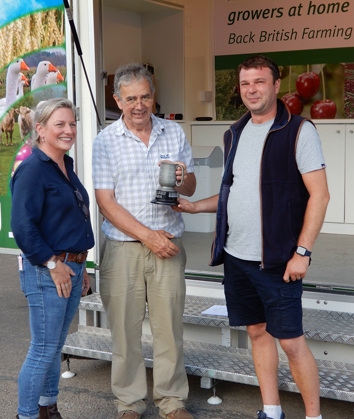 Below: left; the Lambert & Foster Trophy for 'employee in charge of a Young Orchard was accepted on behalf of Mihai Stanca at Adrian Scripps Moat Farm by Mark Holden and right; The ORIGIN Trophy "joint winners" Highest Marks - Management in single young orchards Adrian Scripps Moat Farm - Ian Overy Farms Burrs Hill Farm and JL Baxter & Son Westerhill Farm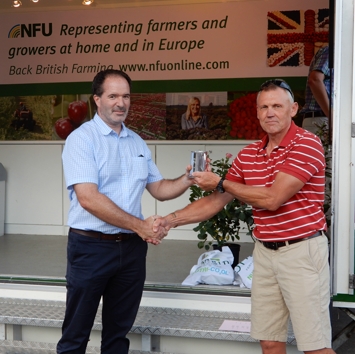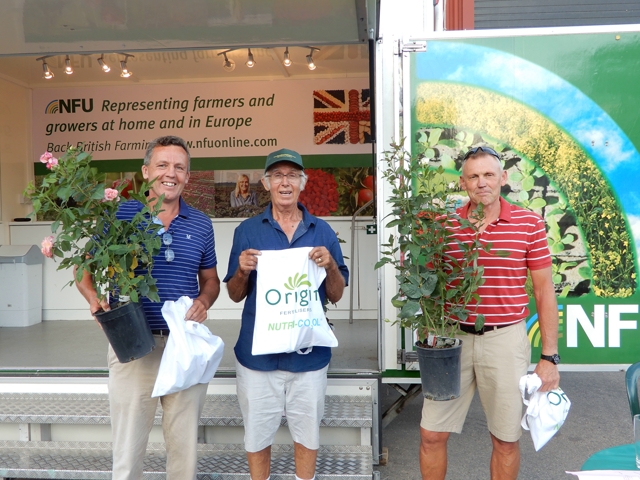 That is all for this week
Take care
The English Apple Man