Journal
7th Oct 2022 - The apple industry is in crisis!
After a very challenging summer with drought affecting fruit size, the UK apple crop is of good quality and for the most part of good size. early indications were of size potential 5mm above the popular size for UK consumers. But the extent of the drought reduced the fruit size harvested.
On the continent, where consumers prefer larger apples. the drought has left their growers with too many smaller apples. They will only make money for larger sizes from their domestic markets, leaving a mass of unmarketable fruit to deal with
What do they do? Juice it? Dump it? OR recoup some value by targeting our UK Supermarkets?
Comment from Italy
It's been a difficult start to the new season for many in the apple business. "Sales and consumption are down while costs are up but still largely absorbed by producers," admitted Klaus Holzi, Vog sales manager. "Despite the 10 per cent inflation, for consumers apples still cost the same as they did a year ago"
The English Apple Man Comments
The vision of an increase in costs of just 10% is a pipe dream for UK growers. Labour costs are up circa 15%. Electricity up
400-500 percent. Fertilizer 100 percent plus Chemicals ++ +
As one grower said to me today: It is the PERFECT STORM scenario.
The Power of TWITTER
October 2nd and UK Apple grower Richard Budd vents his frustration via Twitter
The Twitter response has gone viral with support. The EAM uses the first few responses (by first name only)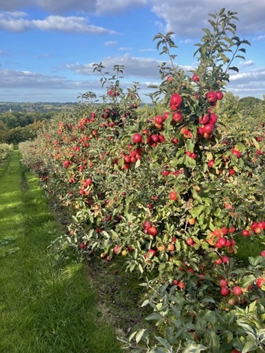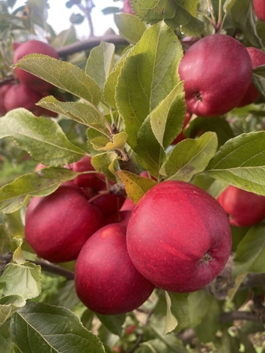 "Something seriously wrong with our fresh produce supply chain, to think there is zero profit in a beautiful crop of English Gala this year, and currently UK supermarkets are still selling French imports."
Jane replies: That's awful Richard. The same with soft fruit. How can we help?
Richard replying to Jane: I'm not one for regulations Jane, but unless we give the GCA more powers and regulate the major multiples buying behaviour, the UK fresh produce sector is going to contract at record pace. It's not just a case that profits are getting less, we are now at best working a break even
Russell: What I don't understand is why as farmers we don't do more direct selling to the consumer? We complain about the supermarkets and then sign up to there contracts. Go abroad and there is a wee stall at every farm or shop in every village selling their produce.
Richard replying to Russell: You need to go back at least 40 years to get back to that rural ideal ...fruit farming has seen a drastic reduction in the number of farmers and in the case of top fruit is cantered in a few areas in the UK, so supermarkets are the only realistic opportunity to sell the majority
James: Large out of town one stop shop supermarkets, have killed regional high streets and reduced diversity of fresh food products
Jane: Replying to Russell and Richard: Yes I think that "direct selling" is a very niche channel and invariably expensive.
Ross: UK Fresh produce is not appreciated by retailers. They are happy to stock imports where their margins are higher at the expense of UK product.
Richard's tweet has been retweeted 230 times, with 800 likes and over 1 million views, and direct engagement from journalists, NFU etc
I (The English Apple Man) have never in my 60+ years in the fruit industry seen a scenario like we face today! Even in the early days of The Common Market when Golden Delicious from France invaded our Supermarket shelves, did we face a challenge like today's growers are now facing!
Market surveillance
On Wednesday and Thursday, The English Apple Man visited several Supermarkets in my locality to see for myself what was on display!
ASDA, Tesco, ALDI, Sainsburys and Waitrose (in that order.
ASDA - 26 trays of apples & pears. 5 UK. 19% - Beautiful banners supporting British Produce,,,
Very disappointing UK selection. Only 5 trays. One of Bramley. One of Worcester Pearmain and three Garden gang UK Gala.
Below: left; ASDA Display and right; Garden Gang Gala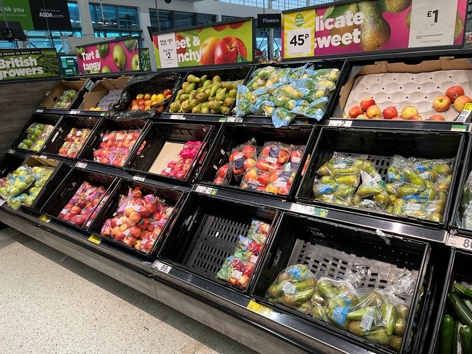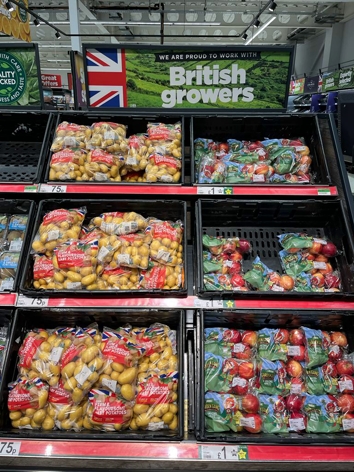 Tesco 41 trays of apples & pears. 8 UK. 19%
Better selection of UK apples: Red Windsor, Gala, Early Windsor, ZARI.
Below: left; Tesco Display and right; Tesco 'Rosedene' Gala from Worcestershire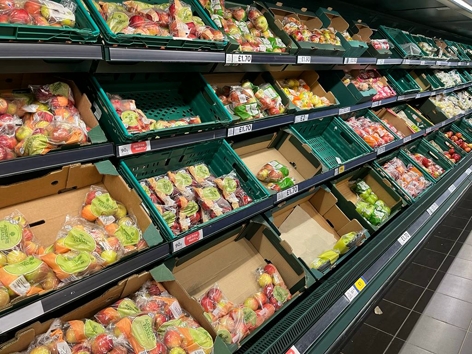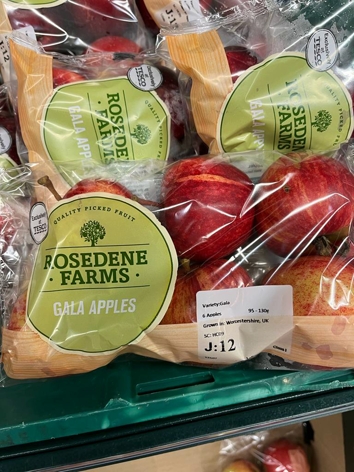 ALDI 24 trays of apples & pears. 9 UK. 37%
Among the UK fruit, British Conference pears, Royal Gala, Mini apples (Gala) and Zari
Below: left; ALDI display and right; Zari apples from Kent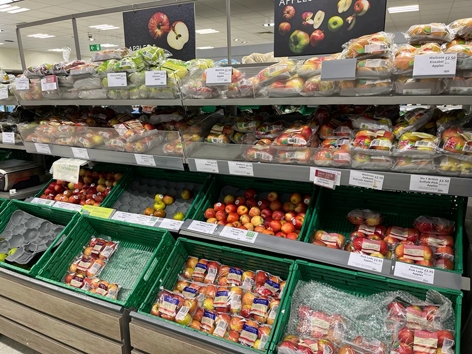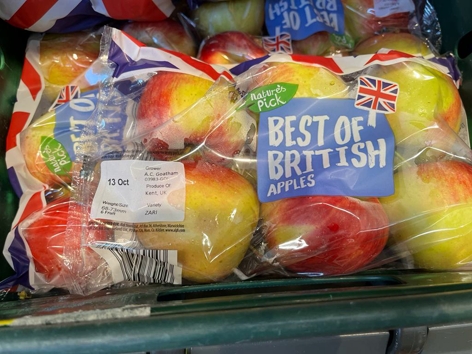 Sainsburys 45 trays of apples & pears. 15 UK. 33%
For the stage of the season a fair selection of UK apples: Cox, Gala, Robijn, Bramley, and Conference pears.
Below: left; Sainsburys Display and right; Gala from Kent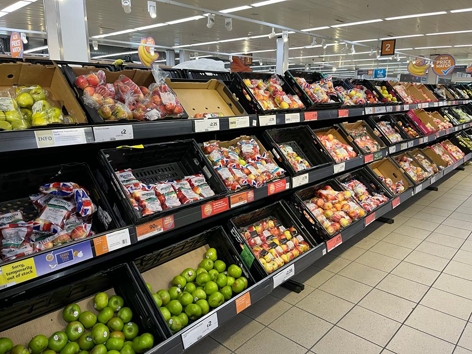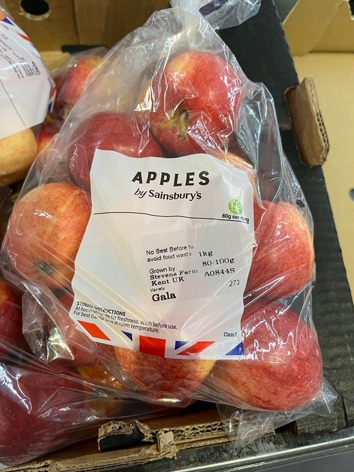 Below: left; Robijn apples from Kent and right; Ripe and Ready Conference pears from Kent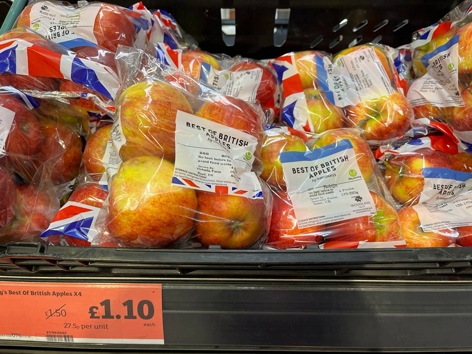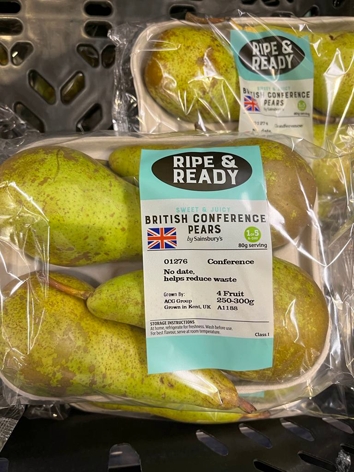 Waitrose 30 trays of apples & pears. 12 UK. 40%
Although overall display is modest by comparison to Tesco & Sainsbury, the selection of UK varieties and indeed individual suppliers is by far the best. Cox, Delbard Estivale. Smitten, Spartan, Royal Gala, Kissabel, Worcester Pearmain, plus Conference Pears and UK grown 'organic' Conference Pears.
Below: left; Waitrose Display and right; Smitten apples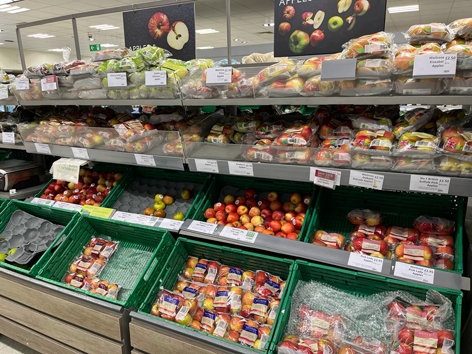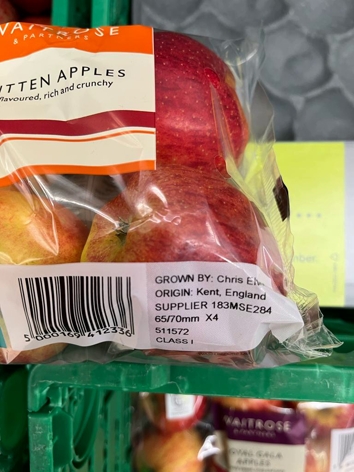 Below: left; Cox apples and right; Worcester Pearmain apples both from Kent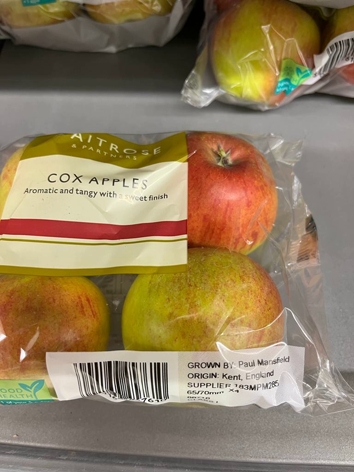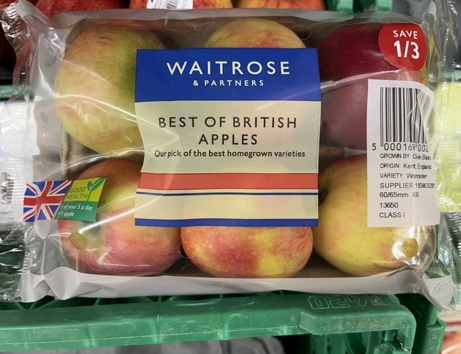 Below: left; Kissabel apples and Spartan apples - both from Kent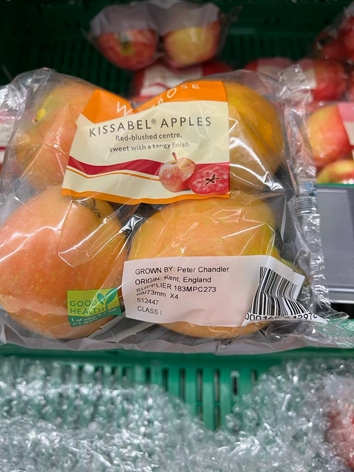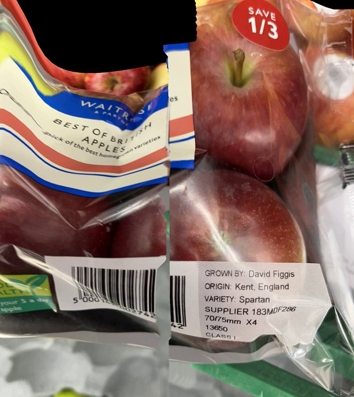 So what for the future?
"the times we live in are tempestuous, the price of apples is I am sure low on the average person's list of concerns. However. wherever we sit in the great scheme of things, we all look out for our own area of knowledge, expertise and expectations.
The prospect of a collapse in many businesses is hanging on a thread of hope (Government support) our fruit industry equally needs support for the increase in energy costs. I could quote many instances, but an indicator from one grower/storer/packer/ supplier of his current energy costs of £30,000 per annum to a projected £300,000 per annum, cannot be recouped by anything other than Government support.
Irrespective of energy support payments (cross fingers) the stagnation of prices to the grower from the Supermarkets is no longer sustainable!
Over the last few years Supermarkets approach annual price reviews with the mantra: " we think you can still take costs out of your system" - well growers, storers, packers and suppliers have trimmed costs to the bone. There is nothing left but a desperate plea for a better price!
Do I expect Supermarkets to increase the price of apples? Frankly no! They are all fighting a desperate battle with each other for market share!
The future?
One day (probably very soon) the Supermarket Buyer who currently loves to brand all British products with a Union Jack, will be asking: "does anyone know where I can get British Apples!
Oh and those cheap apples from abroad are now much more expensive!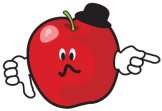 That is all for this week
Take care
The English Apple Man