Journal
18th Nov 2022 - One last look at the 89th National Fruit Show
The English Apple Man takes one last look at the 89th National Fruit Show.
Below: from left: NFS Exec Chair Sarah Calcutt, her daughter Aurelia with HRH The Countess of Wessex and right. Mini Fendt Tractor.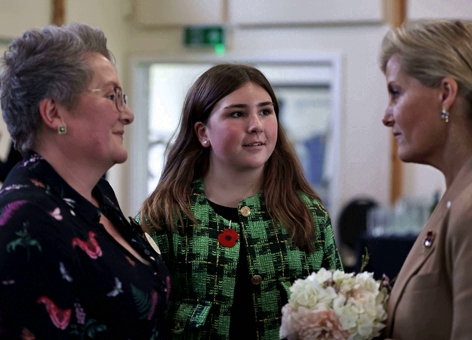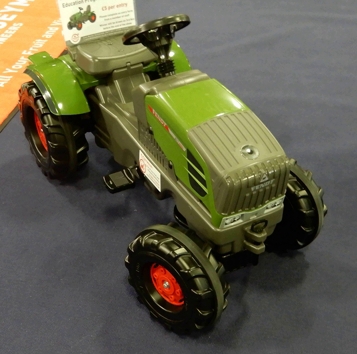 Below: Tom Ogden receives the Mini Fendt Tractor from Claire Seymour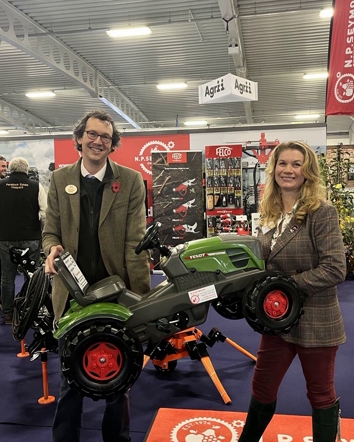 Supporting the NFS Education programme The National Fruit Show, sponsored by Kent fruit grower AC Goatham and fruit marketeers APL Ltd, is pleased able to offer free workshops to Key Stage 2 children in Kent and London.
Using colourful characters and hands-on activities. these workshops combine fun with learning and can be tailored to suit what is being taught in the classroom, whether the focus is on science through life cycle of the apple tree, geography or healthy eating .
The programme has been carefully developed by a Land based STEM ambassador and is national curriculum outcome linked to aid schools in delivering key targets.
A Mini Fendt Tractor donated by NP Seymour was raffled at £5 a ticket with funds earmarked for the NFS Education Programme.
We are thrilled to announce the final sum we raised for The National Fruit Show Education Programme is a fantastic £954
"Thank you so much to all those that bought tickets for the pedal raffle at the National Fruit Show 2022, and we were pleased that Tom Ogden won it - which I'm sure his little ones will enjoy!
All the money raised will go directly towards educating our next generation- whether that is in primary or secondary schools or through other clubs, learning through STEM. The programme is also great at promoting careers within the industry
Education continued: Below Sam Smith - NFS Education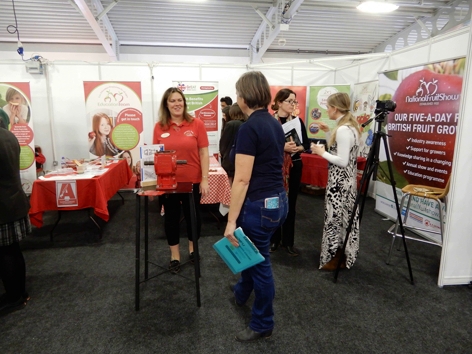 Children get the opportunity to taste British fruit when it is in season and also try snacks such as apple crisps and fruit leathers.
The children can also try their hand at juicing their own apple juice and if the school has a garden there is the option to plant an apple tree with advice on how to prune and care for it.
After the session all children receive a comic, colouring sheet and "I tried an apple today" scratch and sniff sticker.
To complement the teachers' pack, we offer a FREE 1-hour interactive workshop in your classroom. Children will learn about 'A Year in the Life of an Apple Tree' - and how much effort goes into growing this super fruit - with our fun hands-on lesson aimed to tickle the taste buds and get the children excited about healthy eating.
To learn more about The National Fruit Show Education Programme: Click on NFS Education Programme
Machinery
Kirkland always demonstrates machinery well and this year the 'Driverless Sprayer' - caught the eye! MD Scott Worsley exclaims: Wow...another National Fruit Show complete! We had a great time at this year's show and were so excited to launch the UK's first ever driverless sprayer
Below: left. Kirkland promotional lorry and right. AgBot Driverless Sprayer Click on AgBot Driverless Spayer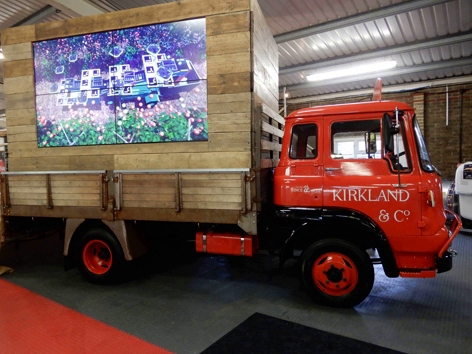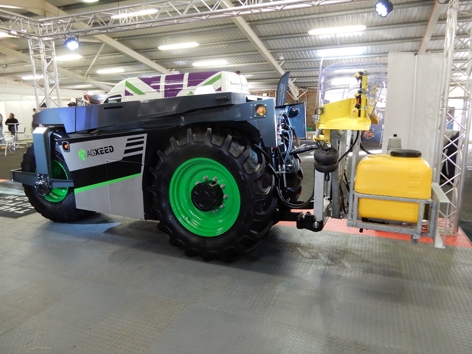 On my walk around the machinery stands I caught up with Richard Smith on the Haynes Stand. On display the latest New Holland T4.120F tractor ideal or top fruit or vineyard operations.
Below: left. New Holland Tractor T4.120F model and right. a view of the New Holland Tractor Cab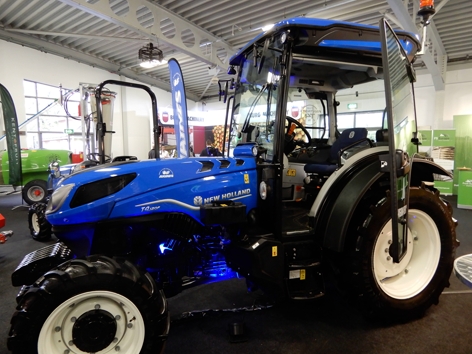 On the NP Seymour Stand the latest Fendt tractor and the new Bioline Applicator, 'Fully Electric Beneficial Insect Applicator
Below: left. Fendt tractor and right. The Seymour distributor for applying predator insects in soft fruit crops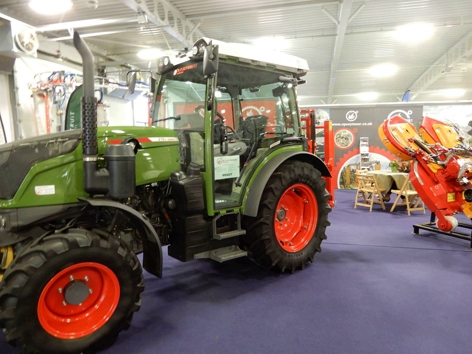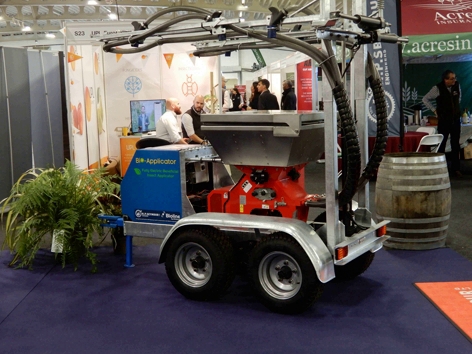 Below: left. Tom Heap at the podium Chairing the Rural Policy Panel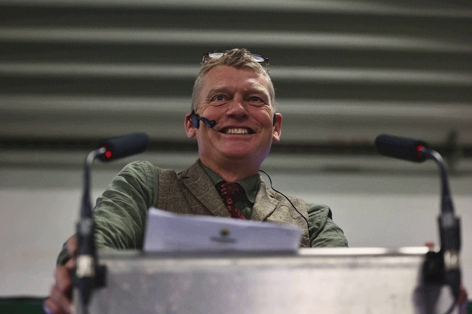 The broadcaster and writer Tom Heap chaired a debate at The National Fruit Show, on Farming for the Environment.
The debate, part of the Rural Policy Group Red Talks is sponsored by MHA and taking part in the discussion are Emily O'Brien, Food and Agriculture Spokesperson The Green Party, Clarke Willis MBE, director of the Norfolk Food Enterprise Park, Philippe Binard, Secretary General, The World Apple and Pear Association, Dr Trisha Toop, Chief Technical Officer Agri-Epi, Sarah Dodds, Head of Agriculture and Partner at MHA and Joe Spencer, partner at MHA and Jose De Mayne Hopkins Head of Technical Sustainability & ESG Compliance and Reporting at MHA.
Below: left. Rural Policy Panel and right. HRH The Countess of Wessex joins the MHA team on their stand at NFS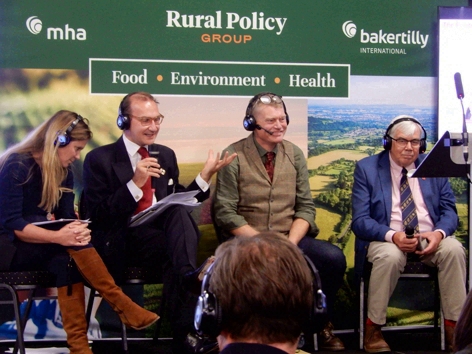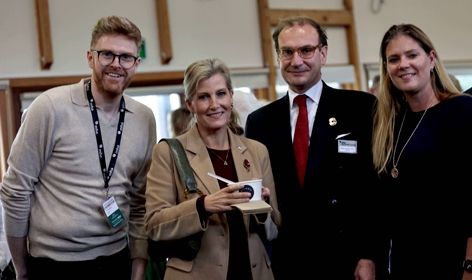 Below: centre. Jon Hatch and his colleagues at the National Fruit Show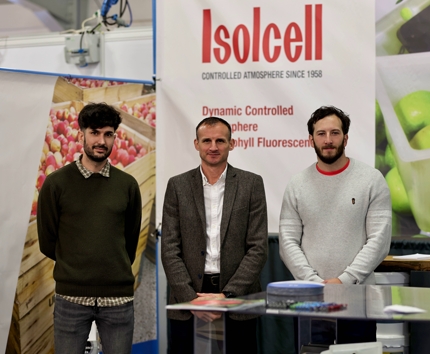 UKCA Ltd, supply and install Controlled Atmosphere equipment for the storage of long-term Top Fruit. The company was set up 15 years ago by Ken and Jon Hatch and has developed into a reputable business, a trusted name amongst Growers
DCA
With the increasing levels of Top Fruit grown in the UK the market is difficult to predict, with CA storage you may be limited to sell within a certain timescale. With DCA the increased reduction in respiration allows the storage of produce to go that bit further still, with improved pressures, great colour and reduced rots. Post-Harvest chemicals could also become a thing of the past as the reduction in Ethylene is also drastically reduced.
2013 saw the first installation of the world leading Isolcell DCA system in the UK and to 2020 UKCA have installed this system on well over 100 DCA stores throughout the UK.
While touring the NFS exhibitors stands, The English Apple Man stopped to say hello to Mark Tully (an old friend) and his team at Landseer. The latest technology for testing apples for preharvest maturity has been developed by Mark and his team. This is a leap forward for determining when harvesting should begin.
Landseer
TrinamiX
Non-destructively assess brix, dry matter and acidity of your fruit, allowing you to make informed decisions regarding storage, quality control, sales and orchard comparisons.
How does it work?
TrinamiX have developed infrared detectors that can identify unique, reflected light patterns from molecules within a material, enabling growers to identify the quality parameters of their fruit. The hand-held device makes it accessible and affordable for growers to use in the field.
Landseer's work
Landseer, in partnership with TrinamiX, have developed quality models which so far have shown promising results. Landseer hopes that there is scope in the future to develop further models that will aid growers in their decision making and quality control.
Handheld Device>
Just point the device to the fruit you want to scan and push the button. The device sends an infrared signal to the object and the light reflects back to TrinamiX's detectors.
Below: left. Mark Tully and his team and right. the TrinimiX maturity module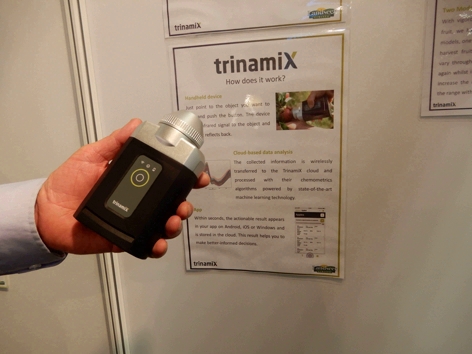 SPONSORS
Below: left. HRH The Countess of Wessex visits the Worldwide Fruit stand and right. Rob Saunders and Chris Hoskins from HL Hutchinsons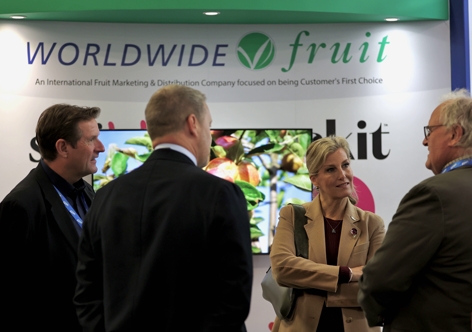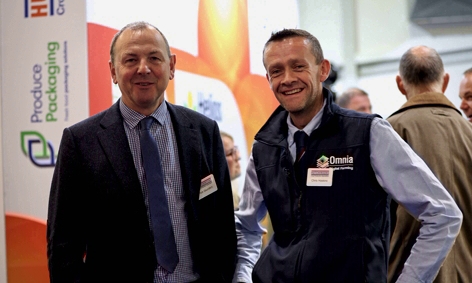 Below: the BASF team in front of the NFS Show Fruit Display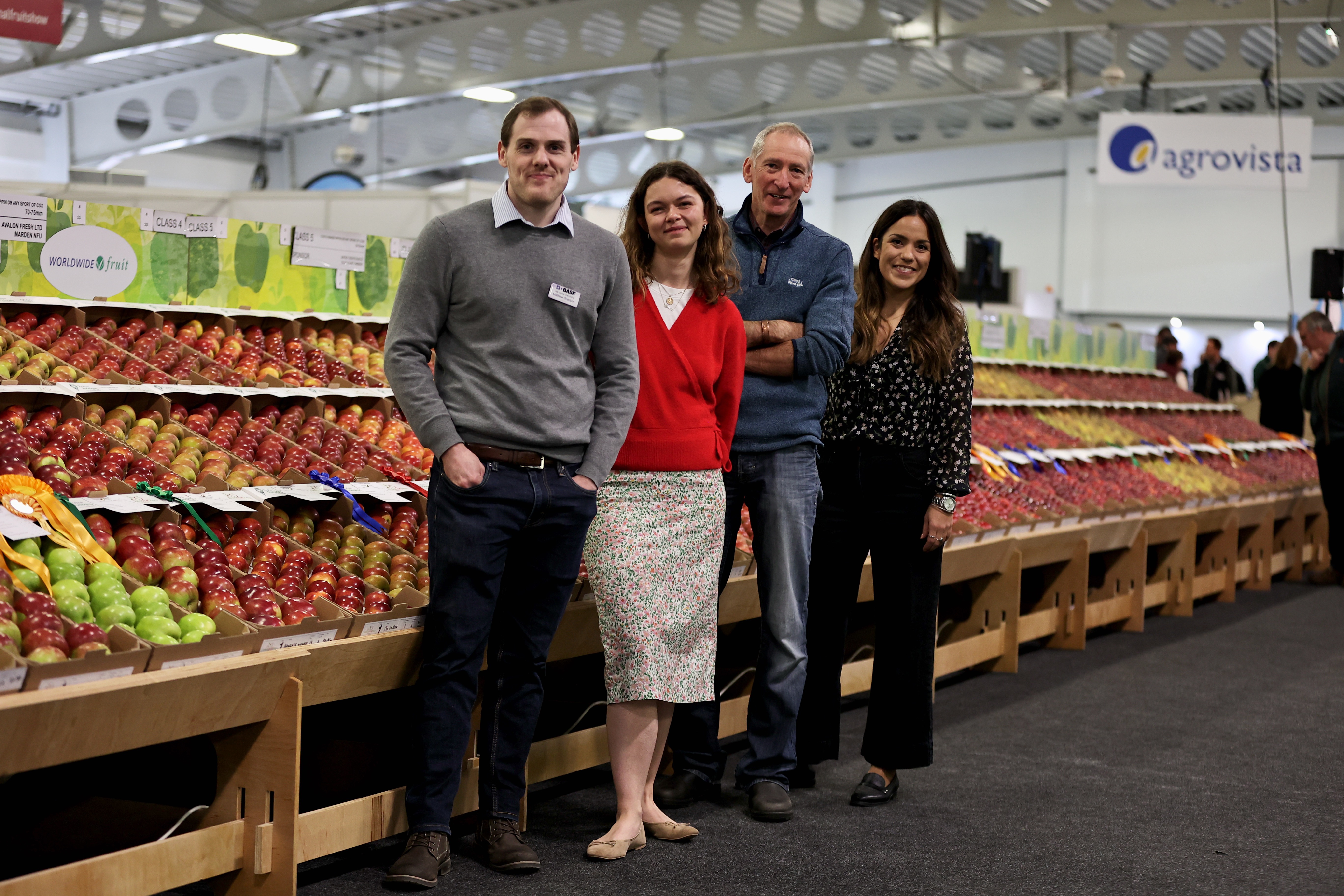 Below: left and right. part of the extensive competition fruit display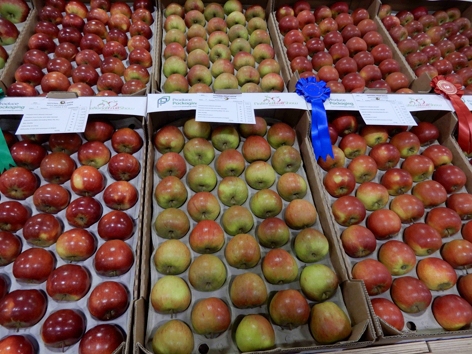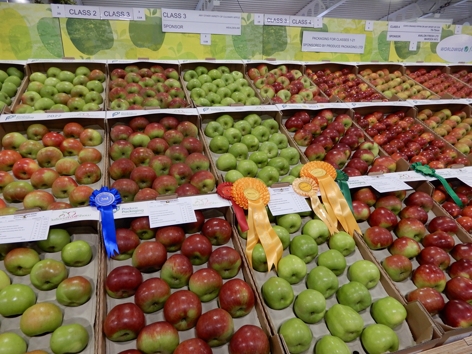 Below: 'A special moment' - HRH The Countess of Wessex with National Fruit Show President Theresa Wickham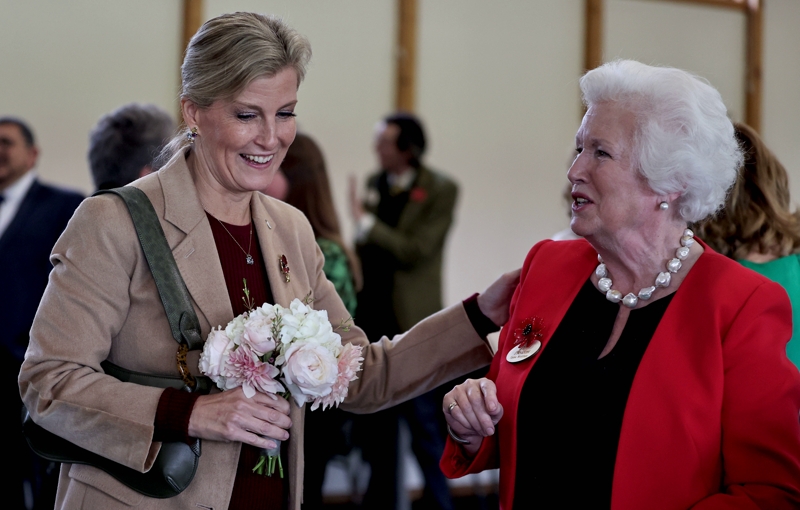 The 89th National Fruit Show was one of the very best shows ever and we were honoured to receive HRH The Countess of Wessex as a 'special visitor' especially as our President Theresa Wickham retires as President after three years in her role. Theresa has known The Countess since she was a young lady in Brenchley.

That is all for this week
Take care
The English Apple Man