Journal
25th Nov 2022 - The Apple Scene
After the recent National Fruit Show and international events like Interpoma have passed, The English Apple Man takes a look at what's going on in the home and European apple scene.
It just so happened that a BIFGA retail price-check carried out in March 2019 in preparation for the report:
"Fairness in the British Gala Apple Supply Chain"
showed that the approximate average retail price of British Gala apples in major UK supermarket chains, was
£2.20/kg, or, a "Pound-a-pound". As three years have now passed, BIFGA would like to update that survey (for
the 2021 crop) to see if there have been any significant changes.
Somewhat alarmingly, despite three years' inflation, a BIFGA survey carried out in March 2022, showed that the
average retail price had actually dropped to £2.05/kg - less than a "pound-a-pound". However, because retail
prices vary according to fruit size, pack type, and from retailer to retailer, we will, for simplicity, assume for our
new survey that the retail price has remained at £1/pound. But was that £1 shared out "fairly" between the
various "links" in the supply chain? In other words: "Who invested the most/least time and capital?"; "Who
carried the most/least risk?"; and, "Who received most/least of the retail price?".
British apple growers are facing huge challenges, but growers in Europe also face significant issues.
Report from EUROFRUIT
This year's commercial campaign for European apples is one of the toughest in recent memory, according to one of the category's leading suppliers.
Speaking at last week's Interpoma trade fair in Bolzano, Italy, World Apple and Pear Association (WAPA) president Dominik Wozniak said the situation for growers and exporters in his home country of Poland had been extremely challenging.
"The difficulties that producers have had to face in recent months are similar to the problems that have affected other European countries, such as rising logistical, energy and fertiliser costs," he commented.
"The Polish production figures are very positive, but this year will be remembered by the producers as one of the most difficult in recent years."
Although Polish apple growers did manage to avoid hail damage this time around, a severe lack of workers at the start of the season in September meant that not all of their fruit could be harvested.
"Many of the seasonal workers in Poland are in fact Ukrainians who, due to the war, could not participate in the harvest," explained Wozniak, who is also vice-president of Polish cooperative Rajpol. "In addition to this difficulty, many growers chose to deliver the apples directly for processing in exchange for low prices, rather than having to bear the costs of storing them in for the next few months".
The European Union's total harvest for 2022/23 is estimated at 12.2m tonnes, according to WAPA. Poland will produce the most, with a crop of 4.75m tonnes that is larger than last season's, followed by Italy and France with 2.05m tonnes and 1.39m tonnes respectively.
In Italy, a shift in production volumes across different regions has left the overall size of its crop relatively stable, according to Alessandro Dalpiaz of industry body Assomela.
"While the quantities in South Tyrol and Trentino have decreased compared with previous years, Veneto and Piedmont have compensated with a slight increase, even though a large part of their supply is destined directly for processing," he said.
"Since mid-September, part of the harvest has been able to benefit from the good season and express the best quality of the fruit, in colour and taste."
Pierre Venteau, director of France's Association National Pommes Poires, confirmed that unusually hot weather in the summer had led to a revised crop estimate.
"At the beginning of July, expectations for the harvest were very high, significant growth in terms of production was expected," he noted.
"Instead, due to the heatwave, there was a drastic drop, which forced us to revise our forecasts. However, the quality of the fruit remained good, with a very good sugar level for many varieties."
National Fruit Show
Herefordshire fruit grower Anthony Snell is blunt in his assessment of how the UK industry is faring, reflecting a widespread sentiment at the annual National Fruit Show: "Supermarkets should be more supportive of British growers. It would be better if they didn't import at all."
He believes 2023 will see higher costs and "supermarkets not paying enough money. We have lovely strawberries and raspberries left but we had to walk away from the fields because supermarkets are saying they can get fruit cheaper by importing. That's unsustainable. If the price of apples or a punnet of strawberries went up 15% it wouldn't make any difference to demand as they are very cheap compared to a lot of things."
Prices are up 1.6% but costs are up 15%, he says. Dessert apples remain Britain's number one fresh produce seller (tomatoes are second at £887m, grapes third at £868m, then strawberries £775m and bananas £588m) with £923m sales according to Kantar. But volume was down -6.7% last year, to 4,479m kgs. However, the Office for National Statistics say apples six pack is up from 83p to 97p from September 2021 to September 2022.
BIFGA's John Breach agrees that supermarkets aren't paying growers what they need to: "We're not getting enough return. Everyone is working to keep prices down and growers' costs are going up. Supermarkets are not giving enough to growers, who take all the risk. I'd like supermarkets to look after growers, or they won't survive. I don't think the price of apples has changed in the last three years - not English apples anyway. We surveyed Gala and they are the same price as three years ago. But supermarkets have a big mark-up. Retailer margin is 46p, with 25p in the pound going to the grower. If growers don;t start getting more, they will take orchards up and they will go to arable, which would be a shame for the British top fruit industry. All we ask for is a better share of the consumers' pound."
NFU Kent's Amanda Corp says fruit from abroad is flooding supermarkets, while British fruit is going unpicked as seasonal labour is short: "Supermarkets should support British growers, though some are very good - including Aldi, Lidl, M&S and Waitrose. But supermarkets do have a lot of foreign fruit at the moment. Have they bought in too much and are trying to get rid of it? They know the new season harvest is here but they are not taking British produce and not paying the price. Growers have said to me they have no-where for their apples to go and can they go to feed livestock rather than be wasted."
National Fruit Show's Sarah Calcutt adds: "Growers urgently need more support from supermarkets and we need them to understand the financial pressures growers are facing and to pay a fair price for the crops they grow. It is disappointing that we are currently seeing a large volume of imported fruit on supermarket shelves at a time when they should be packed with British apples and pears.
This is the best possible time to buy British fruit with the maximum number of varieties available and straight off the trees. We need the British public to support British growers and to buy British fruit at a really critical time to help the industry. Just think of what the growers face in the current economic climate - rapidly rising costs, labour shortages, a difficult retail environment & challenging environmental condition."
The English Apple Man Comments:
The effect of the Russian 'WAR' in Ukraine has had a global influence on the availability and price structure, but the squeeze on producers by Supermarkets has been ongoing for many years, in fact ever since the Supermarket's enticed producers away from the wholesale markets in the late 1970's. Once the supply became sufficient pressure was applied to producers in the shape of 'audit demands' and downward price pressures.
The result will be less home-produced food, especially labour-intensive produce, but not entirely as the current disaster facing the British poultry is driving egg production overseas.
It's the consumers choice, buy British or end up 'hostage' to imports, which in many cases do not observe the high standards we enjoy in Britain, the same standards demanded by our Supermarkets audit expectations (demands)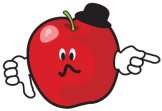 That is all for this week
Take care
The English Apple Man