Journal
6th Jan 2023 - What does 2023 have in store?
Now six days into a new year, The English Apple Man mulls over what may be in store for 2023!
Last year brought so much anxiety into all our lives and on a personal basis the loss of a loved family member in August added to the challenges we faced. In addition personal friends and many fruit industry friends passed on to orchard in the sky!
Will 2023 bring good news?
On a personal 'family basis' we hope for good health and some happiness!
Last November as the crisis facing the apple industry came to the fore, The EAM wrote about the challenge facing my fruit faming friends.
"The effect of the Russian 'WAR' in Ukraine has had a global influence on the availability and price structure, but the squeeze on producers by Supermarkets has been ongoing for many years, in fact ever since the Supermarket's enticed producers away from the wholesale markets in the late 1970's. Once the supply became sufficient pressure was applied to producers in the shape of 'audit demands' and downward price pressures.
The result will be less home-produced food, especially labour-intensive produce, but not entirely as the current disaster facing the British poultry is driving egg production overseas.
It's the consumers choice, buy British or end up 'hostage' to imports, which in many cases do not observe the high standards we enjoy in Britain, the same standards demanded by our Supermarkets audit expectations (demands) "
For the full story: Click on The English Apple Man Journal November 25 2022
2023?
"Lets face it, it's going to be tough on all sectors of society (unless you are very rich) and the price of apple & pears may be low on most consumers radar, but the future of our British apple & pear growers is in the balance"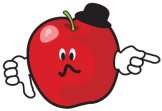 Next week, The English Apple Man will attend a British Apple and Pears Ltd (BAPL) meeting where the future promotional policy will be debated. BAPL does a lot of good work promoting the benefits of British apples & pears, but with the crisis facing our growers and the lack of support by the retail sector, many growers feel a more 'confrontational approach is needed'
Almost 50% of apple packs on UK supermarket shelves in October and early November were imported, according to surprising new research. Many of the apples on shelf during the peak British apple season were imported
Despite most British supermarkets pledging support for local farmers, new analysis has revealed that 48% of apple packs on shelf in October and early November were imported.
The research from by Market Intelligence Services (MIS) looked at the number of British apple SKUs in 13 supermarkets compared to SKUs from the rest of the world over a seven-week period from 3 October 2022 to 14 November 2022.
Every product sold needs a unique identifier-called a stock keeping unit (SKU)-that helps you differentiate one product from another. It's not enough to have one SKU for an apple or pear, for instance. Each variant of a product should have different SKUs. In the case of the apple pack, you'd need a unique SKU code for different varieties and packs.
Even after excluding varieties that are not typically grown in the UK, only one supermarket (Iceland) was selling 100% British packs.
At a time of peak British apple availability, none of Britain's six biggest supermarket chains had more than 65% British packs on shelf, with Asda only managing 23% British, and Morrisons stocking just 53% British apple packs.
"Recently, we've been getting messages on our social media channels from consumers saying they were struggling to find British apples. This concerned us and triggered this research," explained Ali Capper, executive chair of British Apples & Pears Limited (BAPL).
"It's peak British apple season; the supermarket shelves should be full of our amazing new season British fruit. However, retailers don't seem to be listening to what consumers want.
"Across the top six supermarket brands analysed, only 52% of the apple SKUs on shelf were British. Imported apples were coming from as far away as New Zealand and South Africa, as well as Italy, Spain, France and Belgium.
"Why are we importing so much fruit, with the associated food miles, when British apples are at their peak?"
Capper added that the findings make "tough reading for hard-working British apple growers".
"In the face of extraordinary inflationary pressures, we need supermarket support more than ever," she stressed. "Consumers can only buy the fruit they want if it's offered to them. It's time the supermarkets did more than talk about support for British farmers and demonstrated it by paying a fair price and packing their shelves with our amazing British produce."
-------------------------------------------------------------------------------------------------------------------------------------------------------
NFU President Minette Batters delivered a clear message direct to 10 Downing Street following a meeting with the Prime Minister Rishi Sunak where she called for action on the commitments he made to farmers during the summer. Read on to find out what was discussed at Minette's first meeting with Mr Sunak following his appointment as Prime Minister.
NFU to focus on bringing resilience and profitability to British farming over the next 12 months.
Minette Batters said she was "reassured" that Rishi Sunak takes the issue of UK food security seriously
Minette added: "The Prime Minister made it clear today that he wants to provide an environment for British food and farming to thrive, and what farmers and growers need more than anything is certainty."
Minette went on to specify that this means continued support on the energy crisis, enabling fair contractual relationships in the supply chain, establishing a national food security target, and providing clarity and delivering effective policies such as the new Environmental Land Management schemes.
"I hope this meeting and the Prime Minister's commitment to ensuring Britain has a thriving food and sector will mark a turning point in how our government values and prioritises the production of home-grown food, and demonstrates this government does back British farming."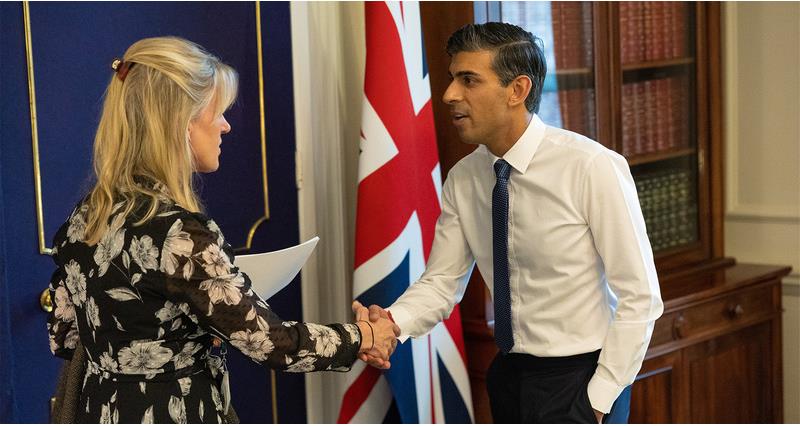 Minette has expressed her hope that 2023 will be "the year that the government gets serious about British food and farming".
In a special New Year message, she urged ministers to deliver the policies and support needed for British farmers "to thrive domestically and in markets around the world" and said the NFU will be focusing on bringing resilience and profitability to British farming "no matter what the next year brings".
Reflecting on an unpredictable and turbulent past 12 months, Batters emphasised that events such as the war in Ukraine, last summer's drought, and surging input costs have all "made the job of producing food throughout the world so much harder".
For months now the NFU has been engaging with the highest levels of government and campaigning on a wide range of issues on everything from food supply chain issues to seasonal worker shortages.
However, she hailed "a number of successes" as a result of the NFU's campaigning in 2022, namely an increase in the number of seasonal worker visas to 45,000; securing funding to level up rural communities through the Rural England Prosperity Fund; and recruiting eight new agri-food attaches overseas to help drive exports of British food abroad.
Despite falling domestic production in a number of fruits and vegetables, she added: "I was very pleased to be able to end the year with a meeting with the Prime Minister, Rishi Sunak, where I pressed, again, the importance of food security and home-grown food production.
In the summer he made a commitment to monitor food self-sufficiency and I am reassured that he continues to take this issue very seriously.

That is all for this week
Take care
The English Apple Man