Journal
27th Jan 2023 - Update
British apple & pear industry lays out a series of asks for retail, government and consumers after alarming survey findings
Apple growers in France say they need an additional €0.20 per kilogram to save the country's orchards, as the impact of increased costs bites hard
ANPP, the French top fruit association, offered a stark warning on the current state of the apple sector in France in a post on LinkedIn entitled "Apple industry on the verge of ruin".
Photos from the association showed producers in the process of uprooting their own trees due to the unsustainable price currently being paid to growers.
Finally a nice story from apple growing brothers in Kent!
Stagnant returns are leading to a major pullback on orchard investments, a widescale new survey has indicated.
A British Grower Association survey of British Apples & Pears Limited (BAPL) members, conducted in late 2022, found that planting of 150,000 new apple and pear trees has been cancelled this season.
Growers had intended to plant as many as 480,000 new trees to invest in the long-term future of their orchards, but a third of those orders have now been cancelled, according to the survey of growers who together represent an estimated 80% of the British topfruit sector.
Below: Ali Capper Chair of BAPL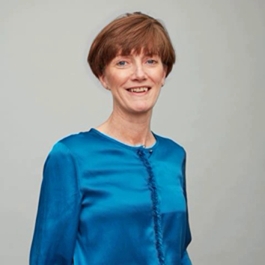 "This is the clearest indication yet that the future of apple and pear growing in the UK is seriously in doubt," said BAPL executive chair Ali Capper. "The industry is on a knife edge. Without long-term investment and new tree planting, orchards will quickly go into decline. That's not something any of us wants, least of all the British consumer."
"The key reason for the lack of investment is supermarket returns that are unsustainable," Capper continued. "Increased input costs of around 23%, for example for picking, energy, haulage and packaging, are being met with almost static average fruit prices paid by retailers."
BAPL growers reported receiving an average 0.8% year-on-year increase in what supermarkets pay them for their fruit, despite an independent report by John Pelham from Andersons Consulting recommending that growers should receive a minimum 12% increase in returns (10.2p/pack on a Gala apple six pack).
"Losing British orchards is not just an issue for our growers and UK food security," added Capper. "We're going to lose huge biodiversity in our countryside too. Apple and pear orchards are a sustainability success story - 83% of our growers work with local beekeepers, 62% have wildflower leys on headlands and 89% have grass orchard margins that are not cut or travelled."
BAPL's key asks
In response to the survey, BAPL has set out a list of asks for retailers, government and shoppers. From retailers, it wants a reset on returns to recognise the unprecedented 23% inflation in cost of production. It said its growers will be discussing fairness of returns with their customers in advance of electricity price changes.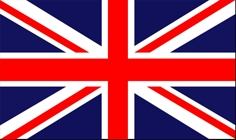 It also wants to see long-term partnerships and prioritisation of British apples and pears over imports to give growers the confidence to plant the orchards of the future with long-term contracts linked to inflation. And it wants retailers to work with growers to reinvigorate the category with in-store and online 'theatre', and packaging and messaging that attracts shoppers to buy British, and reflects the health benefits, affordability, low food miles and British provenance of the fruit.
Of government, BAPL asks that grower businesses are added to the Energy Business Relief Scheme vulnerable list to lessen the impact on cold storage of fruit, and wants a meeting of retailers to be convened to discuss 'the emerging crisis in the British apple and pear sector, seeking fair returns for growers".
It is also calling for the removal of the limit on the number of seasonal workers allowed into the UK and to increase the current permit to a nine-month visa; the government to prevent unnecessary inflation by removing the wage premium linked to the Seasonal Workers Scheme; and to support the development of renewables (wind and solar), especially the storage of renewable energy to help mitigate the energy cost increases facing growers and reduce CO2 emissions.
BAPL also outlined various asks of consumers, including that they check the label and make sure they're always buying British apples and pears, asking their retailers if they can't find them.
It wants them to eat an apple a day, keeping them in the fridge as they store well for at least two weeks and have excellent health benefits. It says consumers should support local British farmers and lower their food miles by choosing apples and pears grown in the UK.
"We must act now," Capper concluded. "This is not just about the apple and pear growers - the future of UK food security, biodiversity and our nation's health are at stake."
French apple growers are also in trouble!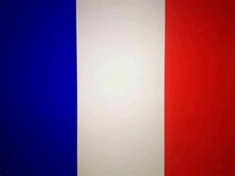 "Having warned for several months now of the dire need to increase the price paid to producers, today, in several regions of France, producers are uprooting their orchards," ANPP reported. "In Angers, Avignon, Montauban, in Limousin and in the Hautes-Alpes, several hundred producers gathered to show the difficulties faced by French orchards as a result of increased costs."
According to ANPP, producers were demanding an additional €0.20/kg from their customers, distributors and processors in order to be able to save France's orchards.
"While France is a major apple-producing country, 1.26ha of orchard are now disappearing every day," ANPP warned. "A decrease in France's cultivation area is not inevitable if prices are quickly revalued."
Below: Serious grubbing of apple and pear trees in France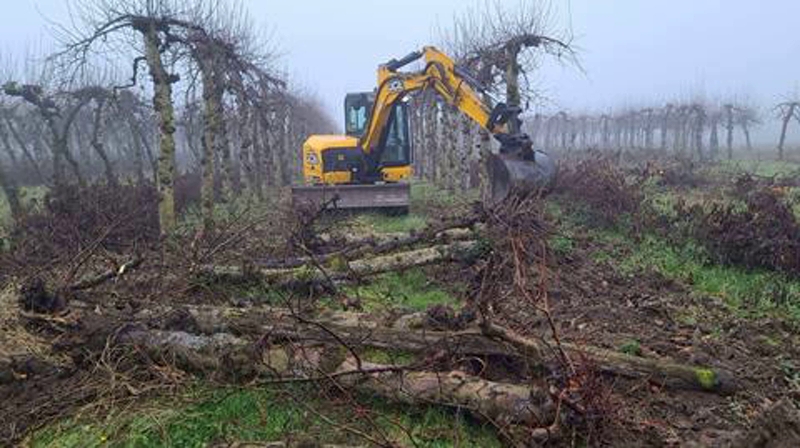 However, to regard what is happening in France as a specifically French concern would be an error, according to experts.
James Simpson of UK grower-packer Adrian Scripps wrote: "The French always seem better at demonstrating the issues. British growers are facing exactly the same problem. Returns for many just don't stack up. Growers have cancelled new tree orders for this year and next. Many have increased the areas they are removing."
Marc Peyres of French exporter Blue Whale suggested the present crisis could even be global. "Do you know a European country where fruit growers are happy about returns and the current cost of inflation?" he asked. "I believe this crisis is quite general, including in the Southern Hemisphere and the US.

A nice story!
Treating harvest workers fairly.... SEDEX, a funny story.
For those of you who've no idea what I'm on about ; SMETA (Sedex Members Ethical Trade Audit) is the most widely used social audit in the world. SMETA is Sedex's social auditing methodology, enabling businesses to assess their sites and suppliers to understand working conditions in their supply chain.
Good workers are in short supply within the horticultural sector and like most decent employers (we think we're in that category), we do our best to retain them.
This year a good number have come from Central Asia, and we recognise the effort, not just in physical terms, but psychological, which it takes to leave familiarity behind and commit to living months in a strange environment and foreign culture, and do our best to put them at ease.
So, the good folk at SEDEX informed us that we're due a SMETA and that it would be unannounced but within a 3 week window.
On Thursday last, a lady turns up from SEDEX at 10am.
Auditor; 'Hi, I'm here to do your unannounced SMETA, where are your staff? I'll be needing to interview them'
Below: Harvest workers enjoying a day off from work on the beach!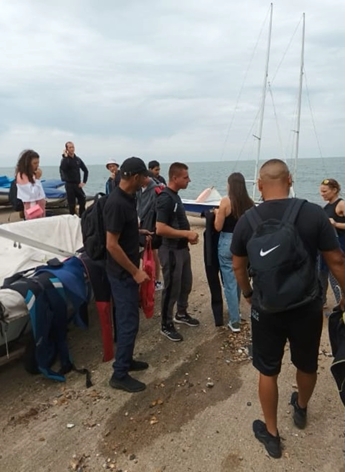 My brother; 'There all at the beach, we've finished cherry picking and I promised them a day's sailing and other watersports at my expense'
Auditor; 'But you knew you were due an unannounced audit!'
My brother; ' Err, the clue is in the name....'UNANNOUNCED'...Did you expect them to sit around here for 3 weeks because you may or may not turn up? Would you like to come to the beach?'
Auditor; 'why are you here at home on your kitchen?'
Brother; ' I'm preparing salad for the barbecue we're having after they come back from the beach....is that okay?'
Auditor; '.......I suppose I need to rearrange....good bye'
Update;
January 2023. We've received an invoice for 'Cancellation Fee' of £1300.00 , £1300.00 , as we didn't cancel the audit, We've no intention to pay!

That is all for this week
Take care
The English Apple Man