Journal
3rd Feb 2023 - The English Apple Man pays tribute to an old friend
This week The English Apple Man received sad news of the passing of a highly respected member of Academia and the World of Apples.
An email on Monday from his daughter Sarah informing me that Dr Barrie Juniper had passed away.
I first met Barrie at East Malling Research in late 2009 when he delivered The AMOS memorial which featured his exploits in the Tien Shan Mountains of Central Asia searching for the evidence that the sweet apple originated naturally over a 50 million year period without involvement from human beings!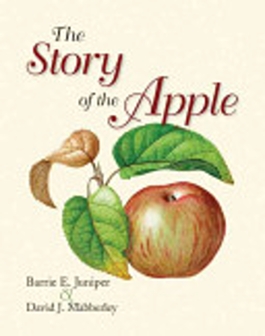 Barrie's book: The Story of The Apple
The English Apple Man visits Oxford University - February 2011
On Thursday The EAM met Barrie Juniper and his daughter Sarah at St. Catherine's College, Oxford University. They were accompanied by a mutual friend, Sean Morris a graduate of Oxford.
The prime reason for the visit was to explore further Barrie's unrivalled knowledge of the source of the sweet apple and it's source in the Tien Shan region of Central Asia.
In addition Barrie and Sean introduced me to a new apple discovered by Sean in the garden of his offices in Oxfordshire. The apple is now marketed by Frank P Matthews primarily to Garden Centres and is named BLADON PIPPIN.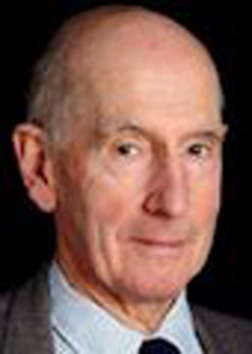 Barrie E. Juniper, University of Oxford, was a pioneer in the study of plant surfaces, including the specialized ones of insect-catching carnivorous plants. His research interests also include the interaction between people, their animals, and the evolution of crop plants.
I have mentioned Barrie's excellent account of how the sweet apple originated in his book The Story of The Apple and how it's spread across the world in his book; which was published in 2006 and has now received the endorsement of a team of 80 Italian Geneticists who confirm Barrie's original belief that the sweet apples can be traced back to The Tian Shan without any hybridisation.
"Although we may often think of the apple as quintessentially English, its origins lie in China. The apple (the Malus genus) arose in the Tertiary period (5.3 1.8 million years ago) in southern China and spread through a continuous corridor of temperate forest as far as western Europe. This book details the natural and cultural history of the apple, using DNA evidence, from its origins in China, along the Silk Road to Europe and onto the Americas and Australia".
Tribute from St Catherine's College Oxford
Barrie Juniper (1932-2023)
St Catherine's College is saddened to share the news that Professor Barrie Juniper, Emeritus Fellow, has died aged 90.
Professor Juniper was Emeritus Reader in Plant Sciences, Fellow by Special Election 1968-72, Fellow and Tutor in Botany 1972-99, Reader in Plant Sciences 1996-9, and had been an Emeritus Fellow since his retirement.
His connection to St Catherine's began as an undergraduate in 1952. He then worked for the microscope laboratory of Plant Sciences before being recruited to review the garden plans of the yet-unfinished College grounds in 1962. After realising that the proposed plants would not survive the local climate-and after an infamous confrontation with Arne Jacobsen-he redrew the plans, working alongside Jacobsen to give the College its distinctive design today.
Professor Juniper was a pioneering botanist and geneticist with expertise in many areas, ranging from carnivorous plants to his famous interest in apples. An active researcher even after retirement, he was granted a Leverhulme Fellowship in 1996, allowing him to collect the DNA of wild apples in Central Asia. In 2006, he published 'The Story of the Apple', tracing the history of the apple from its earliest origins to today.
Through his involvement in the College gardens, his contribution to St Catherine's is immeasurable. Barrie's devotion to St Catherine's; his generosity with colleagues, students, and friends; and life-long curiosity and adventurous spirit is remembered by all who knew him.
Tribute from Tom La Dell - Trustee Brogdale Collections Trust
Dear Sarah
This is such sad news and we are really sorry to hear of your loss. Barrie was a unique man whose personality, joy and enthusiasm meant so much to his friends and the wider world.
I first met him in 1965 when in the then Botany department we were introduced to the PhD researcher on the new fangled electron microscope in the basement. Then, twenty years or so ago, I was talking to Joan Morgan about the origins of apples and she said that this was being undertaken by Barrie Juniper and my hunch that there could not be two plant scientists with that name was correct. It was so lovely to make contact with him again and to talk about his new enthusiasms, which are so much part of what we are doing at Brogdale Collections, where we run the public access to the of the National Fruit Collection. He regularly invited us to lunch at St Catz and he signed our copy of The Extraordinary Story of the Apple on 14 November 2019. I attach my review from The Garden in July 2020 where he did like being called 'intrepid'. I remember you appearing, was it as Hester Tradescant, at Barrie's talk at the Garden Museum in Lambeth, where the Tradescants were buried. He also gave a typically wide ranging talk for students in Canterbury. Barrie's and your The Complete Planter and Cyderist is on the book shelf next to me as I am finalising the guidebook for the NFC.
Below: The Tien Shan Mountains in Central Asia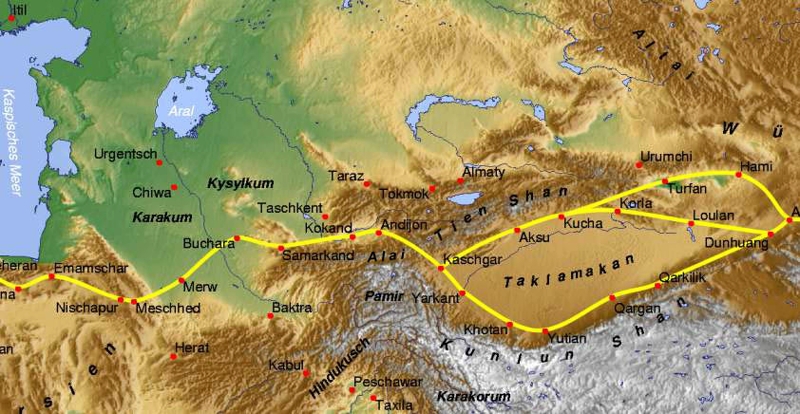 The Institution that is Brogdale is seeking volunteers for various roles, including Chairman of the Brogdale Collections Trust. Please click on Brogdale Trust Collections

That is all for this week
Take care
The English Apple Man