Journal
24th Feb 2023 - Cyclone Gabrielle
In this week's Journal, The English Apple Man reviews the disaster facing many of our apple grower friends in New Zealand.
I was alerted by Martin Williams, an old friend who grew apples in East Sussex, before retiring to Derbyshire a few years ago.
Dear John, "I have been sent the attached by our daughter who lives in New Zealand about the devastation in Hawkes Bay caused by cyclone Gabrielle. It makes the hurricane of'87 look like nothing!
Katy and family who live near Matamata in central Waikato got away quite lightly, just were without power for four days".
Troubled times indeed for growers around the world.
Cyclone Gabrielle
Horticulture apocalypse: trees covered in 2m of silt and dead animals float through apple orchards
Almost 2 metres of river silt suffocating apple trees and dead animals floating in apple orchards has been described by a Hawke's Bay apple grower as the horticulture apocalypse.
But Yummy Fruit general manager Paul Paynter said the biggest tragedy would be the human one.....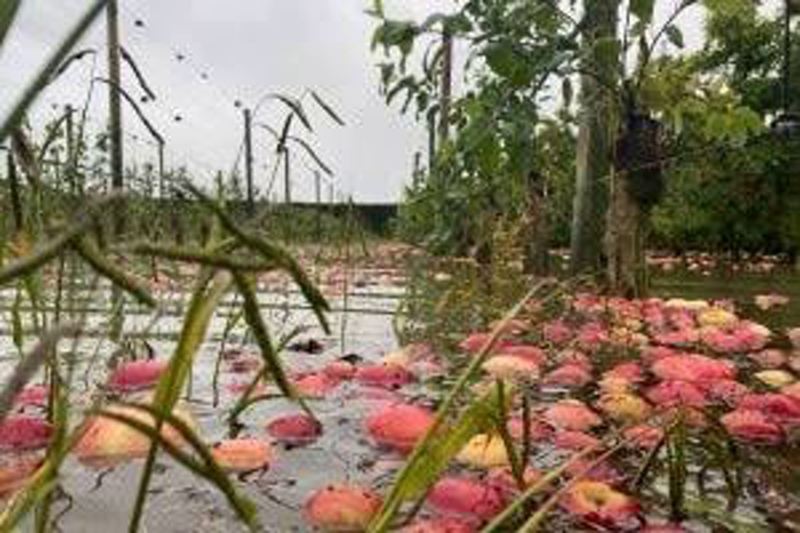 Cyclone Gabrielle
Following a period of heavy rain causing extensive flooding, Cyclone Gabrielle caused further havoc in the Hawkes Bay region of New Zealand's North Island.
Below: Cyclone Gabrielle and a view from a Helicopter of houses almost submerged in flood water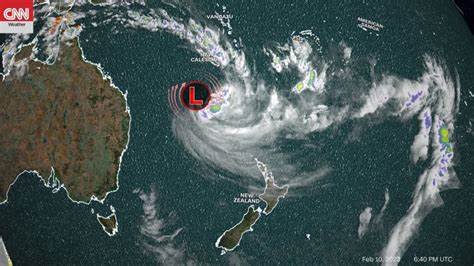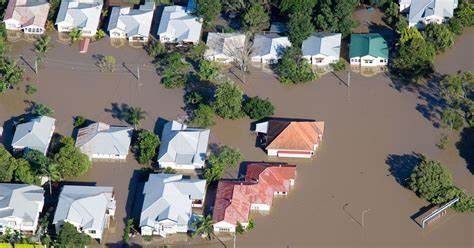 Below: Peoples houses submerged in water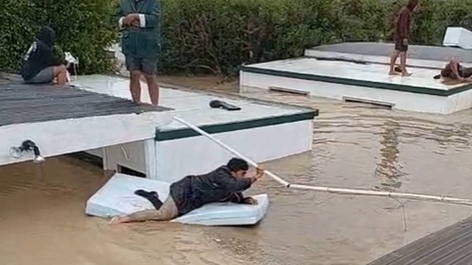 There were houses in sections of Hawke's Bay where it was clear the river had covered roofs and there would definitely be people unaccounted for, Paynter said.
Waters in the orchard's rose so fast from flooding that it took five minutes for water to rise to hip height after it started out as a puddle, he said.
Some parts of his orchards looked like the Somme, dead animals, wood, and sludge, Paynter said, referring to a battle in World War I.
"As far as horticulture goes it's sort of like the zombie apocalypse. Trees look like debris from the flood but they are actually attached to the ground, just unrecognisable," he said.
Below: Digging through silt to access a packhouse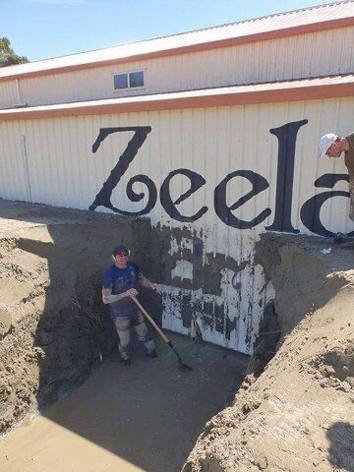 Silt was so high against trees it looked like there were small bushes growing from them, he said.
Plants breathed through soils and the life in soil needed to do the same, so the silt was literally choking the life out of trees, he said.
Some of his trees were a write-off, but about 70% of his orchards, spread throughout Hawke's Bay, could be good for harvested if the sun came out soon, he said.
There were a number of growers who could tell the same story as he did, and would be able to harvest, but others had 30 years of work completely decimated, Paynter said.
The apple industry already had a bad year with markets collapsing in Europe and other challenges, he said.
Gurpreet Singh, operations manager at Hastings-based X Fruit, a group that owned 23 apple orchards, said the company did not have insurance for trees and wanted to know if the Government had any assistance schemes to cover growers like him.
Some trees were covered by waters that rose by 5 meters, Singh said.
If the silt could be removed then trees might survive, he said.
Staff had been using water pumps to clear orchards, he said
"People's emotional shock absorbers were finished."
Below: And when the water level dropped, the sad sight of silted apples laying in dried out mud!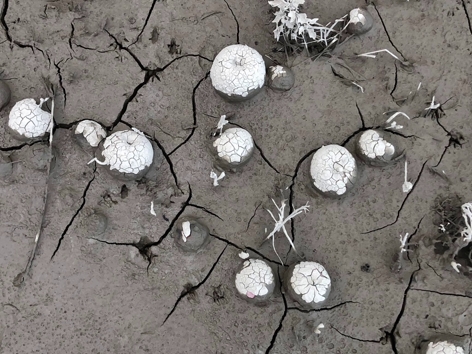 Silt removal
Many areas have been inundated with silt from the flood waters and there are concerns regarding the level of contamination of the silt.
"Residential silt removal will be co-ordinated through your local council. Please check their website for guidance and details.
If you have waste on a lifestyle block, farm or orchard, the Regional Council will be able to help you remove larger volumes. These landowners are asked to remove the silt from around vines or trees and move it to a location on their own property with suitable access for trucks.
The landowners can then contact the regional council on 06 835 9200 or 0800 108 838 who will coordinate with a contractor for the removal of the silt.
The silt will be rapid-tested when collected to measure any levels of contamination and to ensure contaminated and non-contaminated silt is kept separate. Silt that is not contaminated or has a low level of contamination will be repurposed"
The English Apple Man Comments: "While the damage to orchards and property is extensive, the human tragedy has left many dead, drowned in the most tragic circumstance!
We pray for the wellbeing of our New Zealand compatriots

That is all for this week
Take care
The English Apple Man