Journal
10th Mar 2023 - Reasons to be cheerfull
Reasons to be cheerful!
After my rather depressing, but nevertheless accurate summary of the Apple & Pear industry status quo, this week I report on a very cheerful evening spent with the cream of the industry.
On Tuesday The English Apple Man joined fellow members of East Kent Fruit Society (EKFS) for our Annual Trophy presentations and Dinner at the prestigious Faversham Golf Club at Belmont in East Kent.
Click on Faversham Golf Club History
Tuesday evening and EKFS members gather at Faversham Golf Club.
Below: President Henry Bryant and right. John Hinchcliffe introduces Neil Franklyn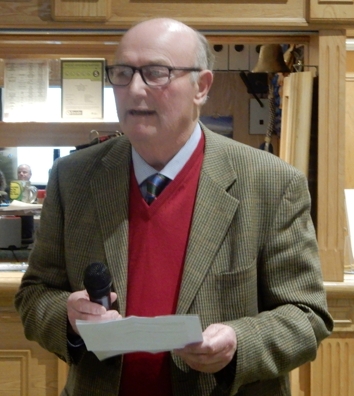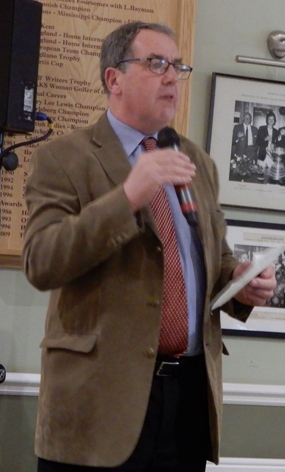 The resilience of the apple and pear growing fraternity and that "bond which holds us all together" put aside our worries about survival for the evening as we enjoyed our Presidents address, the presentation of Trophies, Honouring Neil Franklin as he received the prestigious David Hilton Memorial Medal for services to the fruit industry from David's son Giles, a very tasty roast beef dinner washed down with local beer and English wine.
Much good humour enhanced the evening, set off by our President Henry Bryant who mixed his address with a spicy story or two.
John Hinchcliffe added humour to his introduction of David Hilton Memorial Medal Neil Franklin.
John informed us that Neil Graduated in 1983 from Newcastle University having done a degree in Agricultural Economics.
Neil than spent a year with Simon Brice at Leeds (Kent)and then working with Mike Green at HGF for a period, before spending a year
at Hadlow doing a certificate in commercial fruit production after which he spent two years with John Starkey in Newmarket.
In 1989 Neil joined what is now Agrii (or all the various companies that became Agrii) and stayed for 35years before retiring.
Neil now acts as both a guide, and Trustee at the Brogdale Collection.
Below: Neil Franklin and the David Hilton Memorial Medal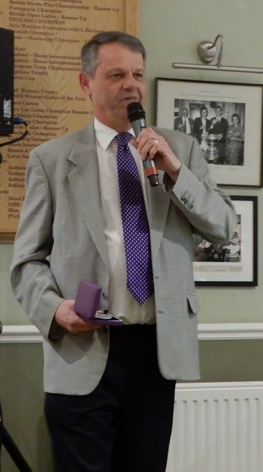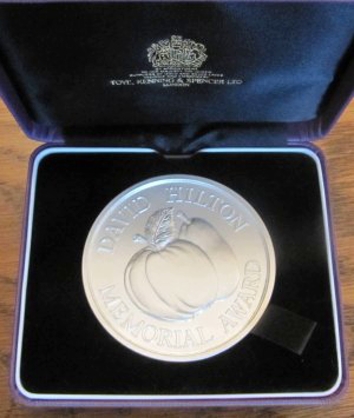 Neil in his thank you speech, told various funny stories and one that I remember, I will try to relate.
Story "Having been a member of EKFS for many years, sometimes at this annual event, a prizewinning grower is unable to attend and asks someone to accept on his/her behalf. Well David Long a serial winner of the Pear Class, asked me (Neil)
to accept on his behalf, well this happened again the next year and again for the third year running!
Well at this stage a grower (not knowing, who was who) approached me at the bar and asked me, Mr Long what is the secret of becoming a successful par grower? hhhmmm well, it is very important to appoint a good advisor, 'could you recommend one Mr Long? so I suggested the best would be Neil Franklin!!!
Below: Giles Hilton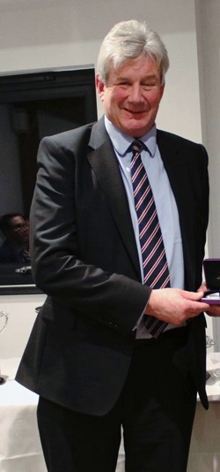 Giles Hilton (son of David) generously sponsors the David Hilton Memorial Medal each year from his own pocket. The Society is indebted to Giles as without his generosity, the continuation of the annual presentation would not be possible.
DAVID HILTON MEMORIAL MEDAL
David Hilton was a well respected East Kent fruit grower, A tireless supporter of the UK fruit industry and of the East Kent Fruit Society. He gave a large amount of time and energy back to the industry and was one of Kent fruit growing's unsung heroes.
In his memory, The East Kent Fruit Society decided to create an award for services to the fruit industry in Kent and beyond. The intended recipients are those who have given something back to the industry, who have not been and are unlikely to be recognised in other ways.
Recipients are typically approaching the end of a career or stepping down from a defining role. Previous recipients have been growers, managers, advisors, research scientists, technologists, lecturers and others from key industry roles.
It is not aimed at recognising commercial or business success as Society competitions reflect this.
Below: Presentation time for all these beautiful trophies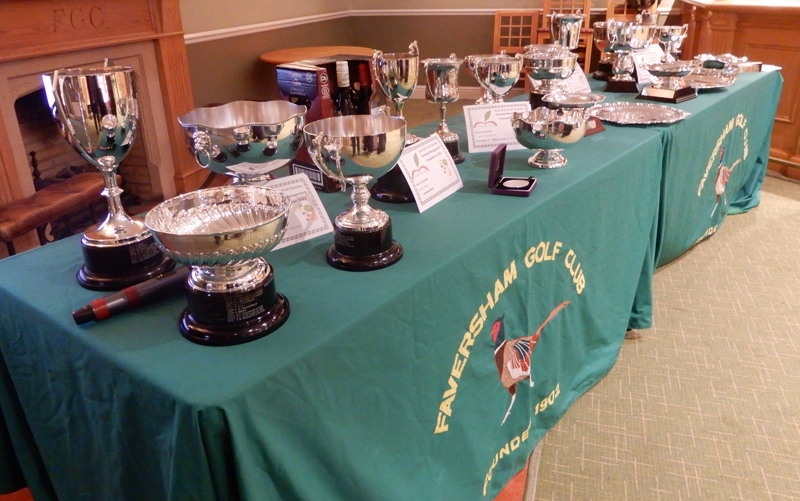 Below: President Henry Bryant present trophies to Craig Rook from FW Mansfield and Charles Stewart from AC Goatham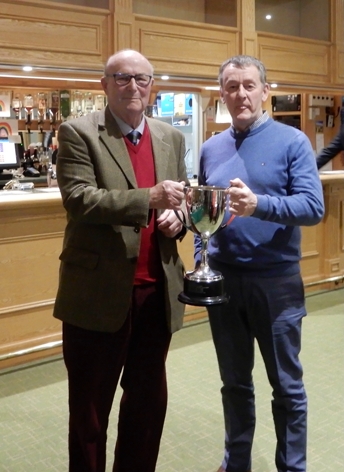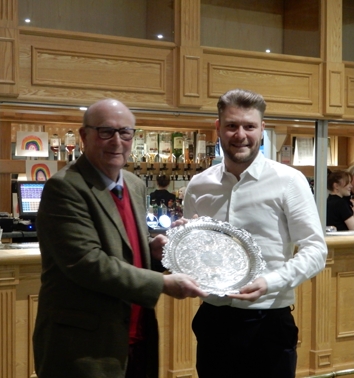 Below: The President presents Russell Graydon from Adrian Scripps and John Hinchcliffe from New House Farm with their Trophies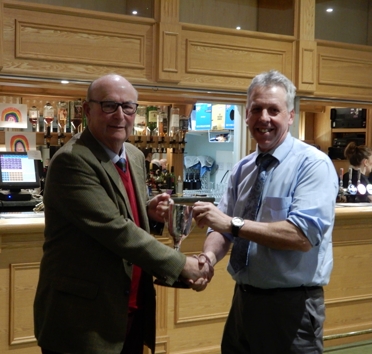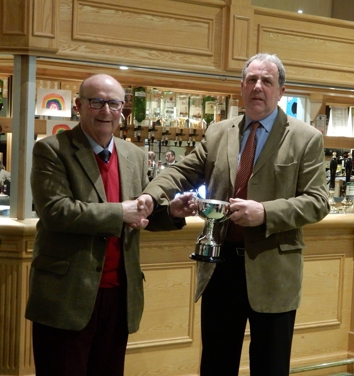 Below: left. Jim Woodbridge from FW Mansfield and right. Sam Figgis from Figgis farms receive their Trophies from The President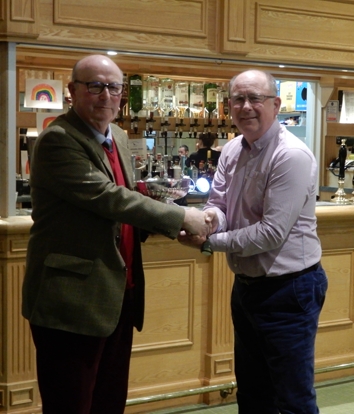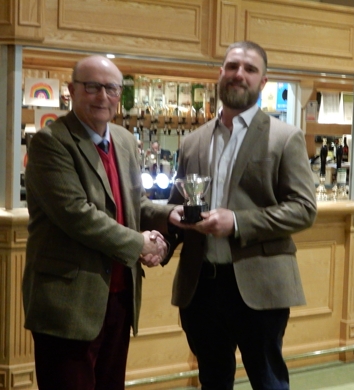 Below: left. Lucaz from GH Dean and right. Tom Hulme from AC Hume receive their trophies from The President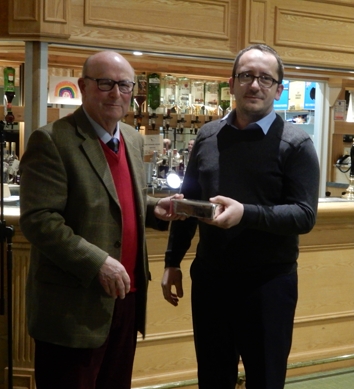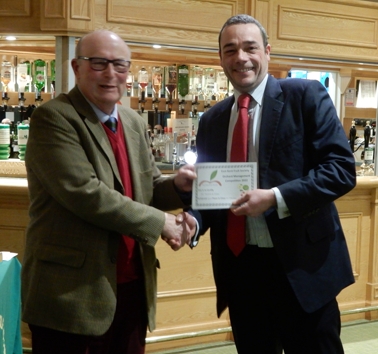 Below: left. Craig Rook receives the Cherry Trophy and right. Neil Franklin (once again) collects the trophy on behalf
of David Long for 'Other Stone fruit' Class from the President Henry Bryant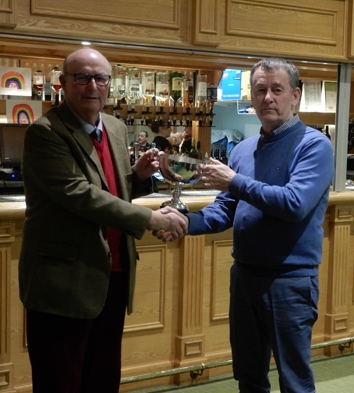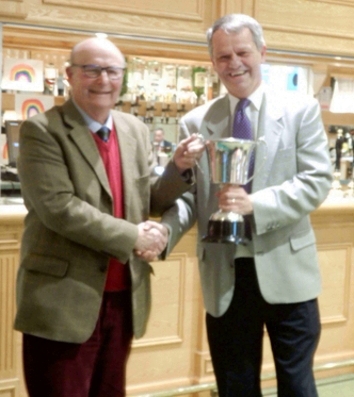 The presentations pictured above relate to each recipient of a Winning Class. In addition were many 2nd and 3rd place prize winners.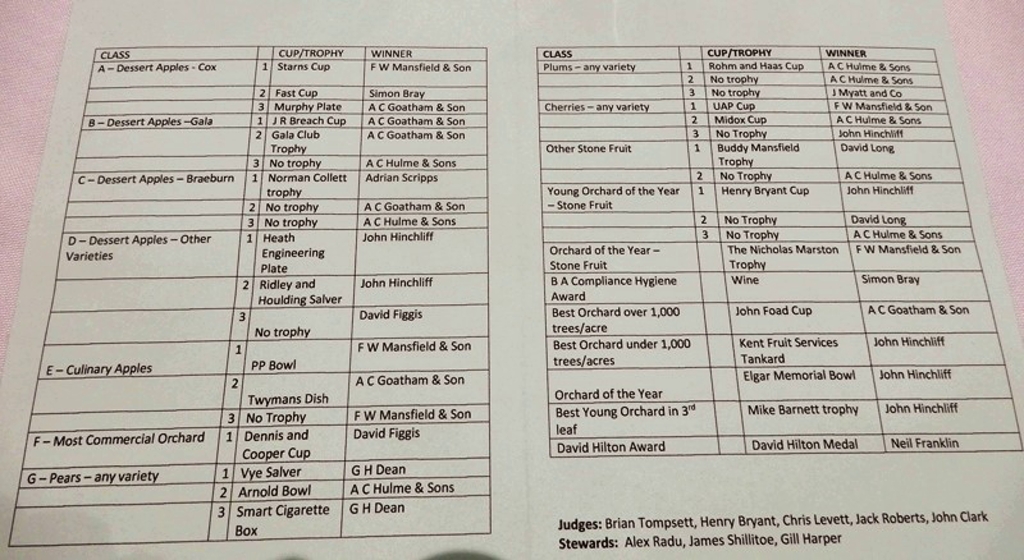 To finish a wonderful evening, our Guest Speaker was Tom Hart-Dyke from Lullingstone Castle.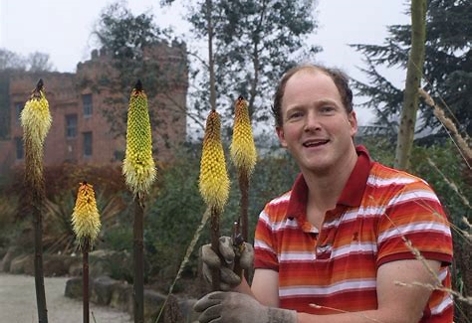 Tom Hart Dyke first shot to international prominence in 2000, when he was kidnapped in the Panamanian jungle on a plant hunting expedition that went dangerously wrong.
Tom and his travelling companion, Paul Winder, were taken hostage while trekking through 'The Darien Gap', a dangerous place abandoned by all to warring guerrilla factions. Tom and Paul were captured on Tom's sister's birthday - 16th March 2000 - and were held for nine months; released in time for Christmas on 16th December 2000.
The idea for the World Garden was born in the depths of despair in the Colombian jungle. At Midday on June 16th 2000, three months into their kidnap ordeal, Tom and his fellow captive Paul Winder, were told to prepare to die that night. Paul spent the afternoon of that fateful day in prayer, but Tom decided that the best course of action would be to spend his final day on Earth designing his dream garden! He spent the day drawing plans, in his diary, for a World Garden - containing the plants he'd collected from across the globe, planted out in their respective countries of origin.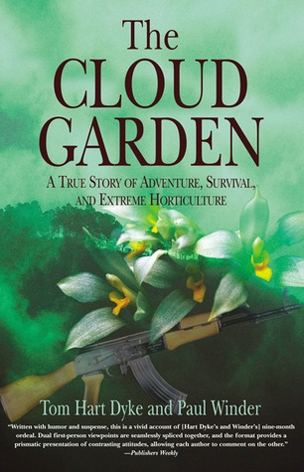 Luckily for Tom, Paul and their families, the boys were not executed. After Tom's return home to his ancestral home of Lullingstone Castle, near Sevenoaks, in Kent, Tom and Paul (Winder) penned the best selling book The Cloud Garden (Transworld: 2003) detailing their experiences in the jungle. Tom's jungle antics - building gardens in the mountains, much to the annoyance of his captors - cemented his reputation as a 'plant nut'.
To see much more: click on: about Lullingstone Castle and the World Garden

That is all for this week
Take care
The English Apple Man