Latest Journals
23/03/2018
How late is this season?
The winter has been colder than we have seen for a while; plenty of winter chill this year........
16/03/2018
Award Winning Cider made in Kent
Turners Cider, a newcomer to Craft Cider makers is proving a winner..........
09/03/2018
More from NIAB/EMR and Taste of Kent Awards

Last week the English Apple Man reported the research into DMC (Dry Matter Content) being carried out at East Malling. This week, some more research presentations discussed.................plus results from the 2018 Taste of Kent Awards....
02/03/2018
The English Apple Man attends a Tree Fruit Day at NIAB/EMR
This seminar covered some key research carried out by NIAB/EMR on behalf of AHDB..........

NIAB EMR is a horticultural and agricultural research institute at East Malling, Kent in England, with a specialism in fruit and clonally propagated crop production. In 2016, the institute became part of the NIAB Group.
NIAB stands for: National Institute of Agricultural Botany.
23/02/2018
Focusing on Rural issues
On Wednesday, The English Apple Man joined fellow members of the Rural Focus Press Group founded by Pat Crawford and held at Hadlow College.
16/02/2018
The English Apple Man is cross
The English Apple Man is very cross...........
09/02/2018
BIFGA Technical Day 2018
The English Apple Man attends the 30th Annual BIFGA Technical Day...........
02/02/2018
Agrovista Conference
The Annual Agrovista Conference held at The Mercure Hotel - Brands Hatch in Kent has become a 'must attend' event for fruit growers....
26/01/2018
The English Apple Man visits East Kent Fruit Society and Agrovista
This is the time of the year when various fruit industry events are held; growers are not quite so busy and able to find time to attend these events..........
19/01/2018
Water, a very precious element
Water; not just quantity, but quality is the subject............
12/01/2018
Crikey, it's nearly mid January!
Each morning, as I get in the shower, its seems like only a few hours (not 24) since my last ablution.......
05/01/2018
What can we expect in 2018?
Looking into the future is a dangerous game - most predictions are proved wrong over time....however....
29/12/2017
a year of many contrasts
Looking back on 2017, there were many contrasting moments; 'personal' and 'professional' and in the world in general.
22/12/2017
Its only 'three more sleeps' to Christmas Day

'As the children say'.....only three more 'sleeps' to Christmas Day when Santa Claus calls...........
15/12/2017
The English Apple Man visits Kirkland's machinery demonstration day
Glossy new machinery is always appealing and there was plenty of it at Kirkland's Demonstration Day held at AC Goatham & Son's Griffins Farm last Friday - 8th December. More than 160 visitors attended the event, which is the third demonstration day since Kirkland re-located to Griffins Farm.
08/12/2017
NFU Farm Forum - Friendship, Fun and Food
On Friday 7th November, The English Apple Man attended a Farm Forum organised by Ashford & Tenterden National Farmers Union (NFU) Branch at Wittersham Village Hall.
01/12/2017
A right Royal opening and The English Apple Man makes juice, U40's Anniversay Ball and other bits and pieces
Today Friday 1st December HRH The Princess Royal formally opened the Arthur Goatham Building...........
24/11/2017
A quieter week for The English Apple Man - 'time to catch up'
With less pressure on my time, there is an opportunity to catch up with some of the visits The English Apple Man has been involved in these past weeks.....
17/11/2017
The English Apple Man visits 'even more' Supermarkets......
Last week The English Apple Man visited Tesco and M&S inspecting displays of Apples and Pears and purchasing samples for 'taste evaluation'
10/11/2017
The English Apple Man visits Supermarkets
Over the next two Journals, The English Apple Man will report on UK apples and pears on sale in our Supermarkets: this week - M&S and Tesco......next week: Waitrose, Sainsbury, Morrison. ASDA, LIDL and ALDI.
03/11/2017
National Fruit Show roundup...
There was too much to cover in last week's Journal, so this week The English Apple Man adds more stories from the 2107 National Fruit Show...
27/10/2017
The English Apple Man at the National Fruit Show
This week the 84th National Fruit Show was held at The Kent Event Centre at Detling Showground in Kent
20/10/2017
After two weeks relaxing in Malta The English Apple Man arrives back home on Saturday morning
THIS WEEK'S JOURNAL WILL BE COMPLETED AND ON LINE 'sometime' on SATURDAY EVENING!
13/10/2017
Apples at Ightham Mote
Ightham Mote is the perfect location for an apple orchard with 'iconic historic' apples, most of which are only visible in books or the National Fruit Collection...
06/10/2017
Reaching out to the next generation
Much is made of the influx of migrant workers working in the 'edible' horticulture sector and questions asked why we cannot find sufficient 'home grown' workers........there are many opportunities in the UK horticulture sector for young people to embark on a rewarding career, but education IS the key factor!
29/09/2017
Lots of variety this week
It's been a week of variety this week: Hadlow College on Wednesday, a visit to apple variety 'guru' Joan Morgan with a dozen varieties from my brothers small orchard in his garden in Wiltshire on Thursday and 'today' Friday 29th September involved in the 5th Pip to Plate event at Hadlow College and tomorrow; Saturday 30th September supporting Ightham Mote's apple event..
The Hadlow Focus Group has been part of The English Apple Man's calendar for several years now........
22/09/2017
The English Apple Man visits his brother in Wiltshire
Living in the world of intensive commercial apple and pear orchards, it's nice to get back to basics..........
15/09/2017
Up to date news on 2017 apple and pear harvest
This season is proving to be a challenging one....
08/09/2017
Seeking a point of difference and looking after the soil
In August The English Apple Man escorted a group of German fruit growers in the West Midlands and visited two growers who are trying to avoid the world of 'volume production'
01/09/2017
September morn..........signals Hop picking and Apple picking time.........
From an early age, I was conscious of September marking the start of Hop picking and Apple and Pears being harvested.....
For a view of the past: click on Hop Picking in 1950-59 an old black & white image of 'days gone by'
25/08/2017
It is an early season and as the UK cherry season comes to an end, home grown apples are next...
This season has been a good one for UK cherries.....lots of beautiful fruit, spread over a season which lasted for 10 weeks....now UK Apples & Pears will take centre stage....broadly speaking the cherry season starts with harvest in East Kent and finishes with cherries in Scotland..........
18/08/2017
The English Apple Man website is now 8 years old!
It does not seem that long ago, but it is now eight years since the first English Apple Man Journal was published on-line on 14th August 2009..........click on The English Apple Man Journal 14th August 2009
11/08/2017
The English Apple Man visits The West Midlands with a group of Dutch Fruit Growers
For the second time in 3 weeks, The English Apple Man visits Herefordshire and Gloucestershire.....
04/08/2017
The English Apple Man and German Fruit Growers visit the West Midlands
Some time ago, my friend Leon Jahae asked me to act as a guide for a group of fruit growers from Lake Constance as they visited fruit growers in Gloucestershire, Hereford and Worcestershire.
28/07/2017
The English Apple Man has been very busy in Kent and West Midlands
Last week The English Apple Man attended Fruit Focus and reported some of 'the action' and this week's Journal will include more from Fruit Focus........this week The EAM has been in the West Midlands visiting growers in Gloucester, Hereford, Worcestershire and Shropshire....which will be reported fully over the next few weeks!
21/07/2017
The English Apple Man visits Fruit Focus
The 2017 Fruit Focus was held on Wednesday 19th July at NIAB/EMR
14/07/2017
At the height of the Cherry season, The English Apple Man visits a prize winning grower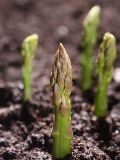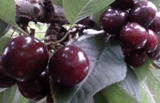 UK Cherries, like Home grown Asparagus, are in my opinion superior to any from overseas.....but the season for both, is short....however modern methods are extending both beyond their 'historic' natural season.
07/07/2017
What are the prospects for the 2017 apple and pear crop
The frosts this spring have left a mixed picture for this year's apple and pear crop.........
Below: left to right: Bramley eye russet, Gala malformed calyx. Conference Pear severe russet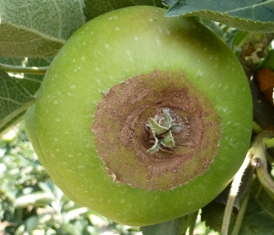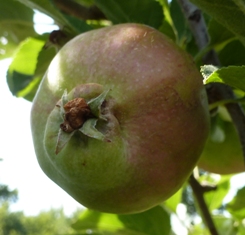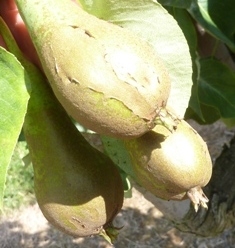 30/06/2017
Celebrating 70 years
In 1947, soon after the end of World War 2, Arthur Conference Goatham set up in business: initially while living in Bearsted buying fruit at the farm gate or at auctions. In 1980 Arthur moved to Hoo on the Isle of Grain and bought Street Farm.
23/06/2017
Looking to the future..........
But what will the future hold?
16/06/2017
English Cherries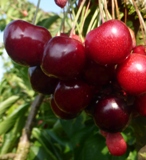 From late May - early June, while driving on Country Roads there are countless signs advertising Strawberries & Cherries; that early the Cherries are not English; but now in mid-June with an early season, home grown Cherries are coming 'on stream'
09/06/2017
The English Apple Man in East Kent with the Under 40's
Today: Friday 9th June, The English Apple Man joined the next Under 40's Committee and past and future U40 delegates at Chandler & Dunn's farming enterprise at Lower Goldstone in East Kent.
02/06/2017
Living Walls
Living Walls is a concept for creating vertical green areas where conventional 'horizontal' areas are restricted....its not new, but it is gaining momentum and could be the 'next big thing'...........
26/05/2017
Growing Cider Apples organically in East Sussex
This week The English Apple Man tells a tale of an apple grower who has not sprayed his orchards with anything; no pesticides, no weedkiller, not even foliar feeds.....for more than 20 years.......
19/05/2017
The weather's warmed up!
With the increase in temperatures, and a a decent amount of rain, we are in a 'very growy spell' but not without it's challenges......
12/05/2017
This week's Journal is a bit of a 'mixed bag'
Recent frost is very much in the news; it would appear the continent is the worst hit and Vineyards in particular have been in a fight to reduce the level of damage with 'candles burning brightly'
05/05/2017
How will the mixed weather over the last two weeks influence the potential for this year's crop?
The variation in temperature over the last two weeks has been extreme; what does this mean for our fruit trees in blossom...
28/04/2017
The English Apple Man and BIFGA Spring Farm Walk
Wednesday and The English Apple Man joined fellow BIFGA members for the Annual Spring farm walk, held this year at Mole End Farms...after a very early blossom period, mother nature delivers a scare...frost damage and ice in the air.....
Comparing last week's blossom stages (21st April) with this week (28th April) the blossom development ranges from late bloom on Bladon Pippin to Early Fruitlet on Discovery and Red Windsor. To date no frost damage evident on these trees/varieties here in Hastings Sussex.
Below: left to right: Bladon Pippin, Discovery, Christmas Pippin, Red Windsor - on 21st April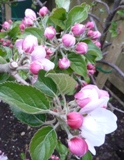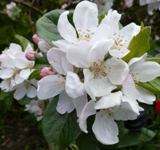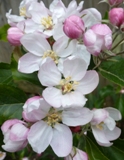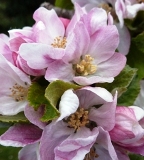 Below: left to right: Bladon Pippin, Discovery, Christmas Pippin, Red Windsor - on 28th April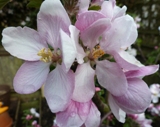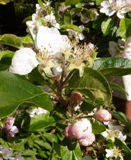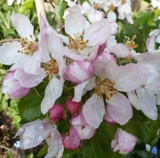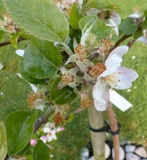 21/04/2017
Oh Dear, its all change again - life after Brexit has taken on a new dimension!
Last week The English Apple Man attended the Marden Fruit Show Society (MFSS) AGM held at Hadlow College. Presentations highlighting the consequences of government policy on our farming futures were central to our speakers...
Then an announcement of a General Election generates more speculation.....
14/04/2017
Is it mid April or mid May?
For many years Apple Blossom time traditionally came at the end of the first week of May....at least that is how The English Apple Man remembers this very enigmatic event...blossom time is a time of great hope and sometimes trepidation....
07/04/2017
Nature responds to nice UK weather - and a visit to an historic estate in South Africa
Sunshine and higher temperatures are resulting in rapid changes in fruit bud development.....talking to a grower in East Kent today, Pears are at the late blossom/petal fall stage with fruitlets already showing up...Cox at green cluster to early pink bud and Braeburn at Pink bud stage....
31/03/2017
A memorable birthday and more from South Africa
This week The English Apple Man celebrated his 75th Birthday........
24/03/2017
Still plenty to report on U40's visit to South Africa
This week's Journal will concentrate on U40's visit to Haygrove Heaven and Fruitways
17/03/2017
A second installment from South Africa
There is so much to write about the Under 40's visit to South Africa.....could take a couple more weeks...
10/03/2017
More stories from South Africa
The English Apple Man has now been home from South Africa for 6 days and 6 hours......it has taken all week to overcome the tiredness....but plenty going on to occupy the mind....
03/03/2017
What a week...5 intensive days in the Western Cape of South Africa..
This, the 50th anniversary of the Under 40's Conference was held for the first time in the Southern Hemisphere; this week's Journal focuses on some of my pictures (I took well in excess of 1,000 + lots of video) with short captions as The English Apple Man only arrived home in mid morning after our overnight flight from Cape Town....at 9pm on Saturday, I am battling the tiredness as I try to finish the Journal....body and mind have given up, so finish finishing Journal on Sunday morning.....just walked my dog (Sunday am) and its' 'p.....g' with rain and temperature 4.5C..last week we were enjoying 25C - 40C....its now afternoon and time to 'wrap up' thus week's Journal. Over the coming weeks, The English Apple Man Journal will cover many of the individual visits in greater detail....
24/02/2017
Capetown - here we come....
2017 is the 50th anniversary of the Under 40's Conference and takes place in the Southern Hemisphere for the very first time.....
17/02/2017
Look, no driver...
Driverless tractors are about to make their mark in UK orchards...
10/02/2017
Combating Canker
Canker is almost certainly the most challenging tree health aspect of apple production..

03/02/2017
February
February can be the most dreary month of the year....but its a good time for going out to lunch...
27/01/2017
What has The English Man been up to this week?
A busy week, with East Kent Fruit Society (EKFS) AGM - Orchard Competition Awards and Dinner at Boughton Golf Club on Tuesday evening and the 29th BIFGA Technical Day at Dale Hill Golf Club on Wednesday.......
20/01/2017
Making the most of weather forecasting
The English Apple Man attended a Seminar this week where advanced local weather forecasting is used to guide growers when the risks of fungicidal infection periods may occur and thresholds for pests reached.
13/01/2017
A New Year under way
What is on the English Apple Man's agenda for 2017?
06/01/2017
What's new!
2017 gathers pace.....its already nearly a week old....
30/12/2016
As 2016 ends The English Apple Man looks forward to 2017
What's in store for 2017
23/12/2016
What's been happening in 2016?
In this week's English Apple Man Journal we will take a look back at some of the events featured in the Journals of 2016
16/12/2016
The English Apple Man attends a Seminar at Brands Hatch
Codling Moth, Cydia pomonella is a serious pest in apple orchards...
09/12/2016
The English Apple Man takes a second look at Interpoma
With more information from my friends Vikram & Simon.....and Richard Killian at FAST
02/12/2016
Still got my nursing hat on!
We have progressed this week, but Mrs EAM is still moving slowly..........not sure I was cut out for Nursing, but when its the lady you love, its surprising what you are capable of!
25/11/2016
This week has been a difficult one!
On Monday; Mrs English Apple Man had a new knee!
18/11/2016
An Englishman in Italy
On Thursday, The English Apple Man joined a small group of growers on a trip to Italy to view a new apple picking platform
11/11/2016
The Great Fruit Adventure
Tuesday morning and The English Apple Man is on route to New Spitalfields Market........
04/11/2016
British Summer Time Ends...
Suddenly the afternoons are shorter, but the sunshine has stayed with us for most of this week.......colder from Wednesday, but still with sunshine illuminating the autumn leaves..."until this afternoon when the rain arrived"...
28/10/2016
National Fruit Show review and Show Fruit at DEFRA
This week The English Apple Man Journal will review the 2016 National Fruit Show and report on our visit to DEFRA in London.....
21/10/2016
Its Showtime!
A busy week; The English Apple Man joined his fellow Judges on Tuesday at Detling Showground in Kent for the judging of the National Fruit Show competition fruit.........
14/10/2016
Sunny autumn days
This week we have enjoyed sunshine, mixed with some crisp autumnal temperatures, just right for walking my dog Poppy....and on Wednesday enjoying a society golf day at Lamberhurst Golf Club with the trees in varying degrees of beautiful autumnal colours.....
Below: Poppy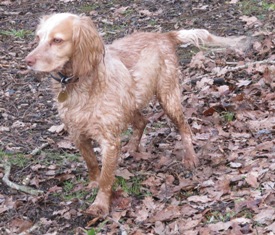 07/10/2016
October apples
We are now in October and while many varieties have been picked, the later maturing varieties are approaching harvest time.
Below: left - right: Crimson Crisp - Daliclass - Breaburn 'Mariri Red'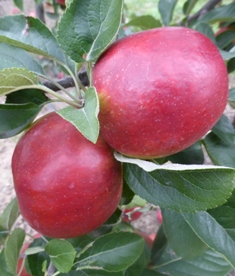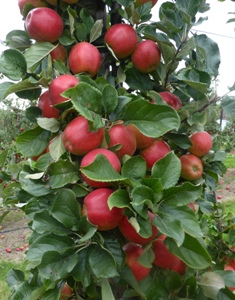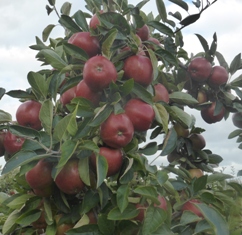 30/09/2016
Pip to Plate and other bits and bobs!
Today: Friday 30th September the 4th Pip to Plate event was held at Hadlow College
23/09/2016
Over the Channel to Picardy
The English Apple Man has been in France joining '50th anniversary celebrations and looking at new varieties of apples & pears.
16/09/2016
Mid September and apple & pear picking is in full flow
While the season has been running a week behind last year, the recent warm weather has brought picking forward and it's now 'full steam ahead' for the next few weeks.
09/09/2016
Its Gala Club time!
Another year, another harvest; it's Gala Cub pre-harvest meeting time again....
02/09/2016
Judging orchards in North Kent
The English Apple Man spent Tuesday judging orchards in the Gravesend & Rochester Orchard Competition
26/08/2016
Welcome to a new English Apple Season
The sun has been shining this week adding sugars and flavour to the first English Apples...
19/08/2016
Prize winning orchard
The English Apple Man joined East Kent Fruit Society (EKFS) members on Tuesday evening for the Winning Orchard Walk.
12/08/2016
Farm walk, Friends and Fun
Farming: 'NFU Orchard Competition Prize-giving' - Friends: 'Cricket on Benenden Green' - Fun: 'Golf at Hever Castle'
05/08/2016
Its orchard competition time
It is the time of the year for orchard competitions....East Kent Fruit Society held their competition on 18th & 19th July. The Goudhurst and Paddock Wood NU Branch held theirs on 27th, 28th & 29th July. EKFS Stone fruit judging took place on 28th June.
29/07/2016
Fruit Focus on a very hot day
The Annual Fruit Focus event was held at East Malling Research on Wednesday 20th July.
22/07/2016
A very enjoyable and informative evening on the hottest day in 2016
On Tuesday 19th July, The English Apple Man joined the Under 40's at Brogdale Farm.
15/07/2016
Pollinators, Predators and Productivity
Pollinators, Predators and Productivity
08/07/2016
English Cherries and farewell to a Great Man
Its time for English Cherries again and The English Apple Man attends the funeral of Lord Mayhew of Twysden.
01/07/2016
BIFGA members hold their AGM at Hadlow College
The 28th AGM of the British Independent Fruit Growers Association (BIFGA) was held this week at Hadlow College.