Latest Journals
17/03/2017
A second installment from South Africa
There is so much to write about the Under 40's visit to South Africa.....could take a couple more weeks...
10/03/2017
More stories from South Africa
The English Apple Man has now been home from South Africa for 6 days and 6 hours......it has taken all week to overcome the tiredness....but plenty going on to occupy the mind....
03/03/2017
What a week...5 intensive days in the Western Cape of South Africa..
This, the 50th anniversary of the Under 40's Conference was held for the first time in the Southern Hemisphere; this week's Journal focuses on some of my pictures (I took well in excess of 1,000 + lots of video) with short captions as The English Apple Man only arrived home in mid morning after our overnight flight from Cape Town....at 9pm on Saturday, I am battling the tiredness as I try to finish the Journal....body and mind have given up, so finish finishing Journal on Sunday morning.....just walked my dog (Sunday am) and its' 'p.....g' with rain and temperature 4.5C..last week we were enjoying 25C - 40C....its now afternoon and time to 'wrap up' thus week's Journal. Over the coming weeks, The English Apple Man Journal will cover many of the individual visits in greater detail....
24/02/2017
Capetown - here we come....
2017 is the 50th anniversary of the Under 40's Conference and takes place in the Southern Hemisphere for the very first time.....
17/02/2017
Look, no driver...
Driverless tractors are about to make their mark in UK orchards...
10/02/2017
Combating Canker
Canker is almost certainly the most challenging tree health aspect of apple production..

03/02/2017
February
February can be the most dreary month of the year....but its a good time for going out to lunch...
27/01/2017
What has The English Man been up to this week?
A busy week, with East Kent Fruit Society (EKFS) AGM - Orchard Competition Awards and Dinner at Boughton Golf Club on Tuesday evening and the 29th BIFGA Technical Day at Dale Hill Golf Club on Wednesday.......
20/01/2017
Making the most of weather forecasting
The English Apple Man attended a Seminar this week where advanced local weather forecasting is used to guide growers when the risks of fungicidal infection periods may occur and thresholds for pests reached.
13/01/2017
A New Year under way
What is on the English Apple Man's agenda for 2017?
06/01/2017
What's new!
2017 gathers pace.....its already nearly a week old....
30/12/2016
As 2016 ends The English Apple Man looks forward to 2017
What's in store for 2017
23/12/2016
What's been happening in 2016?
In this week's English Apple Man Journal we will take a look back at some of the events featured in the Journals of 2016
16/12/2016
The English Apple Man attends a Seminar at Brands Hatch
Codling Moth, Cydia pomonella is a serious pest in apple orchards...
09/12/2016
The English Apple Man takes a second look at Interpoma
With more information from my friends Vikram & Simon.....and Richard Killian at FAST
02/12/2016
Still got my nursing hat on!
We have progressed this week, but Mrs EAM is still moving slowly..........not sure I was cut out for Nursing, but when its the lady you love, its surprising what you are capable of!
25/11/2016
This week has been a difficult one!
On Monday; Mrs English Apple Man had a new knee!
18/11/2016
An Englishman in Italy
On Thursday, The English Apple Man joined a small group of growers on a trip to Italy to view a new apple picking platform
11/11/2016
The Great Fruit Adventure
Tuesday morning and The English Apple Man is on route to New Spitalfields Market........
04/11/2016
British Summer Time Ends...
Suddenly the afternoons are shorter, but the sunshine has stayed with us for most of this week.......colder from Wednesday, but still with sunshine illuminating the autumn leaves..."until this afternoon when the rain arrived"...
28/10/2016
National Fruit Show review and Show Fruit at DEFRA
This week The English Apple Man Journal will review the 2016 National Fruit Show and report on our visit to DEFRA in London.....
21/10/2016
Its Showtime!
A busy week; The English Apple Man joined his fellow Judges on Tuesday at Detling Showground in Kent for the judging of the National Fruit Show competition fruit.........
14/10/2016
Sunny autumn days
This week we have enjoyed sunshine, mixed with some crisp autumnal temperatures, just right for walking my dog Poppy....and on Wednesday enjoying a society golf day at Lamberhurst Golf Club with the trees in varying degrees of beautiful autumnal colours.....
Below: Poppy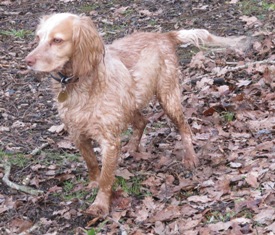 07/10/2016
October apples
We are now in October and while many varieties have been picked, the later maturing varieties are approaching harvest time.
Below: left - right: Crimson Crisp - Daliclass - Breaburn 'Mariri Red'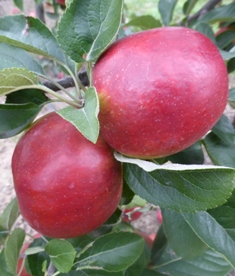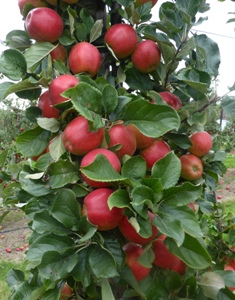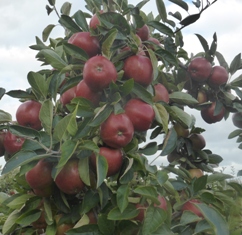 30/09/2016
Pip to Plate and other bits and bobs!
Today: Friday 30th September the 4th Pip to Plate event was held at Hadlow College
23/09/2016
Over the Channel to Picardy
The English Apple Man has been in France joining '50th anniversary celebrations and looking at new varieties of apples & pears.
16/09/2016
Mid September and apple & pear picking is in full flow
While the season has been running a week behind last year, the recent warm weather has brought picking forward and it's now 'full steam ahead' for the next few weeks.
09/09/2016
Its Gala Club time!
Another year, another harvest; it's Gala Cub pre-harvest meeting time again....
02/09/2016
Judging orchards in North Kent
The English Apple Man spent Tuesday judging orchards in the Gravesend & Rochester Orchard Competition
26/08/2016
Welcome to a new English Apple Season
The sun has been shining this week adding sugars and flavour to the first English Apples...
19/08/2016
Prize winning orchard
The English Apple Man joined East Kent Fruit Society (EKFS) members on Tuesday evening for the Winning Orchard Walk.
12/08/2016
Farm walk, Friends and Fun
Farming: 'NFU Orchard Competition Prize-giving' - Friends: 'Cricket on Benenden Green' - Fun: 'Golf at Hever Castle'
05/08/2016
Its orchard competition time
It is the time of the year for orchard competitions....East Kent Fruit Society held their competition on 18th & 19th July. The Goudhurst and Paddock Wood NU Branch held theirs on 27th, 28th & 29th July. EKFS Stone fruit judging took place on 28th June.
29/07/2016
Fruit Focus on a very hot day
The Annual Fruit Focus event was held at East Malling Research on Wednesday 20th July.
22/07/2016
A very enjoyable and informative evening on the hottest day in 2016
On Tuesday 19th July, The English Apple Man joined the Under 40's at Brogdale Farm.
15/07/2016
Pollinators, Predators and Productivity
Pollinators, Predators and Productivity
08/07/2016
English Cherries and farewell to a Great Man
Its time for English Cherries again and The English Apple Man attends the funeral of Lord Mayhew of Twysden.
01/07/2016
BIFGA members hold their AGM at Hadlow College
The 28th AGM of the British Independent Fruit Growers Association (BIFGA) was held this week at Hadlow College.