Journal
19th Jun 2020 - Magic Star apples and English cherries
Magic Star apples and new season English cherries feature in this week's Journal.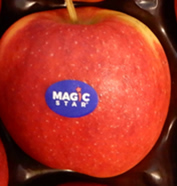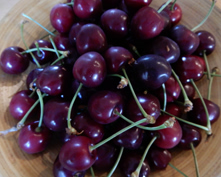 Magic Star is in the opinion of The English Apple Man a 'game changer' - this variety can be eaten straight off the tree at harvest and the same apples will store for a year and still deliver the same eating quality. This allows growers the opportunity to store Magic Star until next July/August and follow on from Gala and Braeburn extending the supply of high quality apples up until the best new season apples come on stream in September.
All other dessert apples targeted for long term storage must be picked and stored quickly just as the starch levels are beginning to fall. The criteria may be slightly different for specific varieties, but none can be left on the tree to the point where the variety eats very well AND can be stored 'successful until the following season and deliver the same eating quality.
Hence the GAME CHANGER description
Magic Star has been available in small quantities in TESCO since 2016. It is marketed as TESCO "Kentish Kiss" while in other outlets it is labelled/sold as MAGIC STAR!
Below: a sample of Magic Star the English Apple Man has been tasting this week. Magic Star is now on sale in Tesco and the CO-OP-
Last summer The English Apple Man joined Nigel Jenner - Chief Technical Officer for Avalon Produce Ltd for a trip to Belgium to taste Magic Star and see young orchards in development. Click on MAGIC STAR IN BELGIUM
In October 2019 The EAM visited Jack Skinner at Friday Street Farm with Nigel Jenner - Avalon Produce Ltd Chief Technical Officer as harvest was about to start (22nd October) - Jack is the largest UK grower of Magic Star and has the oldest planting of Magic Star and now in the 4th leaf yield he estimates 55-60 tonnes per hectare.
We visited his Magic Star orchards just a few days before harvesting started, taking pictures and tasting Magic Star off the tree.
Below: Magic Star at Friday Street Farm in late October 2019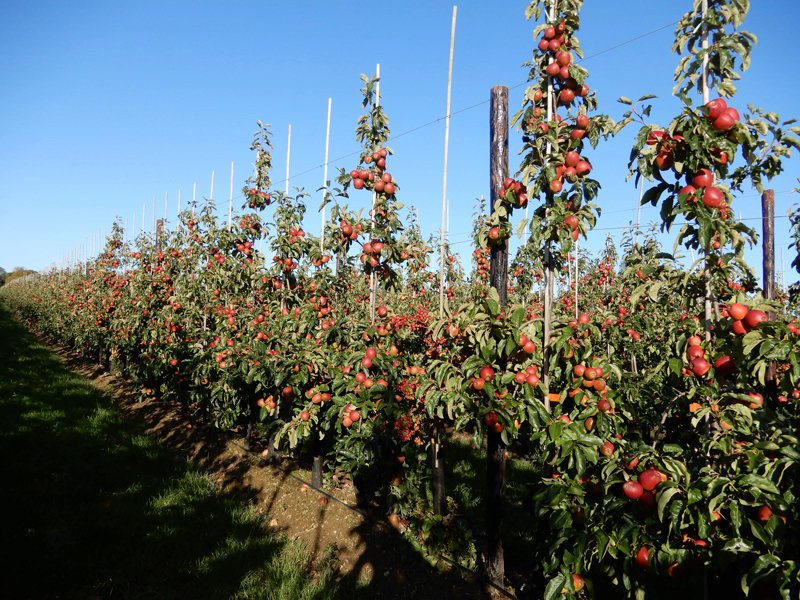 Below: left; Magic Star on the tree and right; Avallon's Nigel Jenner with Jack Skinner and his son Jake - both taken in late October 2019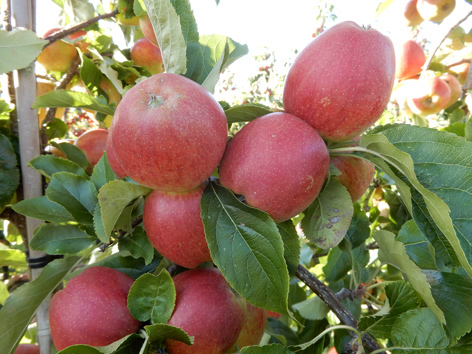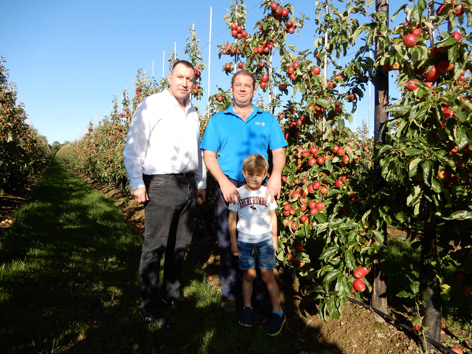 While colleting my sample of Magic Star from Avalon Agronomist Ryan Williams we had the opportunity to visit a Gala and Braeburn orchard.
The Gala looks very impressive with very well managed trees carrying a good crop. The Braeburn also carries a decent crop but has suffered some 'Rosy Apple Aphid' damage.
Below: left; Gala rows and right; Braeburn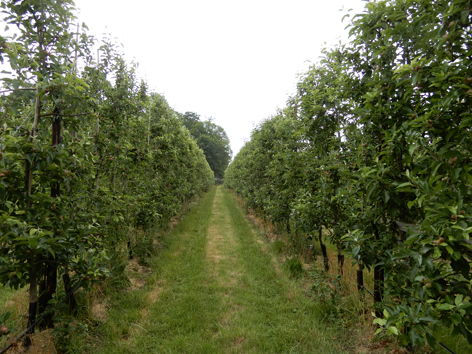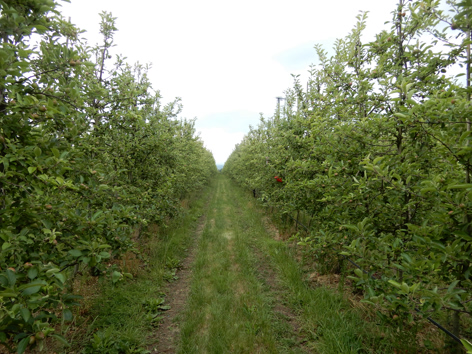 Below: left; Rosy Apple Aphid damage with a Ladybird Pupae 'predating' the aphids and right; the Aphid damage seems under control with only dead aphids found.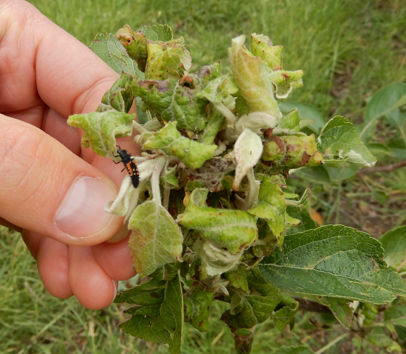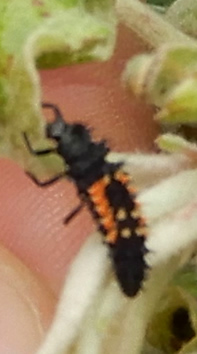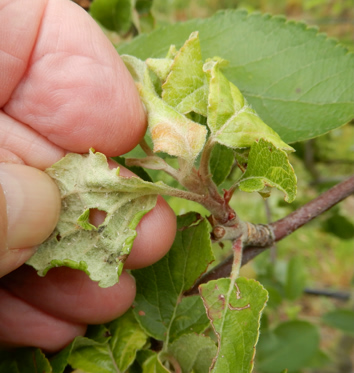 ========================================================================
As we approach the 'longest day' the home grown Asparagus season draws to an end, but the Cherry season gets under way. This season is circa a week earlier than normal and the pleasure of English Asparagus and Home grow Cherries has overlapped.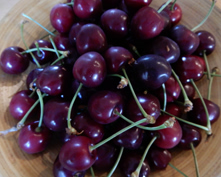 On Tuesday The English Apple Man drove a few miles to Sandhurst in Kent where Michael Dallaway has opened his Cherry Stall for the 'new season'
Michael grows cherries at four different sites on the Kent / East Sussex border. He sets his standards extremely high and only picks the cherries when they are fully ripened so that each and every cherry is a truly mouth watering experience. Come and find the stall to try some of the best cherries you will ever have eaten...
Michael says: "Our amazing cherry juice is 100% pure and contains approx 2.5kgs of squashed cherries, and nothing else. The health benefits of cherry juice are fantastic, from being packed full of natural melatonin which can aid sleep and also being full of an anti oxidant called Quercetin which is very anti-inflammatory and is very beneficial for sufferers of arthritis".
...
Below: Michael Dallaway (in the door frame) and the young lady 'manning the stall' with Cherries and cherry products on sale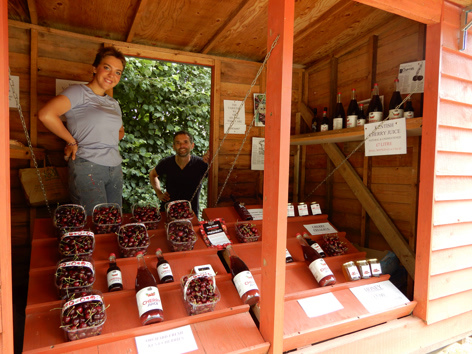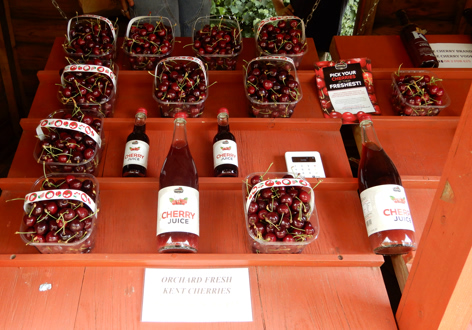 The English Apple Man bought 2 punnets of Merchant Cherries and one 35cl bottle of Cherry Vodka!
For a more expansive view of Michael's cherry business: click on Michael Dallaway Cherries
For Michael's website click on: Dallaway website
That is all for this week
Take care
The English Apple Man