Journal
26th Mar 2021 - Our orchards are coming to life as Spring beckons!
The sap is rising and early signs of a new season are evident. Looking at past years, this season is very similar to 2020 in terms of bud development. What happens in the next few weeks will determine when apple blossom reaches full bloom.
Below Discovery bud at 'Bud Burst' in The English Apple Man's garden.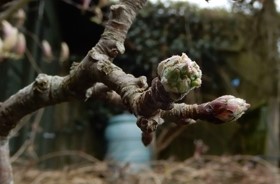 How quickly the fruit bud develops will depend totally on the weather over the coming few weeks!
Forecast of warmer over the next week, balanced by a colder spell over Easter, will create a 'start/stop' situation but as in previous years, once things are 'on the move' another burst of warm weather will drive the buds towards blossom.
Looking back to 2020 (who want's to?) - by mid April many varieties were at the Pink Bud stage with some buds in Full Bloom. The mix of varieties today has changed since Cox was the dominant variety, which delivers Full Bloom over a longer period with Braeburn ahead of Gala and Cox as an example. There was a time when Cox was in full bloom circa 7th May. Today climate change has brought the blossom stage forward by a week to ten days!
Apples are breaking bud - below left; Red Devil bud and right; Bladon Pippin buds in The EAM's Garden today!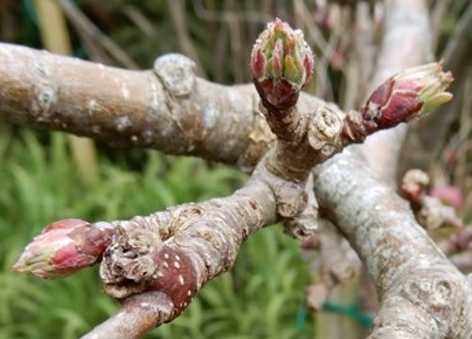 In the West Midlands - report from my 'Man in the West'
Below: left; Jazz at the mouse ear stage and right; Wooly Aphid infection on this branch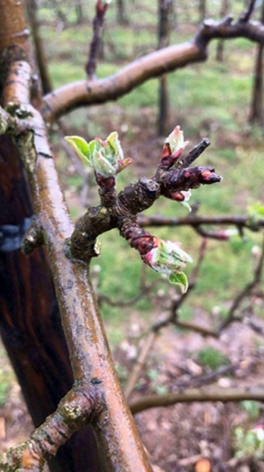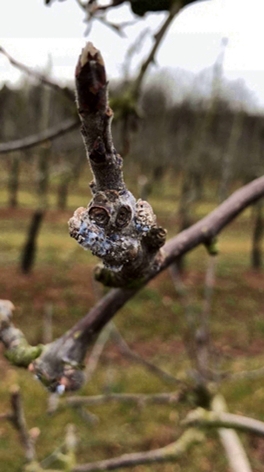 It has been a much slower start to the season this year in the West Midlands. After another wet winter, February and early March were relatively cold.
Most of the main dessert varieties are between bud burst and mouse ear. The last fortnight has been dry which has allowed growers to get on with field work and many will be putting on their second round of scab fungicide sprays very soon.
On the whole the fruit bud looks OK and because of the colder weather up until recently, the usual spring pests have been slow to show their faces. I have seen some apple blossom weevil adults in orchards, a few apple grass aphid sheltering in opening buds, and one or two cold looking caterpillars.
We are due a brief warmer spell which will push the trees on and encourage the pests to wake up from their winter slumber.
Certainly it isn't too difficult to find woolly aphid in orchards which had good populations last year and this is becoming a more troublesome pest.
Pictures are: Jazz buds on 24th March near Ledbury, some woolly aphid on trees near Newent and finally some welcome signs of solitary bee nesting on a headland in an orchard.
Below: Headland area with many solitary bee nests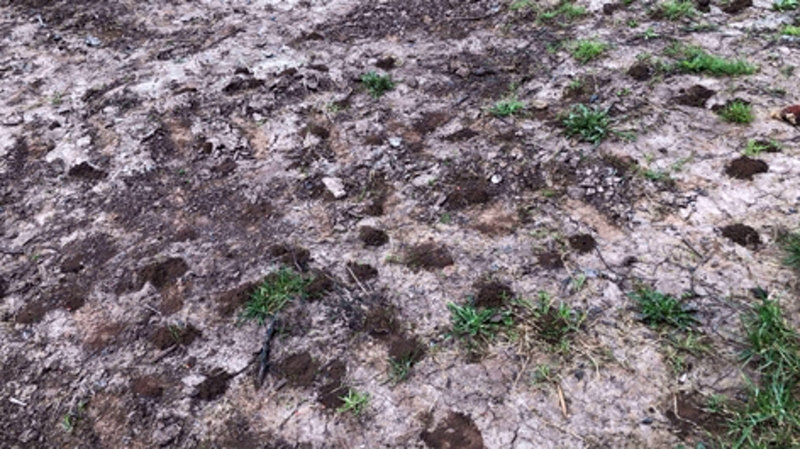 Below: Solitary bee (Mining Bees) nests and explanation of solitary bees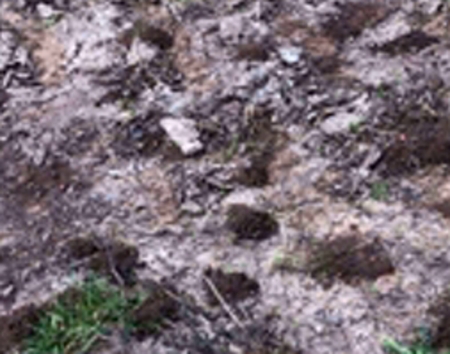 Solitary bees vary considerably in size, appearance and where they choose to nest. Roughly 70% are called mining bees and nest in underground burrows. Bees that nest in houses are called cavity nesting bees.
They - Do not live in colonies, produce honey or have a queen. Do not produce wax to construct the cells inside the nest instead different species use different materials to construct their cells and nests.
Drink nectar directly from the flower and spend most of their time collecting pollen which is mixed with a small amount of nectar as food for their young.
Are fantastic pollinators: a single red mason bee is equivalent to 120 worker honeybees in the pollination it provides.
Do not have pollen baskets for carrying pollen, meaning that each time they visit a flower they lose far more pollen than social bees, which makes them much better pollinators.
Provide each larvae with everything it needs but they do not tend to the young as they grow and never get to see their offspring emerge.
Solitary Bees - are non-aggressive and do not swarm. Safe around children and pets.
A much appreciated contact from "Steve" an English Apple Man reader!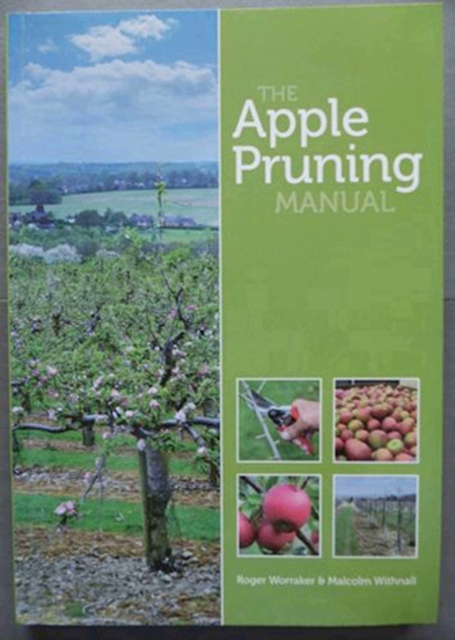 I bought the apple pruning manual after finding it on your apple tree man archive.
I've been employed as a gardener for last 30 years growing all sorts of things in all sorts of places but I found the book made so much sense.
I had a year at Brogdale in the early 80's, although mainly weaning micro propped plants.
I remember Hugh Ermen fondly, he was generous with his knowledge, rooting cox cuttings in laminate in heated bins. I hadn't realised until after his death he was responsible for so many new introductions. Although I've only got an allotment I have quite a few.
Anyway it's great to have reliable source of information from people like yourself. Monty Don may be a good presenter but not for anything specialist. Don't get me started on garden designers.
The Pruning Manual was written by two stalwart of the UK apple industry, Malcolm Withnall and Roger Worraker.
EAM readers who might wish to purchase a copy (£12 + £2 post) should contact Malcom's wife Anna at ANNA WITHNALL sending £12.00 to include postage.
To see Malcolm and Roger's Pruning Manual reviewed click on The English Apple Man Journal for 6th December 2013
Finally - interesting data from STATISTA
Airfinity's data shows that an estimated 9.5 billion doses of Covid-19 vaccines will be produced in 2021. Putting that number into perspective, it is nearly twice the volume of the five billion vaccine doses of all types produced across the world before the pandemic struck. Despite the scale of that figure, it is still less than the 11.5 billion doses of Covid-19 vaccine needed to meet global demand this year.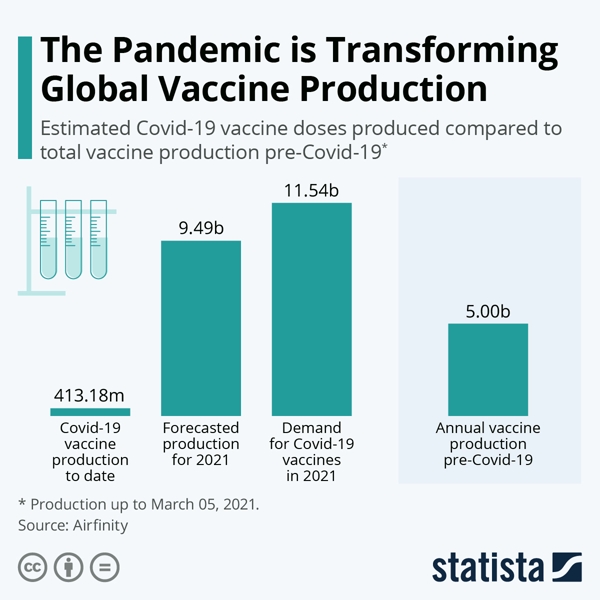 The English Apple Man Comments:
As someone with a lifetime involved in fruit growing, keeping things within perspective is not easy; the challenges faced by fruit growers, are uppermost in my daily thoughts. However, the events of the last year have overshadowed my insular concerns for fruit growers. The question of Vaccines is with us 'daily, no hourly' as social and national media rages over Vaccine equality issues.
Quite honestly, we should be extremely grateful for those companies utilising the science which is our best bet for a return to some normality in our lives.
Just look at the data!
The scale of development of a Coronavirus Vaccine is way beyond anything previously attempted and the speed with which 'creation, approval, manufacture and deployment is amazing!!!!!!!!

That is all for this week
Take care
The English Apple Man