Journal
2nd Jul 2021 - 'Bits and Pieces'
As we enter July, The English Apple Man takes a look at what's going on!
The Big Story this week is the launch of the British Cherry Season.
Below: Cherry pictures sent to me by Steve 'Cherryman' Castle, manager at Mount Ephraim in Herne Hill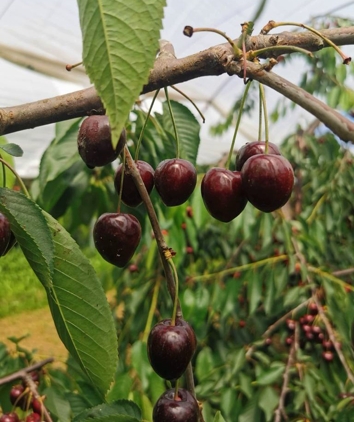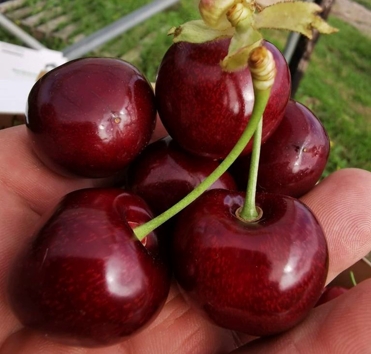 Mount Ephraim is one of the earlier Cherry sites and Steve told me they are into their third week of cherry harvest. Come September the last cherries will be picked in Scotland. Prospects for GB Cherries are very good!
Today Friday 2nd July, The English Apple Man introduced Professor Rebecca Cassidy to Cider apple producer Chris Hunt at his farm at Sedlescombe in East Sussex. As mentioned in earlier EAM Journals, Rebecca is researching the apple industry for a three year Anthropology report.
Below: Rebecca's initial contact with me, back in February
"I'm an anthropologist, and I'm in the fortunate position of having funding to work on apples for the next three years. I'm writing to ask for your help! I really hope that's okay. I'm certain that you are very busy, and I don't want to impose, but at the same time I think that you are the best person to ask about apples - what I need to know and how I should go about finding it out! I love your website and I particularly enjoy the fact that you are so curious about everything to do with apples. I feel the same way"
Below: Chris Hunt and Professor Rebecca Cassidy 'getting to know you'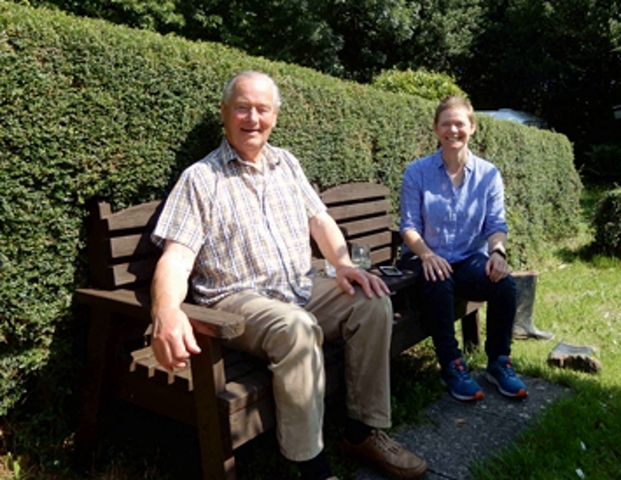 After introductions to Chris Hunt and his sons Stuart and James, The English Apple Man enjoyed a coffee with Hazel Hunt while Chris and Rebecca discussed the 'whys and wherefores' of growing cider apples.
The Cider apples are grown, pressed and made into Cider at the farm, before sending to the West Midlands (Cider Country) for bottling & labelling, then returned to Hunts for sales and distribution. On our arrival today a large batch of palleted bottles had just been unloaded.
Below: left; pallets of bottled cider in the yard and right; James Hunt transfers pallets into storage!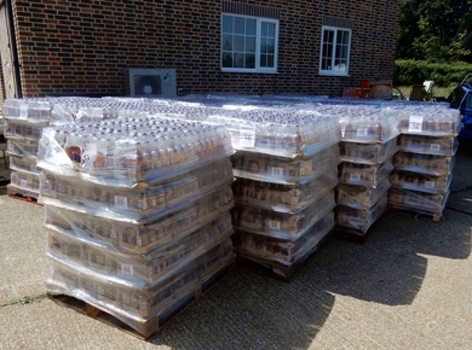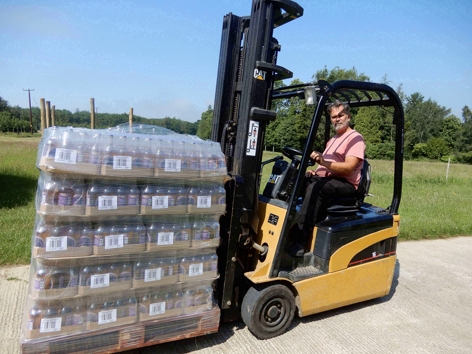 For an in depth look at Chris Hunt and his Cider business, click on CHRIS HUNT CIDER
This afternoon, I drove to Sandhurst in Kent (half an hour away) to buy my first British Cherries of 2021.
Michael Dallaway has been growing Cherries at Sandhurst and Northiam for many years, following on in his 'late' father Fred's footsteps. In addition to growing and selling his cherries locally, he also runs 'Rent a Cherry Tree'
Below: left; Dallaways Roadside Stall and right; young saleslady, with my cherry punnets.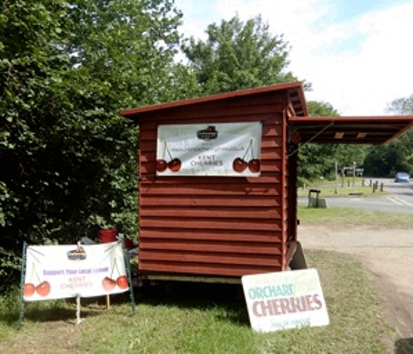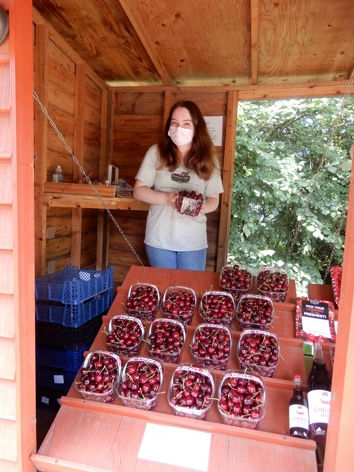 Below: left & right; Cherries and associated products on display. In addition to cherries, the EAM bought a bottle of Cherry Vodka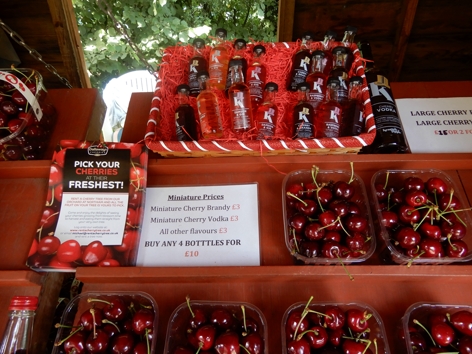 Apple update
In earlier Journals the fruit set indicated little or no early thinning required, and today a very large grower told me it was the first time for very many years that he had not applied any chemical thinners. The standard late 'quality thin' will enable the removal of any sub standard fruit.
While the crop is variable: Bramley particularly affected by the spring frosts, Gala is looking promising and Braeburn not as bad as earlier indicated. Harvest dates for long term storage are 'predictably' later than normal, maybe 14 days for Gala and 7 days for Braeburn

That is all for this week
Take care
The English Apple Man